AcuteSoft Solutions Pvt.Ltd
SEO Services
3rd Floor, Plot# 407, Ayyappa Society, 100 ft road, Madhapur, Pin: 500081, Telangana, India
Claim Listing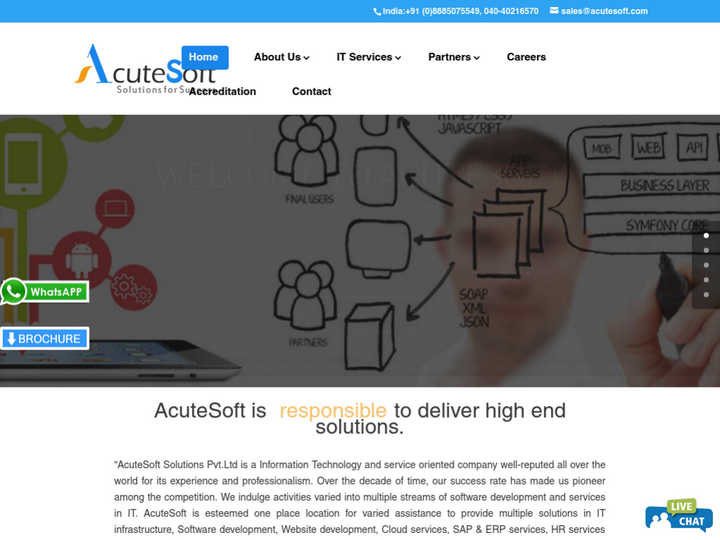 Company Description
AcuteSoft Solutions Pvt.Ltd is a Information Technology and service oriented company well-reputed all over the world for its experience and professionalism. Over the decade of time, our success rate has made us pioneer among the competition. We indulge activities varied into multiple streams of software development and services in IT.
Review & Rating

Excellent services are provided in Acutesoft company with lower cost of website design & development

I took SAP FICO S/4 HANA Simple finance training with Acutesoft and they taught all the concepts with attention to details. As I was new to finance module the trainer praveen used to repeat multiple times for any topics I was not able to catch up. The support staff was also exceptional when it comes to providing SAP access or working with us on payments or other communication related activities. I would rate this training institute very highly..

Best Services are provided by Acutesoft Company, I have taken Computer AMC Services with Low cost

Nimmakayala Jayapal Reddy
UK
I worked as a Digital Marketing Analyst at ACUTESOFT. My Management has given me a great opportunity, I effectively utilized my skills towards Expertise Team Building and Company Growth. It's a great place for all Freshers and Experienced People who has interest and innovative thinking. I would like to say Thanks to my entire management and Team for great support.

I took SAP PI/PO training from here.The training was good and the people also very cooperative.Trainer Sai is very much experienced in PI.

I have satisfied by Website Design and Development services and I got services at reasonable cost . I am ready to suggest Acutesoft .

Excellent services, Reasonably Cost, timely delivery of work, I Strongly Suggest this Company to my upcoming projects.

I have satisfied by your digital marketing services and I got services at reasonable cost . I am ready to suggest Acutesoft company to my friends.

I have satisfied by your IT infrastructure services and I got services at reasonable cost . I am ready to suggest Acutesoft company.

Please don't join SAP C4C training in Santosh Acutesoft. I had a very worst experience with the staffs in this institute and one of the unprofessional team I never met in my experience. I have joined SAP C4C in the end of July month and they promised me to finish the class by 1month span. However, the trainer is irregular and lot of session cancellations. End of 1month all I received is just 8 sessions and I upfront paid Rs.20000 and I am fighting to get my money back. Please ...Please...don't waste your time and money with these kind of people in the market. I am planning to launch a cyber crime report on these guys if they refuse to repay my money.

@sr nagar ofc: one of the worst cmpny i had seen , especilly subhashini behaves like a hitler

Attended "Chenna Reddy - SAP Hybris" Training. It's more detail oriented & realistic learning...

I have satisfied with Acutesoft IT Services, I have taken AMC and Website Design and Development they finished with in the time and reasonable cost

Let me take this opportunity about the Hybris training from Acute soft . I am part of the Hybris training provided by Acute soft with Chenna Reddy. The training is very nicely structured and clearly explained by Chenna for all the modules. The way how the trainer explained really goes into the memory in pleasant way without any block. I can assure that the training provided can be considered a Complete Reference/Black book/Wiki. Regarding Chenna efforts - In this current corporate scenario no one put this much efforts apart from earning money to teach about the Hybris which is a hot cake in the market. The way how he teaches really stores evergreen in the memory. This can make any one a strong hybris developer(Technical / functional) in future. Lets come to the technical overview - He is giving more focus on all the functional things and technical things like Spring Integration, about cock pits , WCMS, Accelerator and going deep and deep into the subject. No one can put this much hard efforts for any technology and this is assured. Please don't believe on the negative reviews as not sure how people will learn in other ways. I am also an IT professional and have seen how people will train only for the business purpose and that's the current scenario. He is spending lot of time more than the time allotted (Spending 2 hours daily) to the batch. Overall Chenna reddy's training are very useful, Beautifully structure with his notes and apparently will give a bright career path to any one trained in his batch.(But every one should practise real time ) Also I would like to thanks the team for a dedicated trainer Pavan for Spring basics which is the foundation for technical people. He is also good in training and still some sessions are about to come. About Acute soft - Acute soft is the only institute I have seen giving the training in generous way and charges reasonably for Functional and technical module. Subhashini the co coordinator really did a good job in organising and not even a single day class cancelled or changed on any circumstances. They are very professional. The class is still in progress and really Chenna and team are paving the cake walk path for us to take the Hybris in future. Dear all , please don't believe on negative review as its very difficult to find any dedicated people like him in the current corporate. For any kind of queries any one can reach out directly if you have any doubts.

This is not fair treat to work in Employesin this company that means no pay salary last 2 months...so New trainers don't chosse in this company because Manegment total frauds

Worst. They are frauds. They take your money and will never complete the training for you. This people cannot be trusted. Especially that lady who forces you to pay all the amount before training, she will be very arrogant if you ask why the classes are not getting conducted. Even the training is of very low quality.

Fraud Fraud only fraud.......... Worst experience..... please don't waste your time & money.... nothing is good..nither management nor trainer..... No one will be accountable once they will receive your fees. I wasted my 2 months..... worst is small word for this ..... Subhashini (contact person Acutesoft) followed up till 11 P.M. when she had to get the fees. Then after sometime she accepted that Amit P.(worst MM Trainer) wasted my time, promised me to refund my fees but after that she is not feeling well till today.......so guys before joining please think 1000000 times......worst institute in all manners.......

Opening Hours
Mon

Closed

Tue

5:00 pm - 9:00 pm

Wed

Closed

Thu

5:00 pm - 9:00 pm

Fri

Closed

Sat

Closed

Sun

Closed
People Also View
Authorize your self with either of these to view contact details, your information will not be shared to any one
Newsletter Subscription for Virtuous Reviews LLP
One more step and you will be subscribed to our newsletters
We have sent you a verification mail on your email id, please verify it.