A.P. COMPUTERS
Posted in :
Claim Listing
152 Harwood Avenue South Suite 202, L1S 2H6
(+1) 905-428-1454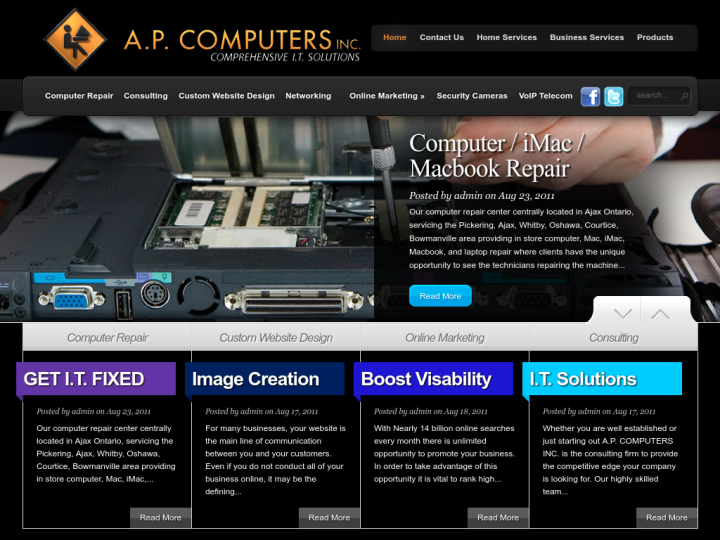 Opening Hours
Mon

Closed

Tue

5:00 pm - 9:00 pm

Wed

Closed

Thu

5:00 pm - 9:00 pm

Fri

Closed

Sat

Closed

Sun

Closed
Company Description
A.P. Computers is a comprehensive I.T. Solutions based in Canada, which guides you to raise and maintain the position of your business in the industry. The highly skilled team of A.P. Computers Inc. is fully dedicated to conduct all of your online business solutions, in order to make all the opportunities advantageous for you.
Review & Rating

Thank's for the awesome service! Had me up in running in no time... Fast and reliable! Would recommend to anyone!!

The staff at A.P Computers are awesome. They know what they are doing and will provide excellent service. I highly recommend them. Havent had 1 problem with their service!!

A.P. Computers saved the day! Alfredo and Roy are just amazing. I even had my computer back before 24hrs like they initially stated. A.P. is even open on weekends too! I will definitely recommend A.P. Computers to all of my friends! Thanks guys, Much appreciated.

I walked into A.P. Computers with a corrupted generic USB stick and requested a way to possibly retrieve the data stored on it. In less than 10 minutes, they were able to accurately diagnose the issue (which required cauterization) and restore the function. As for the price, the minimum can be $280-300 depending on the service. A.P. Computers charged me $100 and provided me with a great new Kingston USB stick. I couldn't be happier with the overall outcome: Customer satisfaction: 5 stars Diagnostics: 5 stars Cost of service: 5 stars I strongly recommend A.P. Computers to anyone who needs any data retrieval or computer repairs. Thank you again for your service! Will definitely return for any future computer related repairs!

Had an old hard drive and all my photos were able to be recovered (after 10 years). Had my HP laptop also fixed and it's as good as new. Company was great at explaining everything that was done and how to prevent further issues. Great communication, great staff! Very prompt at responding. Would recommend to everyone, and I won't be going anywhere else with my computers! Thank-you again

Great business, professional and efficient service. Alfredo and his team and very knowledgeable and i know I can trust them with their services. Their rates are very reasonable and most importantly, I know the job will be done right. I've come in for services twice and have had great experiences both times.

A.P Computers is the best store I have been to. The people there are just amazing. They are knowledgable,helpful and professional. They give you good advice, service and always look out for their customers. They helped me with any question related to my computer and laptop and I am very happy to say that I would highly recommend them.

I had the BEST experience after a destroyed macbook with years of photos (like an idiot) on it. Everything was explained for me and they've gone above and beyond to ensure I was happy with the results. I will only recommend this company from now on! Thanks again !

Was in town from Texas on business and my laptop shorted out on me, the customer service from A.P computers was just awesome, not only did they go out of their way to get the parts needed, they had my laptop back to me the same exact day, you just can't find that kind of dedication these days. Laptop works even better than before, huge thank you to Alfredo who went above and beyond

I honestly can't say enough good things about the service I had today. I have had email issue for so long and FINALLY don't have to worry, I run an online business so it is very stressful when my email stops working. Alfredo took me right away and I now get my emails faster. The staff at the office was so kind and made me feel right at home. I will continue to use A.P Computers and trust me I don't think you could trust your computer to anyone else. Thank you again!

After I'd moved from Ajax, I once committed the grave sin of going to another computer store, as I had issues with one of my laptops, only to have my very explicit concerns disregard, be cheated out of hundreds of dollars, and left with a computer that was far more broken than I started with. Never again. A.P. Computers was my go-to before I moved and I am happy to say that they are my go-to once again. I cannot stress their excellence enough. They are kind, professional, dedicated, friendly, and attentive--they actually listen to what you have to say! Imagine THAT novelty. I am not computer nor tech illiterate, but I was going to build a custom rig with specs that, while tested, turned out to be Not So Great I'd only sent A.P. computers a question asking how much it would cost to assemble, but Alfredo very kindly offered to speak to me directly. I didn't want to waste his time, since I actually hadn't ordered the parts yet, but he'd insisted, wanting to hear for himself what I planned to do. He could have simply given me the quote, and let me order parts that were overpriced and ill-suited. It wouldn't have mattered to a lot of other technicians, especially since, if something happened to my components, it would mean more business for them in terms of repairs and replacements. Instead, he listened to me and spent over an hour and a half walking me through better choices, explained the reasons behind those choices, clarified them as needed before ordering them from his supplier, and, perhaps most importantly, listened to the bitter tears and agonised moans of a poor post-secondary student over, and over, and over again. That sort of consideration and dedication is rare and priceless. He's a very friendly and personable guy--I felt at ease with him, he didn't belittle me and we had a lot of jokes. It was a tremendously excellent experience. Please, if you want outstanding customer service, people who know what they're doing and are passionate about it--really, if you *love yourself*, go to A.P. Computers. They'll take care of you.

Newsletter Subscription for Virtuous Reviews LLP
One more step and you will be subscribed to our newsletters
We have sent you a verification mail on your email id, please verify it.