Business Promotion
Posted in :
Online Services / SEO Services
Claim Listing
752 East 1180 South, Suite 100, American Fork, UT 84003
(+1) 866-664-5216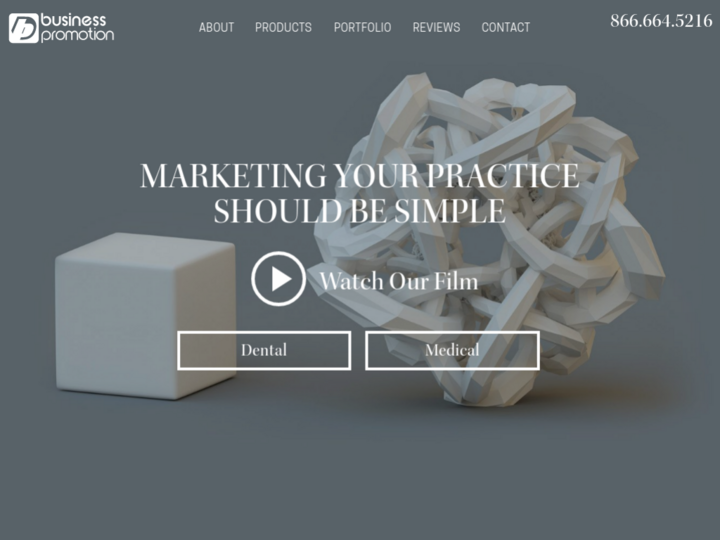 Opening Hours
Mon

Closed

Tue

5:00 pm - 9:00 pm

Wed

Closed

Thu

5:00 pm - 9:00 pm

Fri

Closed

Sat

Closed

Sun

Closed
Company Description
Business Promotion was started in 2008, till then the company is active in providing high quality, world class complete online business solutions to help the clients succeed. Our dedicated and experienced team of web developers, graphic designers and marketing specialists have made Business Promotion one of the leading web design and marketing companies.
We are highly focused to create the website that reflects your business's unique atmosphere, goals and specialties; resulting to gain new clients and keep your current clients. Our highest priorities are your satisfaction and success.


Review & Rating

I have really enjoyed the professional staff at Business Promotion. They have made me feel confident in my decisions on our web design. I am excited to show off our new website!

Dr. Bertha Dieguez-Marino
UK
Business Promotions has done a great job designing our website! They are very easy to work with and attentive to all of our suggestions.

Dentists at Memorial Park
UK
BPI has been great to work with. In a busy office there are not enough hours in the day to manage all aspects and they have helped us tremendously with promoting and assisting our social media avenues as well as the design, upkeep and changes of our website. We would definitely recommend.

So far, everyone on the BP team has been fast, knowledgeable, and efficient.

I have just started working with Business Promotion and the initial website design by Laney is fantastic!! Not only is the design beautiful, but they are all such a pleasure to work with. Very friendly and professional as well as always flexible with working around our schedule. I can't wait to see what they have for us next. I'm looking forward to working with them for a very long time! :D

I moved my website from another company to Business Promotions. I am very happy I made that decision. They have specialized people to design the site, write content, do graphics, do SEO, do social media posts, which helps to keep things simple on my end. The results have been very good and I easily recommend BP to others.

Great service. Always ready to help. I enjoyed my training for reminders this morning with Teankum Conway. They are more than happy to answer any questions and make sure the client is satisfied.

We are just weeks into starting with Business Promotions. Our new website is coming together and it's been an easy, smooth transition. They have been great communicators and I've had more than five conference calls and when they tell you they will call you at a specific time, they actually do! We've decided to make the change for three reasons, the first is that they are not a cookie-cutter company, they write custom written content on each page of your website that is personalized to who we are. The second reason is they have a performance guarantee, our Google rankings have not been the best in the past and we feel confident that BP can help. Last of all, their help with our marketing attempts in social media and branding us across all directory platforms.

Everyone is very helpful and responsive!! Would definately recommend Spencer at Business Promotions!

Working with James Salazar at Business Promotions has been a breath of fresh air! He designed a new website for us which was very professional and well done. He is extremely creative with a great visual and technical sensibility and was very patient in allowing us to change the design to meet our vision. James is truly a gifted designer which is rarely found today and I would highly recommend him and Business Promotions to anyone!

This company is definately on top of it! Everyone that I have ever talked to has been completely helpful! Way to go guys!

Very happy with the knowledge and guidance we have received from BP. They are a pleasure to work with.

Very Patient staff!! Love working with them.

All of my experiences with the staff at BP were outstanding! From the initial sales communication with Austyn to the design changes with Shane, their professionalism and responsiveness were very impressive. While they may oversee hundreds of websites, I am only concerned with one. They continue to take all the time I need to make it perfect... no matter how small it may seem to someone else. Business Promotion's full range of available marketing services and their genuine interest in helping you reach your goals makes BP an outstanding choice!

We are just setting up a site with Business Promotions and the process has been great so far. They have been in constant communication, adhering to deadlines ! We can't wait to see our final product with them

Business Promotion is a great company! From the video team they sent out to produce our practice videos, to the technical support team, to the blog team, and the SEO team, they have all been great to work with. When we have a questions, they are quick to respond and provide the information we need to make the best decisions for our office.

Great easy experience redesigning our website! Jimmy was a pleasure to work with. Very professional, knowledgeable and detailed. Anyone looking to design, re-design or just update their online presence should give Business Promotions a call.

I have been working with BP now for a few months with our website design and social media. Jake has been nice to work with as our account manager. He has great ideas and will also listen to my own for our website. Sara helps me with our social media and is quick to respond. They both allow me to make changes along the way without making me feel like I am bothering them

Our company has just began working with Business Promotion to build our new website. We are beyond pleased with the customer service we are receiving and the outstanding work and assistance we are being given to create a unique website. This company is on top of every step that needs to be taken to achieve the goals we have and are taking us beyond our expectations. I cannot say enough good about this awesome company. Check them out you will be more than satisfied! Nancy Young Dr. Dale M. Gallagher's office

Thank you Harris, working with you and the company is great things run smooth and everyone respones in a timely manner. Thank you and we are excited about our relationship with you!

Excellent experience so far in the development of my website. James Salazar has been very thorough and knowledgeable in the process. Thanks, BP

Have had a great experience with this company so far. I did my research first, and so far they have done well with setting everything up to promote my office, especially Laney who started off the design work.

BP Dental has been exceptional in making sure that things get done, and they get done the way that we like them. I've never worked with a web development company that is so flexible and helpful. When our marketing director connects with them, she feels as if she has a team working for her (and with) her on projects instead of it feeling like a completely different entity that doesn't understand anything about our company. Everyone that you talk to is happy and helpful. You can tell that they really want to help you succeed and they take pride in their work. We can't say enough good things about all of the departments. Everyone there has a can-do attitude, and they are always finding a way to make our vision a reality. Thank you Business Promotion for always pulling through, and thank you for working so hard for us.

Worked with Jimmy on design of website. He was very patient with my demands and took the time to listen to what I was really wanting... A+

Business Promotion has been great to work with. They have listened to my concerns and what I want. They were able to make a website that not only reflected who I am, but where I am. It's great when a company can promote my business and philosophies and give patients who are looking for what I offer feel like they know me well before they even meet me. Great Job!

Giovanni did a great job taking care of my email and making sure all my needs were taken care of-- finally my email is working correctly:) Thank you!!

BP did a great job on designing our website. They were helpful in directing us in creating a website that not only looks great but is easy for our patients to understand. They communicate with our office on a regular basis which we really appreciate.

JD Gatenby (owner) does business with integrity and honesty. In a time where many business owners operate according to what they can get away with, JD is still concerned with doing what is "right". That kind of attitude can influence an entire organization.

Very professional and easy to work with. Design is top notch and the process has been wonderful so far. The people at Business Promotion really know what they are doing and we are looking forward to seeing the results.

BP Dental has been extremely responsive and their team is very knowledgeable. Whenever I have called or asked for anything, it has gotten done without delay. Team experts are skilled in various areas of web site development, social media, overall strategy to enhance website presence. As long as you put in the time to work with them, you will see the benefit of their services. Highly recommended!

Great company. A speedy delightful process. Thanks guys.

Texas Kids Dental Care
UK
We are new with Business Promotion, so far, they have been phenomenal to work with. They make sure that we have all our questions answered and that all our sites are getting their proper fixes as well as getting tons of views. Texas Kids Dental would like to give a big Thank you to Business Promotions for all they do.

Jimmy was so awesome and professional to work with! He took great care of us and our project. He was prompt and thorough! Thanks for everything.

Always professional, easy to get along with, and never any issues!! Laney was no exception. She was very patient and gave us excellent service.

Great experience building a new website! BP has been very responsive and timely.

Great experience with BP. They know their stuff and are well staffed. Everyone is very committed to great customer service. Additionally, they know how to put the whole web marketing package together. Website, social media, patient relations all working together to create the image and relationships we are looking for! Thank You!!

Love the customer service we have received with Business Promotions. From the design team to tech support, they are top notch. They are very "hands on" and will guide you through the process of how to make your website stand out among all others. They make building your website easy by taking the stress out of it. Whether you have been in business for a while and have an existing website or you are just starting out, Business Promotions is the way to go.

Great team and excellent service. The website design and the social media pages were well designed. The customer support is always great!

Pearl Smile Dental & Braces
UK
Its been a wonderful service so far by business Promotion, Their customer service is awesome and they have made every possible way to meet my expectations

Business Promotion is doing a great job at making our website. They have contacted me every step of the way about different design ideas and they make sure i really love what i see before proceeding. They are amazing website designers.

We found BP Appointment Reminder System support to be very helpful as we start up this service. An unscheduled call today answered all our questions and we should have a smooth transition.

We found BP Appointment Reminder System support to be very helpful as we start up this service. An unscheduled call today answered all our questions and we should have a smooth transition.

Awesome!!! That's the word I can describe you guys. You are all awesome! It was a great experience dealing with you in creating our fabulous website. From the sales people - Nicole, Jeremiah, Justin, to the creative staff - Abby and James. We are so glad we choose your company to handle our marketing needs. Several companies tried to convince us that they are better. But with my experience with you, you are the best! Dr. Eddy T. Lim

Great job on the web design Jimmy. It's been a pleasure working with the team at Business Promotions. The team is organized, has a clear plan, and when it comes to the product they exceed expectations. Definitely glad I chose BP for my Practice.

We are having a great experience with Business Promotion. Laney was very attentive to our input and was very thorough in designing our excellent website.

Love BP and all the staff that we have been working with so far. Excellent customer service! Harris L. is the best web designer! He is very patient, listening to what we like, and actually making them happen. Thank you so much! - A.C.

Business Promotion does a great job with our website! They are easy to work with and get changes done quickly when necessary! We've always had good success with our website in attracting new patients!

I have been working with Jacob Hillman to customize our practices websites. He is very responsive and I get change requests done with very quick turnarounds. His knowledge and expertise is impressive. I'm very lucky that he is my account manager. All "issues" are resolved with a smile and his very professional manner over the phone. I cannot thank him enough for his dedication to making sure the patient has a great experience when they visit our websites. Thank you Jacob!

Laney, thank you for being easy going and an absolute pleasure to work with. The changes we made, that you were able show us in real time, I am sure helped tremendously in reducing the overall project set up time. It's just great that you are able to do that. Being able to do that on the fly seems to lend just the right touch and a true feeling of mutual accomplishment while helping to create the right feel and look for the site. The eagerness and polite business manner exhibited by you in coordinating our web site design on behalf of Business Promotion, LLC, was like a breath of fresh air in a world that is unfortunately filled with to many hurried and whatever goes companies. Thanks again, Tony at Walinchus Inc.

Amazing customer service! They have helped us develop a website that is not only user friendly for our patients, it's also beautiful and captures what our office is all about. Thank you Business Promotions! Helpful?

Very friendly and easy to work with. Good company to work with - always trying to help us succeedI have enjoyed working with BP. Awesome Staff, they spend the time to explain and help you.

I was having great difficulties with logging into my email and Giovanni was able to screen share with me. While I got busy with office work and patients, he continued to work the problems and resolved all issues and patiently waited a few times while I put him on hold. I found him extremely helpful, knowledgeable, courteous and kind. I am most grateful to know they are just a phone call away!

I love Business Promotion. They are on top of everything. If I have any request it's done on the same day or the next day for SURE. I am very glad I made a decision of hiring them. Highly recommended.

Business Promotions has been great! Friendly and professional customer service always willing to help with our website needs. Thank you for your services.

We are loving our new website and the traffic its been getting. Jake has made the whole process easy and enjoyable. Thanks!

One morning our daughter, Stephanie, who is a Dental Assistant at my Pediatric Dental office picked up a call from BP asking if the office would be interested in hearing a presentation regarding using BP to help promote the practice. Knowing our situation, she immediately agreed, had several excellent informational phone conferences with Marko and passed on the information to me. Subsequently, my wife and I had a lengthy, comprehensive phone conference with Marko at which time he was, polite, patient and had a good sense of humour. Because of all the positive interactions and professional services that the BP Team can provide, we decided to sign up and become part of the BP Family. We are thoroughly looking forward to doing business with the BP Team who will help give our office marketing a facelift and will help to boost our patient numbers. Thank you, Marco, for all of your help, you are an answer to prayer!

BP Hit it out of the park! Our dental group practice has a complete range of specialty services with separate branding for adult and pediatrics. BP worked diligently with us to make sure all the elements are included on our website and clearly reflect both our message and our branding. Our project was not simple or straight forward; BP confidently and professionally took on the challenge with fantastic results! Our project manager, Jake was super-patient, took responsibility for seeing through to completion and always accepted the challenges positively with a focus on providing excellent solutions to our satisfaction. Thanks guys!!

Business Promotion has been the easiest and most stress-free company to work with. They've taken all my requests and questions with nothing but kindness. They are speedy and reliable!

Business Promotion goes above and beyond working with us, updating our website, offering new ideas, and support in all aspects. We have been with them many years and have been completely satisfied! I highly recommend! ********* ten stars :)

I have been a customer with BP for several years and just had the best experience speaking with Mike in Tech Support! He was so helpful and even called me back several times when I was having phone issues. :) Business Promotion built and now hosts our website and they do a great job to help my staff manage the site.

It was a total pleasure working with Laney on the design for our office. I would highly reccommend Business Promotion to anyone seeking a positive change for their office.

Our experience has been amazing. The service is great and the web designs our awesome.

We are in the beginning stages of working with Business Promotion to build a new website for our dental practice. I'm very pleased with how organized and efficient they have been so far. Communication has been excellent, very thorough but concise and timely. They have listened to our requests and presented solid options so we can choose how to best represent our practice culture online. I'm looking forward to seeing the final product! UPDATE - Our site just went live and we are very pleased with the results. BP made the entire process easy for us. They handled everything from transfer of domain to setting up our emails on each individual workstation. Every BP team member I've worked with has gone above and beyond. They are truly experts in their field and have made what could be a very stressful process a very enjoyable one. Thank you, BP!

I have been a client of BPI for a few years, and I have really seen their investment for client services grow. I am launching a new website to reflect my new business, and Briana is intuitive, creative and fast. Thank you for making digital marketing fun

Very pleasant to work with. Always prompt and very knowledgeable. Super professional.

Very good company and very reasonable pricing. Great ideas and they know Dental!

Jennifer M. The team at Business Promotions have been a delight to work with. From the sales call Cameron to the web design with Laney. It as been such an great experience and they have made it so easy to say yes to updating our website. I have been working with Laney on our design portion of the website. She was efficient and pleasant to work with. Laney also made the design of our website exactly the way I wanted it. I just gave her some key things we wanted and she went above and beyond to create the perfect look for our dental office. I would recommend Business Promotion to anyone!

This company has been great to work with. They have been taking care of my online presence for the past 3 years. They have been doing a great job.

We have been working with BP to get our website up and going, this has been an easy experience. They do all the work for you, after they find out what you're looking for in a website. They give examples and quickly change anything you want to see differently. They are great to work with and I would highly recommend using them!!

Laney at Business promotions is awesome! We are so happy with the customer service we have experienced and our new site is looking great!

professionals that review all your business needs and confidently spend time with you to understand all of your concerns. Spoke with Spencer ..he was excellent to have a discussion with

Love this company!!! EVERYONE is so helpful! We knew very little about rankings, seo etc.... We are so glad that they are patient in explaining everything. We have been with Business Promotions for almost 2 years now and we could not be happier! HIGHLY RECOMMENDED!

Thanks to Business Promotion. They got all the information they needed. They asked the right questions and got to work. I got a proof of our website design quickly, including all the elements we had discussed. Easy and efficient. Highly recommended.

Briana for Business Promotions was exceptional. We have used Business Promotions for years and just updated our website. We again our very pleased with the companies performance. Briana answered all of our questions and helped with the design and we were very pleased.

Great customer service and very friendly. I have had the pleasure of working with Business Promotions developing our website. They have been helpful by offering suggestions and allowing us to make changes to our web design. Very happy with our website! We also use the appointment reminder communication system with Business Promotions and they have been wonderful to work with. Best part is their prompt response to my email communications.

Business Promotions have been so helpful in creating a website for our office. They incorporated all my ideas and came up with a beautiful site! I would totally recommended them. They went above and beyond to help me create something not only functional but stunning! They were so easy to work with and always returned my calls with in 24 hours, that by it self blew me away.

Business Promotion not only designed a beautiful website for our company, but they've also done a fantastic job promoting on our Facebook page as well. The training videos they provided were very informative and easy to use. Most importantly, the customer service is excellent! It's been great working with them!

We have been pleased with the ideas and skills BP brings to the table. Their customer service and response time is fantastic. They have perfected the art of communication with our office - nothing gets dropped or left behind. I would even recommend them to my own mother. Try them out!

Excellent job! We are very pleased with the professionalism, talent, and expertise that has been given to the creation of our new website. We love it!

What an amazing product! I love my website, and all the other marketing services they provide. It was great to have a one stop shop for all my promotion needs.

Our experience with Business Promotions has been great! They have done a terrific job of getting our office name out there. I work with Rebecca, and she calls every month as scheduled, and really is very affective at getting my requests taken care of. Rebecca is very easy to communicate with and extremely dependable.

I am so happy we decided to work with Business Promotion. Every conversation I have had with them has been top notch, helpful and informative.

They have been great to work with. We started working with them back in August or September last year just after my company opened. Every person has been friendly and helpful. They built the website the exact the way we wanted. Any questions have always been directed to the exact person I needed and all of my questions have been fully answered. Business Promotion has a great team.

MY PARTNER AND I WERE VERY PLEASED WITH HOW WELL LANEY GALBRAITH OF BUSINESS PROMOTION TOOK CARE OF OR WEBSITE DESIGN NEEDS. WE CAN HIGHLY RECOMMEND HER FOR WEBSITE DESIGN. VERY EFFICIENT, LISTENS CAREFULLY TO YOUR IDEAS, AND CARRIES THEM OUT AS SHE DESIGNS YOUR WEBSITE. EXCELLENT EMPLOYEE. BUSINESS PROMOTION VERY LUCKY TO BE REPRESENTED BY LANEY. DR. J. KEN CARVER

Miranda was a true pleasure to work with. I was very impressed with her knowledge and the details i requested was immedieately processed. Great to work with.

Great company to work with so far! Briana has been so helpful, our site designer. She really listens to what we have to say.

Business Promotions is very professional, easy to work with, affordable, and most of all no pressure! They work with each client individually and work very quickly to insure my wants and needs on the website are adjusted ASAP. I highly recommend them to anyone who is wanting to have a top notch website and promote their business .

BP has been great to work with so far. With an ever changing practice, our website is always needing updates and changes. It is easy to shoot them an email about a change and within a few hours, that change is made. The only reason I can't do 5 stars is because I've had a few times where the changes they make to our website make no sense based on what I asked them to do. I'd prefer they send me another email to clarify if I do not describe something in as much detail as they need instead of letting me know it's completed then I go to look at it's not correct. But overall, quick, and easy to work with. Thanks!

YOU GUYS ARE GREAT! WE ARE VERY HAPPY WITH OUR WEBSITE AND YOUR CUSTOMER SERVICE! WE RECOMMEND TO ANY DENTAL OFFICE! YOUR BP REMINDER SYSTEM IS GREAT FOR COMMUNICATING WITH ALL OF OUR PATIENTS. THEY TRULY APPRECIATE THE NEW COMMUNICATION METHODS. THANKS AGAIN

We have been a client of Business Promotion for 4 years now, and been very impressed and extremely pleased with their services. The website design team is amazing and fully understand what you may be looking for in your design. They are eager to please and are extremely quick to respond to any change requests. They maintain our Facebook page also. We are getting ready to try their patient messaging system and I have no doubts we will be pleased with the performance of the system. We highly recommend Business Promotion.

Very helpful. When I was trying to understand the web presents, they have always been professional and friendly and completed the task. Thank you very much!

I have been using BPI for about four years and have been very please with the quality of their work and their extremely responsive customer service. From building and maintaining my new website to populating my social media pages, they have worked hard to give my practice a good web presence. I would highly recommend this company.

I have been working with Business Promotion for the past few weeks and so far my coworkers and I are very happy with the service we have been receiving. From the moment we started working with them the ball got rolling quickly in developing our new website: within the week we had a mock-up design of our website! The design team and content team have all been extremely helpful and understanding in making the website unique to our business. By using our logo/color scheme/photos/videos the look and overall style of the website will be one of a kind. We are looking forward to the finished product in the near future!

Great job listening and creating what we asked for. Very friendly and easy to work with. Briana worked very hard to create a website that met our needs and personality. Good company to work with - always trying to help us succeed.

Amazing company to work with for a new website. Every person I have spoken with has been professional and everything that has been created or changed has been in a very timely manner. I would highly recommend this company!

Jimmy did an awesome job designing my site. I didn't give him a lot to go on just a general concept and it looks perfect. He was friendly and easy to work with. I am very happy with my new website

WE WERE HAVING SOME QUESTIONS AND CONCERNS WITH OUR CONTRACT WITH BP. THEY WERE VERY WONDERFUL IN TRYING TO HELP ME UNDERSTAND AND WORK THINGS OUT. EVERY TIME I CALL I ALWAYS GET SOMEONE WHO GOES OUT OF THEIR WAY TO MAKE SURE WE ARE HAPPY AND THINGS ARE WORKING WELL. THANK YOU KENNA FOR YOUR QUICK RESPONSE TO OUR NEEDS. THANK YOU FOR ALL YOUR HELP AND WILL CONTINUE TO REFER AND RECOMMEND YOUR SERVICES TO OTHERS LOOKING TO IMPROVE THEIR PRACTICE. CAROL WE WERE HAVING SOME QUESTIONS AND CONCERNS WITH OUR CONTRACT WITH BP. THEY WERE VERY WONDERFUL IN TRYING TO HELP ME UNDERSTAND AND WORK THINGS OUT. EVERY TIME I CALL I ALWAYS GET SOMEONE WHO GOES OUT OF THEIR WAY TO MAKE SURE WE ARE HAPPY AND THINGS ARE WORKING WELL. THANK YOU KENNA FOR YOUR QUICK RESPONSE TO OUR NEEDS. THANK YOU FOR ALL YOUR HELP AND WILL CONTINUE TO REFER AND RECOMMEND YOUR SERVICES TO OTHERS LOOKING TO IMPROVE THEIR PRACTICE. CAROL WE WERE HAVING SOME QUESTIONS AND CONCERNS WITH OUR CONTRACT WITH BP. THEY WERE VERY WONDERFUL IN TRYING TO HELP ME UNDERSTAND AND WORK THINGS OUT. EVERY TIME I CALL I ALWAYS GET SOMEONE WHO GOES OUT OF THEIR WAY TO MAKE SURE WE ARE HAPPY AND THINGS ARE WORKING WELL. THANK YOU KENNA FOR YOUR QUICK RESPONSE TO OUR NEEDS. THANK YOU FOR ALL YOUR HELP AND WILL CONTINUE TO REFER AND RECOMMEND YOUR SERVICES TO OTHERS LOOKING TO IMPROVE THEIR PRACTICE. CAROL WE WERE HAVING SOME QUESTIONS AND CONCERNS WITH OUR CONTRACT WITH BP. THEY WERE VERY WONDERFUL IN TRYING TO HELP ME UNDERSTAND AND WORK THINGS OUT. EVERY TIME I CALL I ALWAYS GET SOMEONE WHO GOES OUT OF THEIR WAY TO MAKE SURE WE ARE HAPPY AND THINGS ARE WORKING WELL. THANK YOU KENNA FOR YOUR QUICK RESPONSE TO OUR NEEDS. THANK YOU FOR ALL YOUR HELP AND WILL CONTINUE TO REFER AND RECOMMEND YOUR SERVICES TO OTHERS LOOKING TO IMPROVE THEIR PRACTICE. CAROL

We are so impressed with all the staff at Business Promotion so far! Benji was so helpful in getting us started with our account and deciding what things we should focus on for our business. Briana has been so patient in helping us create our new design concept for our website, and we are thrilled with the results! It is clear that working with Business Promotion means working with extremely talented people!

We have been using business promotions for 3 years now and so far have been really impressed. They are ready to help you with any aspect of your website, and always very friendly. They have been very patient with us but also made sure we had reminders about finishing everything for the website. We really appreciate the time and dedication they are willing to take for even the smallest of issues.

Very detailed in our design and content process. They listened to all our ideas and presented options that we didn't think of but loved! Colorful and modern design. Website has lots of features and we have started to gain new patients based on services they have done.

Every person I have worked with has been an absolute pleasure. Tanner was wonderful with his presentation and finding out what would work best for our office. The whole design and content consult was so easy I couldn't believe it. Emily was wonderful with all of that! I don't know much about websites or social media however they were so understanding and helpful. Keep up the great work!

Newsletter Subscription for Virtuous Reviews LLP
One more step and you will be subscribed to our newsletters
We have sent you a verification mail on your email id, please verify it.