Coalition Technologies
SEO Services
3750 S Robertson Blvd, Suite #200, Culver City, CA 90232
Claim Listing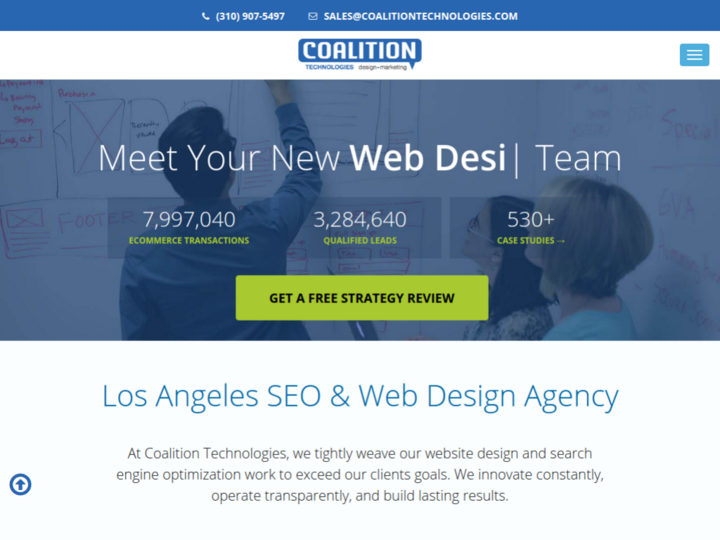 Company Description
Coalition Technologies is the number one ranked on Google search engine optimization firm, and has received top ratings from our customer on all review sites. Whether you need a good Los Angeles web design company, a skilled SEO team or a top notch branding agency, Coalition Technologies is your solution.Contact us today to discuss your needs and receive a free quote. Let us show you how we can benefit your business in tremendous ways.
Review & Rating

FANTASTIC!! Really nice, helpful and dedicated staff. Needed help with basic SEO on my webstore, contacted coalition Technology, got what I wanted. They gave me a good insight on what to work on, improve or change. Helped understand the need of my customers and the right direction to take. I've been talking to Krista and she's great! Really happy to have found a nice and dedicated team that can help improve my webstore! I definitely advise working with them, A+++++

I contacted Coalition Technologies to utilize their SEO services. They were very professional and the support was amazing. They gave me several great suggestions to improve my site search rankings and speed, and they all worked wonderfully. Would definitely recommend them to anyone looking to improve their SEO. The entire experience was a pleasure.

Our company worked with Coalition in 2017. During the kickstart call, the team really try to understand our business in detail, which is awesome because it's important to get everything align before working together. Their technical suggestions are very useful. We expect to see the positive result in the near future. I strongly recommend working with Coalition Technologies!

I did not come across Coalition Technologies by accident. I do my homework. This company lived up to the raving reviews that brought me to its doorstep. The work I needed done came out wonderfully. I would use them again without hesitation.

True professionals! Totally recommend them at any level! I had a marketing team hired prior to working with them, now I don't need it anymore, it is less costly and more efficient working with Coalition. Thank you guys!

This company did some SEO work for our company and started out great with their initial report. Beyond that point they were basically worthless. We would have verbal meetings where they would promise things they could not deliver and basically any question you ask they would have to check with their team. Unsure how a basic questions like where did my hours go this week/month was a difficult question. After figuring out they couldn't actually do anything programmatically for the website we decided all they could offer is writing words for landing pages. I let them spend most of the hours doing that only to find out they just kept repeating the same things on different pages and were promoting products that I did not even carry. Basically whoever wrote these didn't look or pay attention at all. When I showed them the problem they insisted it was a mistake and they would fix it. That never happened as I had to fix it myself. I finally got fed up when complaining about links they finally gave me a list, only to find out they signed me up as the wrong company and only bothered to sign me up on no name websites that were knock off yelps. When I seen once again they listed my company incorrectly I tried asking for the passwords and logins to fix these issues they denied us and wouldn't give them to us. I do not follow what value that would have for them keeping them other than to give us bad links and actually hurt our company more. The experience was horrible to end things as they called and basically tried to argue with me and tell me how great their work was and how they never promised anything I thought they did. Make sure you get a written email with what they are supposed to deliver because I would never trust these guys verbally. They all seem nice until it comes time to make a deadline and deliver. I would avoid these guys because they just have too many clients to pay attention to the details that matter.

Best company and best staff for SEO!

Any time I have worried or not been in love with a post, design, or copy, Coalition has taken the time to really understand what I'm looking for and get it right. Coalition truly cares about their clients and it shows in their customer service. We are a complicated company with a lot of different, weird products and I appreciate the patience they have had to solve any issue or frustration I have had. Would recommend Coalition in a heartbeat! Big shout out to Brittney, Tyler, & Krista!! They've been awesome to work with!

Coalition Technologies gave me some helpful tips and tricks to improve my digital presence and rankings. Thanks!

I worked with Coalition Technologies for about three years. Very enthusiastic in the start up phase, but sadly that's about it. I need to be candid and say I regret not parting company with them sooner, as I think they were ill-suited to our needs as a small company. My biggest complaint is the lack of understanding of my goals, which I thought I had made clear at the beginning, I feel that because I did not expand my budget with them (which was based on a sales goal clearly discussed in the beginning) that the level of managers was downgraded. I know I bear some of the responsibility here, but their lack of enthusiasm was deafening. So if you have a big budget, then perhaps they are the right for you.

I found out about Coalition Technologies from an insightful blog post on SEO that they wrote for Shopify which stood out from all the other SEO articles I've read before. I decided to contact them because I wanted to increase organic visitors to my website and needed a big SEO improvement, and CT seemed like the best people for the job, and they were. They did a very in-depth analysis of the website, and left no stone unturned; advising me on everything from keywords to seemingly small improvements to the website that actually make a big difference. They always answer emails promptly and are more than happy to jump on a call with you to answer any questions you have. If you're a busy business owner, there's only so much you can do by yourself, so the best decision I made was to put my website in the expert hands of Coalition Technologies. Thank you!

Opening Hours
Mon

Closed

Tue

5:00 pm - 9:00 pm

Wed

Closed

Thu

5:00 pm - 9:00 pm

Fri

Closed

Sat

Closed

Sun

Closed
People Also View
Authorize your self with either of these to view contact details, your information will not be shared to any one
Newsletter Subscription for Virtuous Reviews LLP
One more step and you will be subscribed to our newsletters
We have sent you a verification mail on your email id, please verify it.