Coalition Technologies
#1 Globally
#4 in USA
#1 in Los Angeles
SEO Services
3750 S Robertson Blvd, Suite #200 Los Angeles, CA 90232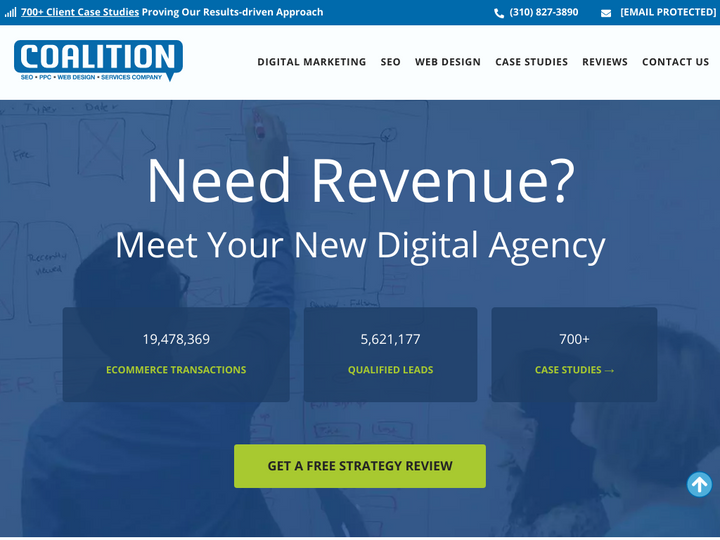 Company Description
Coalition is the top ranked SEO provider in Los Angeles, CA. With a team of over 90 specialists running a gamut of skills from graphic design, development, copy, reporting and data analysis, social media, link building, PR, and more, we're able to provide scalable, effective solutions for SMBs and enterprise clients. We also have significant experience in B2B and ecommerce SEO.
Review & Rating

Thank you again!

Coalition Technologies does great work!

Great Company to work

"We just wanted to take this opportunity to thank everyone at Coalition for your hard work and major efforts on our behalf to help us get our business back in the black. Getting our penalty removed and then building traffic has been a lifesaver."

CoalitionTechnologies is a first rate Web Design and Devlopment company that has come through for me many times, always with fast, top-notch service, a great attitude and reasonable rates.

I've been very happy working with this company!

Coalition provides top notch quality work at competitive pricing.

I enjoy the website and would like to work with this company.

I have been very impressed with the work done by Coalition so far.

Awesome company!

I hired this SEO team 2.5 years ago and have seen great results for my business. I love their communication and expert team members who take care of my work at good prices.

Best SEO company in Los Angeles ! Their team of highly experienced experts will help you grow your business on another level.

My firm receives a good amount of our business from our website via search engine optimization. The guys at Coalition have done a great job of maintaining my website and making content updates and SEO tweaks to help me get more leads. Thank you!

Coalition Technologies simply put, is just awesome. They are staffed with very friendly and knowledgeable people, so, if you're like me and "tech speak" is like chinese, then you'll be okay. Hopefully, you're shopping around for your first web designer to build you a site. Unfortunately for me, when I came to them, they were my third attempt. To say the least, I was skeptical and my wallet hat already taken a hit. Still, I gave them a shot and have received several compliments on the look of the site! It's still a relatively new site, and I understand that, so, time will tell what comes of it but as far as the people and the work that Coalition Tech did and still is doing for me, they are fantastic! Give them a shot and I promise you, you will not be dissapointed!

I just finished a web design project with Coalition on Bigcommerce. Everything was very well done and very professionally managed / delivered. There are a few things that I noted from my experience that are shareable or noteworthy; Its been noted before, but their quotes / estimates are always in business days. If you don't catch that in advance that's on you, but I do feel like they could highlight what that means for ACTUAL dates sooner in the process. (PS They are also estimates, which they note everywhere). Contracts are loooooonnnnng. Not sure this is a good or bad thing, but their contract is probably twice as long as any web design contract I've ever seen. They are also WAAAAY more detailed than other ones I've seen so there is some plus there. But there are also more terms / exclusions / policy type of things. They also have spent some money making sure the contracts read okay- attorneys wouldn't all have a bad rap if they bothered simplifying / over explaining the fine print like Coalition has. Unlike some others I've seen review here, I read the terms, understood them, and agreed to them. No biggie. Just be aware of what you're getting into. You're one of many. Again noted before, I'm not paying pricing for web design where I expect to be the only client which I can appreciate. But I did miss a few of their deadlines for me and that doubled up on some of the time till next deliverable. If you're in a rush, I'd be very clear and ready to participate.

Overall a great experience. In a few months we were ranking at the top of Google for our major keywords and our revenue has increased as a direct result. Their account manager has been very communicative with has also been a huge plus.

We are a very satisfied client of Coalition Technologies. We run a luxury bakery and our traffic has increased and so has the quality of our leads. Over the last year, our sales are up 40%. Jordan and his team have been great to work with. After many bad experiences with other firms, we are finally happy.

Coalition has helped us immensely with a complex integration with our ERP solution. Talked to a lot of companies, most of whom wanted a recurring billing model and Coalition was the only one to offer a viable fixed cost solution that we could own. On behalf of our management team and fulfillment group, thanks Coalition, Jordan, and everyone who worked on our project.

Coalition does maintenance for our Wordpress site. They have helped with a few things- backups, security updates, upgrades, spam issues, optimization of our landing pages, etc. The work has been top notch quality and handled quickly. Not the cheapest, but its hard to find quick and good in web development so we'll pay for it.

Very professional and dedicated to customer satisfaction that goes above and beyond. Coalition gives attention to detail of the customers wants and needs, also it has an excellent team that ensures project completion well in time. All in all, Coalition is indeed an expert in its field.

They have a deep understanding of the Search Engine Optimization process and can maximize any client's social media portfolio and presence.

Handled an upgrade of our Shopify store design through Coalition in the fall. We liked the flexibility of not having a minimum monthly charge in their retainer and the ability to either guide the process or lean on their team more havily (they are really insightful on user expectations and marketing improvements). As others have mentioned, Coalition is not cheap but I don't think you necessarily want cheap. Learn from our experience- cheap web design and development work incurred a lot of unseen costs. You pay to have something done once, then pay to have it fixed, then to have it optimized and so on. Not with Coalition. Work gets done right the first time. Just know it can take time and you get what you pay for.

Coalition obviously provides a variety of resources and serves for all your social media and Web needs. If you looking to revamp your website or update content you can trust Coalition Technologies to get the job done and produce results that are second to none.

Coalition Technologies delivered a great new website for our church, The Church at Cedar Springs in Graham, WA. As a smaller size organization, it was important to us to have our website built by a company that would guide us through the entire process. We were impressed with how informative and responsive they were throughout the project. Also, our previous site was barely on Google's radar. Three months after the new site was launched, we are now number one for churches in our area. Overall, we are very pleased with Coalition Technologies and are thankful that we used them for our website needs.

Very clear and concise website! Makes everything easy to read and I had a very easy time navigating through it.

First ever company I have ever seen in my life who understands the client businesses & their problems so deeply, before creating and deploying strategies to accomplish their goals. Thank you Coalition Technologies for all of your help!

Coalition Technologies is a very reliable and reputable company. They are very efficient at increasing online exposure and attracting new customers for businesses.

Coalition Technologies is a very creative company, they know the importance has a good website. They manage a lot of new technologies help to build great and functional websites.

after reviewing what this business does, i think they are great in what they do. i would definitely check them out!

Excellent website! Easy to navigate and extremely informative. I am VERY interested in working with this company.

Excellent company. Clean designs with a fantastic layout. The staff was a breeze to work with and treated me like I was their #1 client.

I have reviewed the Coalition Technologies website, and it is clear that they are good at what they do. Web design, SEO, and online marketing are critical components for a successful business in today's world, and CT understands and executes that. Their focus on a customized experience for all clients clearly delivers success and satisified clients. I look forward to researching CT more!

Based on the website alone, Coalition Technologies has a clear and straight forward business model. Reading through the reviews has shown that the company is well liked and has a great team. Very interested in learning more.

Based on the website alone, Coalition Technologies seems like a very strong company with a clear product and business model. The information on the website is robust and very thorough. I am eager to learn more.

Find out what CT can do for you! Their ability to weave website design and search engine optimization is unparalleled. With a proven Client Satisfaction rate of 99% and Client Retention rate of 97% there is absolutely no harm in pursuing the ways in which Coalition Technologies can help you!

Top notch service! I hired them to set up my tracking for adwords since I had no clue how to do it. I must say the service was top notch. It was done very quickly. I can finally track my converting kws for my adwords campaign! I especially like the constant communication throughout the project. They were very professional and would highly recommend them. I am sure I will use them again.

SEO and Web Design have become enormously beneficial for the growth of all types of businesses and industries. Coalition Technologies has done a great job at not only simplifying the process but also providing custom services that meet the needs of their clients. Awesome job!

This company reminds me of everything I miss about being involved in the Silicon Valley since moving back to Los Angeles. I've been involved in media buying, search engine optimization, online advertising and content creation before while being the assistant to the CEO of a company whose directive was very similar to BuzzFeed. When working in a tech oriented environment, there is never a moment where you aren't learning something new and interesting! A company that immerses and perpetuates itself into the future like Coalition Technologies is one set up for success!

We were approached by Krista Bornman and the Coalition Technology team because we use Big Commerce as our ECommerce site solution. Krista Bornman and the Coalition Technology team followed through with their promised work, were easy to work with, and were right on time every step of the way. Krista even helped me troubleshoot a small email calendar issue fast and accurately! We are hopeful to work more with their team in the future!

Although I had a small website job, Krista Bornman and her Coalition Technologies team were very responsive and professional. There are a lot of companies out -- and tried a few -- not all deliver as promised. I would highly recommend them!

I was very surprised first of all, at the speedy response I received from Coalition Technologies! I had not expected a reply so quickly! I had tried to set up Google Analytics myself and had somehow made a mess of it as it wasn't installed on my website properly and Google was blocking things on my site and I had no idea what that meant. The young lady who contacted me (Krista Bornman) answered all my questions thoroughly, kept me constantly informed about what was being done and explained all the things that I didn't understand. Coalition Technologies worked quickly and efficiently to correct the errors by unblocking the pages with blocked resources, correctly installing codes, enabling ecommerce, display advertising & Google webmaster tools and so much more! Great job done by all involved! I can't wait to see what else they will do in the future! Thank you, Coalition Technologies!! I am most grateful!

Coalition Technologies was an absolute pleasure to work with; not only did they complete the task that I had asked for, but they also tweaked my mobile site so that it worked more beautifully. I was impressed by how thorough Krista was, and how prompt she was in completing tasks, putting together information and proposals and communicating them to me. I highly recommend working with Coalition Technologies!

Coalition Tech was a HUGE life saver and crazy fast. They helped us customize our Shopify cart experience as well as allow us to show high-res product images on retina ready devices. They did everything perfect the first time (Bonus Points!!). Definitely would recommend any Shopify owner to use Coalition.

Anna Cabeca, DO, FACOG
UK
I was in a jam with a launch and reached out to Coalition Technologies for help in segregating my list and optimizing subscriptions and upsells through my Shopify store. They responded immediately and efficiently with professionalism. I recommend them highly. " Dr. Anna Cabeca

Krista and her team at Colition Technologies were extremely helpful! I had 2 free hours of service in exchange for 500 word search engine and conversion optimized article that will build traffic over time. The write up included many keywords that I will be able to use on my site to hopefully increase traffic. Krista also helped me setting up goggle analytics and showed me how to create filters on the pages. Would definitely recommend you give them a try!

Coalition did some SEO work for me recently and i have to say I was impressed. Very detailed and thorough, I got way more than I expected. They even found that an old html version of my website was still getting crawled by google, even though I thought it was shut down. No wonder my SEO was so bad! They found many other errors which, when fixed, will vastly improve my SEO. I wish I had done this years ago instead of trying to do it all myself. Highly recommended.

Decided to take advantage of the free 2 hour service in exchange for reviews. I had one tasks that needed to be completed. I was first told that the task would take 2 hours until I had another developer tell me that these tasks would take 1/2 an hour. I told Coalition about this and they changed the time limit to half hour. I added another task. I am not sure if I feel comfortable with their time quotes but they did complete what I needed done.

working with Coalition was a great experience, they were efficient, friendly and responsive, highly recommended !

Strongly recommend coalition technologies team to anyone if you are ready to find any technical help. Take it into your consideration. Freely to reach out to them and get prompt reply. I could not be happier to recommend it.

Lovely Claire Clarin Dangalan
UK
Thorough professionals who always strive to exceed client expectations :)

I really like the service and the customer support, I think was great. It really help me to improve my page and understand about SEO. The staff do a great job explaining their points and look that they have the experience and knowledge to do this job. Unfortunately their prices are out of my budget. But definitely I recommend them, if you have the money.

I really enjoyed working with Coalition! Their speed and attention to detail is exactly what I needed for my website. I look forward to the next time I can work their team, and I highly recommend considering them for any of your website needs!

I considered myself a small client of Coalition Technologies but I was very impressed that Joel Gross, the owner, personally oversaw the launch of my website re-design. Joel cares very much about the clients experience and that they are happy. I hold Joel personally in the highest professional regard and would not hesitate to reach out to him on any matter in the future. It's so rare in todays world to find somebody so passionate about client happiness and satisfaction."

Bubble Bait Fish Attractant
UK
I really appreciated using a company that was willing to work with someone with no knowledge in SEO. They gave me a detailed list of items that needed to be worked on with links on how to fix them. They kept in constant contact via email and never left me wondering what was going on. I would highly recommend this company for beginners or the experienced.

Coalition Technologies was great to work with! I was shocked at how quick they were to reply to my request and I was able to talk to someone immediately to get a quote and a plan to resolve my website issue. They were able to fix a problem within a day and I was hesitant to reach out because I thought it would cost too much money and take too long. Coalition Technologies was very quick and the job was within their free 2 hour window and they did not overcharge me and there were no hidden costs. The instructions sent were so detailed and easy that even a 5 year old could have made the changes needed. We will definitely use their services again if we have any other issues and I would highly recommend working with them for any of your website needs. TURO Skin 220 Lyon Suite 715 Grand Rapids, MI 49503

Coalition does seem like a very strong SEO company with a highly capable team. We received a SEO audit on our new big commerce site that was filled with useful, executable suggestions. We are definitely glad to have gotten such professional audit done on our site that we can use to make immediate improvements. Would recommend.

TVLampsforless Orange County
UK
Coalition Technologies were an overall great company to work with regarding writing an article for my website business to be placed on the homepage. I needed some text on my home page for SEO purposes and these guys actually researched my site very well and wrote a great article with calls to action and overall optimized for search engines. Krista was very helpful and followed up with me via email almost every day and was very professional. They are a company based in CA so their prices are up there, but I can tell you their work would be worth it. I hope to contact them for some future small projects since they do provide immense value even from a small email communication. If you are a large company and have a high marketing budget, don't hesitate to contact them even for a small test run as I'm sure you won't be disappointed.

I would highly recommend Coalition Technologies. I thought they were great to work with. They were extremely professional, straight-forward, responsive, and met deadlines as promised. They provided an SEO audit for our company. We have had one other SEO audit previously and the result was canned and not very useful (it focused on counting characters in meta tags and pointing out broken links). Coalition offered tailored advice that I hope will improve our overall SEO metrics going-forward.

Coalition Technologies was a pleasure to work with. They definitely have a more than competent team over there. They were able to help us with what initially seemed like a minor task, that ended up turning into a tedious headache. Krista Bornman was my main contact, and she helped us out were completely and professionally. She was prompt to respond and thorough. I will definitely call on them for future roadblocks we may have with our eCommerce site, and would recommend them highly for anyone else that is looking for guidance or help.

Coalition Technologies did a great job in discovering all the things I need to fix to improve my SEO. I had no idea of all the details that were involved in this project.They went above and beyond what I expected.

Thanks for your clear and friendly service, Krista. Although I do many of my Shopify website tasks myself, there are times when I need professional help. Coalition Technologies were quick to reply, solve my problem, and let me get on with the demands of my business. That is exactly what I was looking for, efficient help when I need it. Thank you Coalition Technologies.

Our company worked with Coalition in 2017. During the kickstart call, the team really try to understand our business in detail, which is awesome because it's important to get everything align before working together. Their technical suggestions are very useful. We expect to see the positive result in the near future. I strongly recommend working with Coalition Technologies!

Opening Hours
Mon

Closed

Tue

5:00 pm - 9:00 pm

Wed

Closed

Thu

5:00 pm - 9:00 pm

Fri

Closed

Sat

Closed

Sun

Closed
People Also View
Authorize your self with either of these to view contact details, your information will not be shared to any one
Newsletter Subscription for Virtuous Reviews LLP
One more step and you will be subscribed to our newsletters
We have sent you a verification mail on your email id, please verify it.