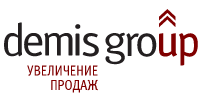 Demis Group
SEO Services
Str. Large Postage, 26B, pp. 2, a business center Post Plaza, 2nd Floor.
Claim Listing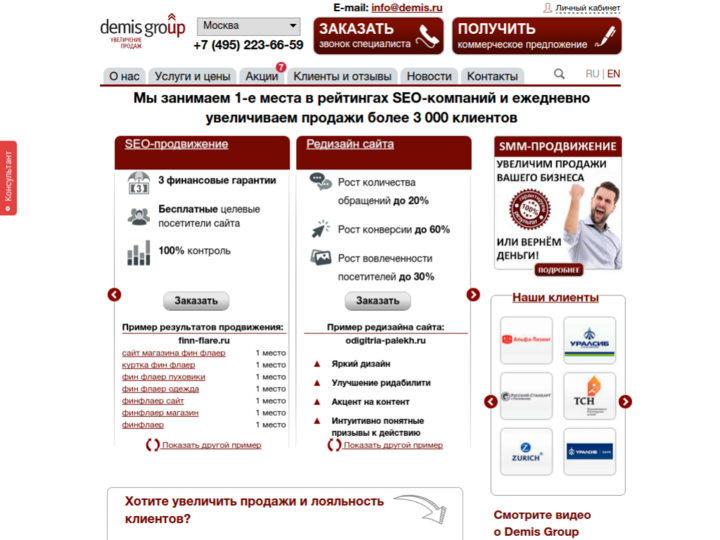 Company Description
DEMIS GROUP: DIGITAL AGENCY No. 1 IN RUSSIA
ABOUT DEMIS GROUP
14th year in the market of Internet marketing.

More than 700 highly qualified employees.

More than 3,000 successful projects on customer service.

It is included in the TOP-35 of the best employers of Russia.

1 place in three independent ratings of SEO-companies: "Rating Runet"; "WhoProvindul.ru"; «TOPSEOs».

The best SEO company of 2017
Review & Rating

Excellent company!

All applications under the big question. Many slogans - efficiency -> 0 I can not get a specific timetable for specific work - solid water, a lot of money. There are no results, we work for a year!

In our unstable time, the only thing I'm sure - is Demis) For 3.5 years I am part of the team and I'm really raduet.Pomimo work and wages I got here so much knowledge, so many interesting acquaintances !!! But the most important thing for me is that I see what I (yes, I) am the right specialist in the company and a very important part of our work! This is a very pleasant feeling)

I want to tell you about the company Demis Group. A large company for sucking money. agreement on promotion done so vague that does not undermine, for exactly what you pay for, no obligation. All just in words. my site they made from scratch. They promised that after 2, a maximum of 3 months will be the first call. In fact it has been more than 7 months, and the result is zero. Not a single call, the positions they empty promotes low frequency on which a maximum of 10 s APROSAM per month., and the cost of services on the minimum tariff TR 57 although for these items of no work newcomers who really do not know what to do. Try to download the client unnecessary approvals from morning till night, the feeling that it is you work on them, and they are not you. After our last conversation with their head blocked my website, for alleged delay in payment. Now engaged in blackmail and extortion, they require payment in return for access to MY same site. But really do not know how to block, unblock friends 4 hours, changed passwords in FTP and hostnge. The only thing that umeyut- ride on the ears, even a little bit of your money and all will be chocolate. One word crooks !!

Demis - this is my first job, I work in total there are more than 3 years. It was nice to return to the UA №1 to the excellent and motivated team, after 5 months of absence with a new experience and wealth of knowledge. Optimizer Jobs Demis Group - it is always developing and learning something new, and the main thing is the benefits that we bring to the customer's business. It is always important to love and appreciate what you do.

The Demis Group work is relatively recent, but already knew what made a better choice over the choice of the place of work) a stable salary, streamlined manufacturing processes, smart staff. If you are looking for a job and you are interested to develop in this area - definitely recommend)!

Victoria Chernoivanova
UK
The Demis have been working for more than 7 years. Over the years, I never doubted the correctness of his choice of employment. I think that is what is the main indicator of the company's relationship to its employees and stability in it.

I Demis more than 2.5 years. I knew where I was going and I was not mistaken. I want to be useful for this particular company. Just recently, thanks to Demis I was lucky enough to visit the major industry conference RIF + KIB 2016. Therefore, in addition to a well-deserved salary there is also the possibility (and most importantly the desire) to grow at the expense of the company! I am extremely grateful for this))

Demis Group - is not only a stable performance, interesting tasks, a decent salary, opportunity for growth as a specialist in their field. It is also the people who are always ready to help, who become real friends, who are always friendly and helpful! I am glad that I work in Demis! :) Thank you for the opportunity to be a part of the coolest and professional staff! ;)

the main advantage of working in Demis Group For me - the people! Cheerful, friendly staff, each employee is willing to develop, always ready to help you in any your question. I appreciate this vote and I would like to say thank you for that Demis!

Demis Working in groups, you can not only get a decent and stable salary in times of crisis, but also to move up the career ladder, learning new things, and plan your schedule so it is convenient to you. The young team which is always possible to escape from work and go on the nature of the weekend, welcoming atmosphere. Now this work is very hard to find. I was lucky that I have got it in this company.

Demis - a place where really have growth prospects. There really appreciate the good staff. That is why, in a relatively short period of time, I got in the reserve and has grown to the head of department. Demis develops not only business customers but also its employees. it is very valuable to me!

Demis work in about three years. The main thing I realized during this time: Demis - a stability that would not trade for anything else. From most of the friends I hear that the crisis, salary delays. As for us, this was not even once! And of course, an important advantage of the company is a team that I love to madness ;)

I want to talk about my work to Demis Group. Working Demis, I constantly evolve and gain a lot of experience in the area of ​​my specialization - usability and design. What is the most important thing - the work does not get bored, there are always new and interesting tasks and projects, doing that, you do not you remain in place, and you grow professionally. Another advantage of working in the company is an excellent team, which is always in a friendly atmosphere. And what else is needed for a successful career!

One of the most important features of Demis - a team !! It is a pleasure to work side by side not only true professionals, but also responsive, indifferent, kind people. Demis gave me and friends !!! Thank Demis group for the atmosphere that prevails in our company.

I work as a copywriter in Demis Group since 2013. Of the benefits: flexible, able to combine this work with another or with study, a high rate compared to other companies, the timely transfer of salaries. The main disadvantage (although someone may seem a plus) - a rather monotonous tasks. I think the copywriter vacancy in Demis - great for students, young mothers and all those who want to have extra income. By the way, not so long ago the company began to undergo training webinars for copywriters, regularly updated instructions for writing text, so that valuable lessons are also possible.

Demis work in more than 2 years. And in my opinion this is the only decent employer in online marketiga Tambov!

For over 3 years I am working in one of the most successful companies than insanely proud. Demis groups - is not only the CEO of the company the number one, it's well-organized, friendly staff, comfortable working conditions, comprehensive assistance for the development, interesting meetings and international conferences with interesting people! In short, this is the place where the work is fun!

Demis Group - a team of professionals! I'm proud of us!

More than three years among the best !!! What else you can dream? Demis one of the few companies on the employers' market, which really gives and growth opportunities, and earning potential, as well as comprehensive development as a specialist. These pluses is automatically added and irreplaceable, invaluable and most importantly just a bonus - a team in which we work every day. It employs people who are always ready to help and podedrzhat never refused to answer to any level will work I am with you on any matter. Here work is not just a colleague, but real friends. That moment when you constantly deal with new, interesting challenges, but never you remain alone, because you work in a team of the best professionals in the online marketing market. Loud words? I do not think, because they are checked for yourself!

The Demis I recently, a little less than six months. And after this time, I can say that at the moment, given all my previous career, this is my best employer. That's what I do as my paid work and the people I work with - all this pleases! I especially want to mention the staff! I absolutely did not have any so-called period of adaptation, but once there was a feeling - it's my ... And despite the fact that all of my colleagues - it's just a storehouse of a variety of human characters and temperaments, we have a great team, which employs highly trained specialists, and just good, very helpful people with a great sense of humor. A mutual space! I'm glad that at one time during the interview to Demis I said "Yes"!

For the past 6 years Demis for me - a second home. I can say for sure that the company gives to his team every opportunity to feel important, successful and professional, a specialist in its place. It's nice to know that your ideas will always be heard! It's nice to work among successful people in a successful company. Demis Group - it is also the people with whom never a dull moment, equally interesting to solve complex problems, or to organize a corporate event :) love my job - this is happiness. I was in this respect very lucky.

Opening Hours
Mon

Closed

Tue

5:00 pm - 9:00 pm

Wed

Closed

Thu

5:00 pm - 9:00 pm

Fri

Closed

Sat

Closed

Sun

Closed
People Also View
Authorize your self with either of these to view contact details, your information will not be shared to any one
Newsletter Subscription for Virtuous Reviews LLP
One more step and you will be subscribed to our newsletters
We have sent you a verification mail on your email id, please verify it.