FreshySites – Website Design
SEO Services
34 Front Street, Binghamton, NY 13905 USA
Claim Listing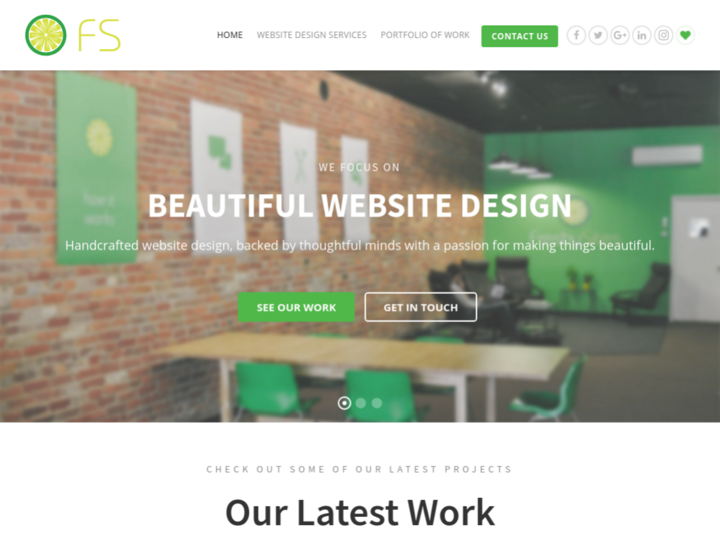 Company Description
With my initial vision, coupled with vague instructions, the FreshySites team was able to capture the exact look and feel we wanted when redesigning our page, as part of a rebranding strategy. The team was on top of every detail, had open lines of communication, and patience when we were combing through the final product and correct the smallest of details.
Review & Rating

The very thought of designing and launching a new website can be daunting and you may be apprehensive, but there's a way to ease your fears…visit the folks at FreshySites Website Design. They are really great to work with and will make the process actually enjoyable. The staff will take the time to understand your needs, as they did with Southern Tier Independent Restaurants, Inc. (STIR), and what you want your website to do for you and your input is welcome every step of the way. It's without hesitation that we highly recommend FreshySites to you.

Ben was great - highly responsive and mapped out exactly what we were looking for! I would highly recommend FreshySites for any business.

FreshySites recently redesigned and launched a new website for my company and we could not have been happier. The team was outstanding to work with, responding to our needs very quickly. The turnaround time from conception to launch was short and the entire process was very smooth. I recommend FreshySites to anyone looking for website design.

The key distinction between FreshySites and other web agencies is their amazing communication skills. These guys respond to emails within hours, sometimes minutes, with clear answers and prompt action. FS has an amazing portfolio and wonderful personnel. Their design is quality, their staff is brilliant, and their end product is top-notch. Your end result will be beautiful, modern, and user-friendly (eg: you won't need to learn to code just to edit your site).

The team at FreshySites took great care to ask leading, open ended questions about the site redesign we wanted. The opening process made it simple and painless on the front end and left only minor changes to be made when the rough draft was built. The quality and care FreshySites team members put into our site and their ability to understand the concepts and design we were looking for was second to none. Our new site is beautiful, mobile friendly and I highly recommend working with FreshySites if you need a new website.

We have a beautiful new website thanks to FreshySites! They made the process so smooth and easy and the personal approach was refreshing. It has been a great experience working with the entire team. They are very professional, innovative, and efficient. Web design and hosting are budget friendly too! We highly recommend FreshySites!

I had a concept for a website I had been wanting to do for a long time. When I met with FreshySites, they immediately knew what I was looking for. They worked closely with me and always got back to me in a timely matter. Got the site done on time and executed everything just how I'd hope. If you need a website built, this is the only place to go. They're top notch!

Our manufacturing business needed a complete refresh for our site. We wanted someone local but someone that could pull off what we needed professionally and technically and at a reasonable price. We found FreshySites and Ben was there within a day or two. We needed someone to understand our disparate product families and help us explain this to our customers and targets in the form of our website. Ben understood completely and took us effortlessly down the path. He understand both the technology and from a marketing perspective what we were going for. He began to bring in his staff to help with different aspects of the project. Everyone we worked with was professional, smart, friendly, up to date on the technology, fast, highly capable, and produced beautiful results. Our project manager Kelsey was able to take all of my sometimes confusing edits and translate them into a beautiful site. She was able to seamlessly transition from our old 3rd party hosted servers to the new servers without us really having to lift a finger. When we needed new images, Tim one the graphic designers/web developers, came right out and shot dozens of images that made the site pop. They performed the work for a reasonable price, with great turnaround, beautiful results and all in a very easy to work with attitude. We will continue to use them as we work on new projects related to our website, SEO, web marketing, web commerce. They are friendly pros and we would highly, highly recommend them to anyone.

FreshySites did an amazing job on my new website for my photography business. Not only were they professional but they are extremely fast with responding to any questions I have and the new site was done in a very reasonable amount of time! Everyone there is very professional and I could not have been happier with the results. Thank you again!

WOW! What a beautiful website Freshy Sites made for us! The response we get from customers and students has been amazing. The professionalism, quality and customer service exceeded our expectations. We are proud to do business with such an exemplary firm. Whenever we ask for updates, they are done in a timely manner and always to our satisfaction. If you are thinking about a new website, look no further. We used several other organizations prior to Freshy Sites, and will never use another! They are by far the best web designers and service providers by far!

Ben and the whole team at FreshySites were an absolute breeze to work with! We were updating our company website and wanted a brand new, mobile-friendly site with a sophisticated look and strong focus on simple user experience. From Day 1 through project completion - and even now as we're getting to know our new site and how to use it - they have been efficient, friendly, and extremely helpful. I can't express how wonderful it is to send an email and have it responded to within a day. They were responsive to all of our requests throughout the design process and now as we're getting to know Wordpress and how it works, they have helped us navigate through the different functions available to us. They didn't simply complete the website and drop it at our doorstep without a note. I would highly recommend FreshySites to anyone looking to update or create a new website!

So. Tier Home Builders & Remodelers Association
UK
Working with Ben and FreshySites to create our new association website was a wonderful experience with a seamless transition. Your team provides the most personal, professional customer service. We highly recommend FreshySites.

Doing business with Ben and his team at FreshySites was a great experience from start to finish. Their knowledgeable team helped Buckingham Manufacturing with SEO and we are already seeing positive results because of their work. Their insights, strategies, and valuable in-depth knowledge of Search Engine Optimization helped take our web presence to the next level. Whether you need a new web site from scratch or some tweaks to an already advanced web site, we loved working with FreshySites and would recommend them to anyone!

Mothers & Babies Perinatal Network made the decision to go with FreshySites several months ago and never looked back! Ben and his team work quickly, yet with attention to detail to ensure that our website was exactly what we wanted. We are going live soon and are very happy with the finished product. And the best part is the simple and easy to follow training we got so we can make changes ourselves going forward! Thanks Ben and Team FreshySites!

FreshySites did a great job assisting us in creating our website. As we are a professional service company, it was essential that we had a professional appearance to our site and that we were able to give clients the ability to easily navigate our site. FreshySites gave our new site both a professional and modern look. The whole team at FreshySites was helpful in getting our new site up and running and was quick to assist us in resolving an issue with the transfer of our domain. Great job FreshySites and thank you for the new site.

Excited to use Freshy Sites for our business webpage. So far our experience has been phenomenal, Ben the owner himself sat down with us a few months ago when we were on the edge as to whether or not we wanted to do this and when we decided to pull the trigger it took literally minutes to get the process started. The price cannot be beat for what you are getting - and the service has exceeded expectations. I am excited to see the final product and fully confident it will be what we wanted and more.

Opening Hours
Mon

Closed

Tue

5:00 pm - 9:00 pm

Wed

Closed

Thu

5:00 pm - 9:00 pm

Fri

Closed

Sat

Closed

Sun

Closed
People Also View
Authorize your self with either of these to view contact details, your information will not be shared to any one
Newsletter Subscription for Virtuous Reviews LLP
One more step and you will be subscribed to our newsletters
We have sent you a verification mail on your email id, please verify it.