Green Lotus
Posted in :
Yonge St. Toronto Ontario Canada
(+1) 647-727-8847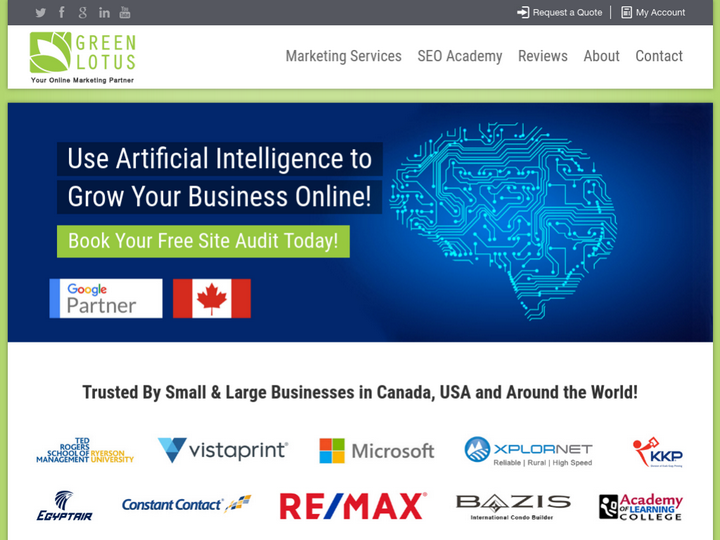 Opening Hours
Mon

Closed

Tue

5:00 pm - 9:00 pm

Wed

Closed

Thu

5:00 pm - 9:00 pm

Fri

Closed

Sat

Closed

Sun

Closed
Company Description
Green Lotus is a search engine marketing agency that provides services with effective online marketing strategies. Along with the lead generation solutions, Green Lotus strives to go extra mile with creating, consulting and implementing the appropriate strategies based on the business domain.

About Founder: Bassem Ghali
Canadian Entrepreneur of the Year Award Winner

Bassem is a search engine marketing strategist and speaker with more than 15 years of experience managing online marketing strategies for some of Canadian & International corporations including Canadian Tire, VistaPrint, Remax Canada, Egypt Air, Xplornet, Direct Energy and Toronto Star.

Demonstrated success in digital marketing has led to speaking engagements at marketing events around the world, and the honour winning the 2015 Entrepreneur of the Year Award, presented by the Canadian Association of Marketing Professionals!

Bassem is the driving force behind Green Lotus and has a knack for creating innovative online marketing strategies & tools for medium, large businesses and non-profits. In addition to providing digital marketing services, Green Lotus places emphasis on education and training; empowering entrepreneurs, business owners and marketing professional with the knowledge and skills they need to succeed in today's competitive online marketplace.

With a desire to support the community and increase awareness of local community non-profits and charities, Bassem created the Donate & Learn Initiative organizing educational online marketing workshops for entrepreneurs, business owners and professionals, with 100% of proceeds donated to partnering charities.
Review & Rating

The company was very professional and fine to work with (communication could have been a bit better) until they more than doubed their rates in 2020, at which time we decided to move on. Considering the times we are in, to more than double your rates was unbelievable considering how much small businesses are hurting. With their new rates, I would recommend looking at other options.

It's been 2+ months since our newly designed Green Lotus Smart Site went live. We've seen a remarkable increase in our online generated revenue. Thank you to Bassem and the entire team for proving this was possible

I enjoyed the ABC presentation on the use of Social media, very informative.

I did not get the chance to attend, but i heard of how useful the presentation was. i really regret that i did not attend, but for sure i will not miss the next one.

Great event! Really enjoyed the presentations from Big 3 Video Agency and GoDaddy at the Donate & Learn event.

Thoroughly enjoyed attending the last event! Great keynote speakers from GoDaddy and Big 3 Video Agency.

Green Lotus is the perfect solution to our paid and SEO marketing needs. As a small business we needed someone who could help us reach our goals and explain things to us in plain english which is what Bassem has done. There is no doubt that ever since we started our campaigns with Green Lotus there has been an increase in SEO visibility and leads for our company.

Had the opportunity to attend to the Green Lotus seminar for the December 4th, 2013 session. Found it very beneficial, very informative and engaging. Great collaboration of speakers and insight about SEO/SEM marketing in general. Would definitely recommend anyone that wants to learn more about SEO/SEM internet marketing or starting their own online business.

This event was well organized and included everything you'd expect from a more expensive event. Swag, food, water, prizes AND awesome networking #DonateLearn had it all!

Although I thought I was fairly up to date with online marketing in general, I learned quite a few things from Big3, Bing and Green Lotus. All in all it was time very well spent!

Bassem did a presentation for the Entrepreneurial Women's Cafe about How to Rank Higher on Search Engines. The presentation was a hit. Bassem presented information that was relevant to each business owner who uses their website to build an audience and generate revenue. Bassem's presentation style is comfortable, knowledgeable - with a touch of humour thrown in. I've had requests to book Bassem for another presentation.

I have attended almost all of the #DonateandLearn sessions you have held & I must say, it is well worth the drive (more than 1 hour at least to the city). The calibre of the presenters, the presentations are informative. And it is great to meet the sponsors in person as talk to them directly. Makes a difference. And, also great for networking with other participants. Keep it up!! Thank you Basim! From, Nathalie Ng

interesting Co. - Green Lotus - Online Marketing Company did created a good interesting event Donate & Learn Expo I enjoy it... Many thanks Hope to see next year Donate & Learn Expo again thank you

The Donate & Learn session is a great idea and when I attended it for the first time, it was a well presented & an informative event with industry leaders such as Bing and GoDaddy providing some valuable tips and insights in the internet marketing space. Would recommend it. I attended the June 10 Donate & Learn session. The panel of experts workshop was educational and key presenters are industry experts who had a wealth of knowledge and experience to share. Thanks to Bassem and his team for organizing yet another successful session at the same time supporting a great cause!

Won Team Canada Hockey Jersey in raffle draw last year at Green Lotus - Donate and Learn event. $20. donation/entry fee went to Big Brothers Big Sisters of Toronto - raffle tickets 3 for only $5. - GoDaddy presentation was top notch... WIN! - WIN! - WIN! - All The Way!

This was my first Donate and Learn and it was awesome! I was able to learn so much in the course of one evening, even though I've been working with SoJo for a while. I needed that learning so that it could open my eyes to more for both my knowledge and to SoJo's. Great speakers, great energy, and great lessons - you will NOT be disappointed!

The BizON Team had a blast at Donate&Learn! The content, networking and interactive booths were great. We are definitely looking forward to the next one.

Learn & Donate was an amazing evening of learning, networking and ask questions to experts in various fields. The evening presentations were informative and interesting, providing successful case studies on the power of using expertise to solve world wide issues. Thanks to Bassem Ghali and his team for an amazing experience

I attend the first Donate and Learn event. It was for a great cause and the presentations were top notch. The presentations were geared to local businesses - I've love to see a future even that focuses on online businesses.

The workshops were full of useful information especially the Q&A round with industry experts. The Expo was well organized and I found it very helpful. I would love to attend next year as well.

The Donate & Learn event was AWESOME. I wrote 4 full pages of notes, so that a good indication of it being "chalk a block" full of RESOURCEFUL/ HELPFUL info. Bassem's presentation provide the most value & I'm glad I stayed till the end to see it. One thing I would recommend for next year is cutting out the middle intermission. I had to drive an hour home & would have preferred getting out earlier. Networking/ Mingling happens before & after already. Overall a great event. I will be attending again next year to support a great cause & gain valuable insights. Thank You Bassem, Green Lotus, Go Daddy & Bing for a GREAT event. - Jessica

This was a great event providing new/old information. Of particular interest was the HSA presentation. A great alternative to Benefits for Enterperneurs. Additionally who knew about this Ontario Trillium Drug Plan ... great information for those who don't have benefits as Employers and Employees. This alone was worth attending for in knowledge. All the rest was just Icing on the cake. Good Job Organizing

This was an awesome event, with great attendance and very imformative speakers. The venue at the YWCA was amazing as well and I think the event was a great suucess in supporting a charitable cause! Look forward to more of these events

The Donate & Learn Expo was an excellent, compact conference built upon a beautifully unique idea. It was my introduction to your company and it went a long way in creating a very positive impression of Green Lotus and what your firm may be able to do to help my company. Kudos!

Green Lotus Donate&Learn was a great event filled with spectacular speakers and Entrepreneurs of all shapes and form. I wish there were enough room for the workshops (as I missed the Facebook Marketing one :( )....overall, I love the concept of all money/proceeds going to charity. I will be more than happy to attend the next one once its available.

The Donate & Party with Canada's Top Marketing Experts & Entrepreneurs was a great event. The networking session as well as the presentation session were insightful and interesting. The presentations that were held provided many learnings. It was especially enriching to learn about Green Lotus and its SEO tool since I did not know any substitute for Google analytics before.

I just wanted to say that this was an awesome event! I signed up last minute and almost didn't make it, but am so glad I did. I met lots of people working hard and networking and growing and learning, and the presenters did a great job having relevant information & teaching ways to implement it. Wonderful! Wouldn't hesitate to return.

I have attended two Donate & Learn events sponsored by Green Lotus and plan to attend many more. Bassem brings great presenters and creates a wonderful environment for networking, all while helping support the YWCA and its great work. It's a win-win all around.

This was a brilliant event bringing together many entrepreneurs with the desire to advance their businesses. It was a good opportunity to learn about resources available to small businesses and to network with other like minded individuals. I was particularly interested to learn about online accounting resources and I found the answers to solve my problems. Thanks to Green Lotus and the sponsors for organizing this event and making it readily available to the public. Keep up the good work and I'm looking forward to the next Donate and Learn! Cheers, Jennylynd

Nance Williams Jonkman
UK
The donate and learn was excellent. I really liked that just by attending I was doing something good (charitable donation to attend- a great idea). I wasn't expecting much from a "free" event, but as soon as I settled into my seat in the auditorium, I quickly forgot it was a free event. The speakers were all top notch and the event was well organized. Q&A was well and efficiently managed too. I would definitely recommend these to others.

This really is a great, easy to use and informative piece of software. Very helpful for any company looking for thorough website statistics.

LOVE LOVE LOVE THIS TOOL! There has never been something as accurate and detailed as this and the best part is that it's very easy to manage for even the least technical of people. A MUST HAVE for anyone trying to manage their SEO in house without the help of an agency!

I was very pleased to be able to attend the launch party for Green Lotus and to learn more about the remarkable set of SEO tools that the company offers. Bassem is a dynamic speaker and his passion and enthusiasm for the services and how they can help his potential customers is genuine. The tools themselves are tremendously diverse and thorough and don't seem to require a great deal of "learning time" to be able to use them effectively. I can see these tools being a difference-maker for a business in terms of that business' online presence. Bravo on a great start.

Bassem gives away SO MUCH great information during his presentations. His sessions at PodCamp were the best i attended.

As a recent entrepreneur, I'm always on the look out for tools that will help me understand how to grow my business, and make my job in doing so faster and easier. I am super impressed with SEO Tools from Green Lotus. It's exactly what I'm looking for with helpful, step-by-step information, as well as tools all in one place. The price point is perfect for someone like me who can do things myself, but is at an entry-level point. I am confident that after a couple of months of working with the tools, I will be much more empowered to work with SEO for my site and see improvements in my search rankings - without having to pay for expensive consulting services!

Green Lotus' SEO Bootcamp taught me more about SEO in 3 hours than years of mindlessly searching for info and tweaking on my own...they walked me through my OWN copy of their SEO tool, and I was making actual changes to my campaign, on the fly! Keywords, both my own and competitors; checklists; trends; analysis, reports, all within a few clicks on any screen, had me pushing my SEO work forward very quickly. I can't say enough positive about both Green Lotus the company, and the Green Lotus SEO tool...their years of experience working with companies 100 times my size proved extremely useful, and being able to apply that knowledge to my own SEO efforts completely outweigh what I paid for the bootcamp, and what I pay monthly for the tool. Highly recommended to entrepreneurs looking to understand and apply the basics of SEO, and for more advanced users and companies who want to make the most of their dedicated SEO efforts.

I have been working with Green Lotus for about a year, to increase Balls of Fun's organic search results and to create a new website. From the beginning Bassem Ghali, the founder of Green Lotus, was personable and listened to what I wanted to achieve for the business. Then Bassem assessed what services would benefit the business best and placed me with a great team to help meet my objectives. Orion is great. He drives my website to achieve strong google results. He has taught me how to create authentic results. He also keeps me informed about the gym's online reality and sets new objectives to make the results stronger. Jeff and his team designed a new website for the gym; they have taught me how to use the website and have helped to create a clean and colourful web design that reflects Balls of Fun as an active and fun children's ball gym. I do like to be involved and to learn new things, so the team listened to my expectations and kept me informed along the way. They have meet my expectations from the beginning. My goal was to get more children active Balls of Fun, and the gym is seeing more families playing together at Balls of Fun. Thank you. Tanya Lavie – Founder and Owner of Balls of Fun Inc.

I've been working with Green Lotus on SEM and SEO since 2013. In that time, Bassem has helped our company grow our business with solid demand generation tactics - through PPC advertising in particular - and his new SEO Tools have been instrumental in the recent launch of our new website. We continue to rely daily on the insights and recommendations provided by Green Lotus and the SEO Tools, and I have no trouble recommending Bassem and his products and services.

Newsletter Subscription for Virtuous Reviews LLP
One more step and you will be subscribed to our newsletters
We have sent you a verification mail on your email id, please verify it.