Marwick Internet Marketing
Posted in :
8661 2nd Floor, 201st,Langley, V2Y 0G9
(+1) 604-614-0174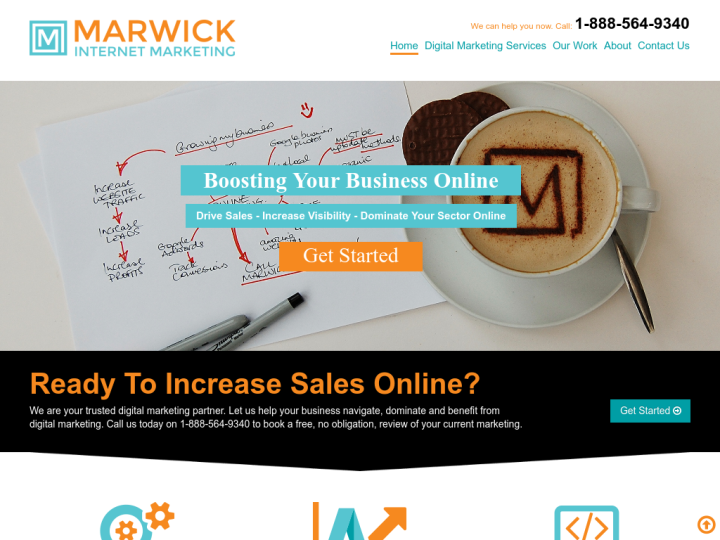 Opening Hours
Mon

Closed

Tue

5:00 pm - 9:00 pm

Wed

Closed

Thu

5:00 pm - 9:00 pm

Fri

Closed

Sat

Closed

Sun

Closed
Company Description
Marwick Internet Marketing is a full-service Internet marketing agency in Vancouver whose only goal is to grow and optimize clients' brand exposure, website traffic, high quality sales, leads and profits.
We are always ready to exceed the expectations of our clients by offering them outstanding solutions that let them stand out from the rest and tailoring their business models and goals.With our latest techniques and professional methods, Marwick Internet Marketing promises you that you will definitely get fueled business to capitalize yourself in the industry.
Review & Rating

Marwick is a terrific team to work with. A growing digital marketing company that delivers consistent high quality work and an enjoyable group of people.

Love working here :)

The best.

I hired Marwick Marketing to help me optimize my website for the terms "gaming reviews" for my blog and have been impressed by their work, communication and dedication to my project. Would recommend Marwick Marketing in Vancouver to anyone.

I have worked with Marwick Internet Marketing on a number of different occasions! Christian Thomson has spoken at my YVR Bloggers even as both a Keynote Speaker and a SEO Panelist as well as at my one day Blog Mastery Workshop! I have also attended one of Marwick's SEO Workshops and got some incredible tips to both put my business on the top of Google and keep it there for years now! Christian takes the complicated world of Search Engine Optimization and makes it easily understandable to both the novice and the experienced Internet Marketer. At several of my events, Christian has been rated as one of the best speakers and I would gladly bring him back to speak at my events! I would highly recommend hiring Marwick Internet Marketing for your Digital Marketing needs!!

Marwick Marketing built the Orcades Marine website earlier this year and we are delighted with the result. I have been surprised and pleased by the number of unsolicited compliments that we have received about it. We recently appointed Marwick Marketing as our SEO and we have already seen the number of visits to our site increase dramatically. I am looking forward to finding out more about the whole process and converting our increased exposure on the web into new business.

I've heard Christian Thomson of Marwick Marketing at a YVR bloggers event once and I was impressed. I was glued to all the tips he talked about. When we had the chance to do a one-on-one analysis of my website, we went through a step by step plan of improving my site's SEO. I'm a newbie to this and if you are too, Christian makes it easily understandable and with an action plan in place. You will end up more encouraged than discouraged and figure out that it's not really rocket science. You can do it your own.

I am very satisfied with the way Marwick Marketing has helped my business, Golden Naturals Skin Care, make a more prominent online presence. They take care of my website SEO and Social Media, as that is not my field of expertise. They are always helpful and have a great customer service. I highly recommend Marwick Marketing for all your online needs, from your website SEO to Social Media management and everything that has to do with online marketing. Marwick Marketing is a good investment for your online business!

Christian knows his stuff; I'm a graphic designer and I signed up for an SEO session to patch any holes on my blog. While I didn't expect to leave with a changed world view, I did come away with a shiny new SEO idea that I hadn't thought of. If you are new to SEO, I'm sure Christian will have you covered. He is friendly and will put you at ease right away.

Marwick have been very helpful in assisting me build some good SEO content on my website and general marketing/social media. They are prompt, efficient and easy to deal with and come highly recommended from me! Thanks for all your efforts and hard work!

Kirkwood Consulting Group
UK
GREAT to have a Google Partner here in the Sea-to-Sky to help small business navigate through the constant changes and opportunities in Internet Marketing.

I met Christian at the "Google and Your Business in 2015" event in Squamish the other day. It was a nice small event with big content. I loved it and am looking forward to CIMC and anything else Marwick puts together.

I hired Marwick Marketing to develop a logo and website for East Africa Wild Adventures. As Vancouver's premier East Africa wildlife and beach safaris travel company we were very happy with the results. Christian was able to work with me and develop a logo that is so unique and a website that that is easy for me to add content and update myself.

Marwick Marketing was an integral part of getting Jillian Kirby | Baby up and more visible on the web. Like many others, SEO and web presence is not what I am trained in so it was so important to find a professional to get the job done properly all while teaching me how to do it as well! Christian's know-how and ability to explain it all to me was very appreciated! I recommend him highly!

Awesome experience, Christine and the gang asked the right questions and ran with it putting in their own talent. The best website to date,, I have another web site for him to build coming up. Good price and over the top effort.

We signed up with Marwick in June on the basis of doing some work on our company website to improve our Google Adwords results (ie. the quick fix) and then also a focus on SEO for the mid to longer term. Our main goal was to not only generate more leads, but improve the quality of leads at the same time. Fast forward to September 2nd; August was our best month on record (ever) for sales, we are on target to increase sales by 73% by our fiscal year end (Oct 31st) ... but that's not all. We have never been in a situation before of having work lined up for any more than a few weeks at a time. Now we have projects scheduled for up to 6 months out which allows us the luxury of planning ahead for the continued growth of our business. The quality of leads we are seeing is excellent which means as the sole sales guy I am waisting little time having to further qualify potential clients. I had always steered clear of the countless SEO companies that call or email on an annoyingly regular basis because, if nothing else, they simply did not understand anything about my business. Most of them were not even on the same continent so how could they hope to understand the Canadian home renovation market. Not only do the staff at Marwick understand the industry we are in, but they get how to make us stand out from the competition. I am quite honestly amazed at the results. We are doing zero other forms of advertising at present (ie. other than our website) so it is pretty easy to tell that this is working. Marwick have done exactly what they said they would and much more. I can't praise them highly enough!

Christian & his team have been instrumental in helping me to navigate & understand the SEO / Digital Online world. He's able to share his knowledge with me in a clear and down to earth manner so that I get it! Doing business with Marwick has helped my business.

Marwick Marketing have been such a great support for ourselves, not only building our website but helping us develop our online presence. We are a not for profit project that work with young people and have found the guys at Marwick extremely patient and approachable enabling our members to increase their understanding of the process as the project has developed. We are looking forward to continuing our relationships with the guys at Marwick.

Marwick has been awesome to deal with. It has been just over a year since they took over our SME from Yellow Pages and they have doubled our traffic at half the price. Their patience with us as we learned the ins and outs of their services has been a refreshing experience as has been their laid back sales approach. I can not say enough good things about them!

Christian is extremely knowledgeable and adept at internet marketing. I hired Christian in December 2014 and he quickly showed a comprehensive understanding of this field and went about improving my SEO and giving me valuable advise about my overall marketing strategy. And his efforts paid off immediately in measurable results. My search engine rankings rose significantly and continue to do so. I think part of Christian's success is due to his approachability. If I have a question Christian is always a quickly responded to email, text or phone call away. Christian's recent involvement in the Canadian International Marketing Conference is another testament to his commitment to and stature within his industry. I think we are fortunate to have someone as involved and effective in our community! Sincerely, Dr. Tom Honey

I attended the 'Google and Your Business in 2015' event put on by Christian and Marwick Internet Marketing. I didn't know what to expect, but came away with lots of ideas and excitement of what is possible. Christian is approachable and enrolling. I found the presentation interesting and his tips incredibly useful -- I went home and immediately started trying things out. I look forward to working with Christian in the future as my business is launched.

Christian is a fantastic, professional internet marketing guru ! He made it simple for me to understand the internet language when I first approach him with my million questions and by doing small tweaks to my website, he's made BIG changes for my business !

What a difference new website can make! Marwick Marketing were easy to liaise with and totally supportive. They absorbed our ideas but also gave their own input to produce the best results. We now have a website that is easy to read and navigate and which gives our potential clients the support they need. Everything is clearly set out and our key messages are emphasised. We also received a tutorial on how to run the website following its launch and were pleased to find this is totally uncomplicated. We would definitely recommend Marwick Marketing to others.

Fantastic workshop with the ARA's Licensed Motor Dealers last week! Christian offered some great strategies and insights on how independent auto dealers can increase their online marketing presence through SEO and maximize their social media marketing.

Fantastic team who built a beautiful website which enabled us to easily update content ourselves. The team at Marwick is quick to respond to any questions we have, true professionals in their field!

Very impressed with the SEO work Christian and his Marwick team completed for me. Within weeks, I was tops in my Google ranking for my industry and geographical location. Thanks!

Newsletter Subscription for Virtuous Reviews LLP
One more step and you will be subscribed to our newsletters
We have sent you a verification mail on your email id, please verify it.