River Coyote Design
SEO Services
PO BOX 415, CAMINO, CA 95709
Claim Listing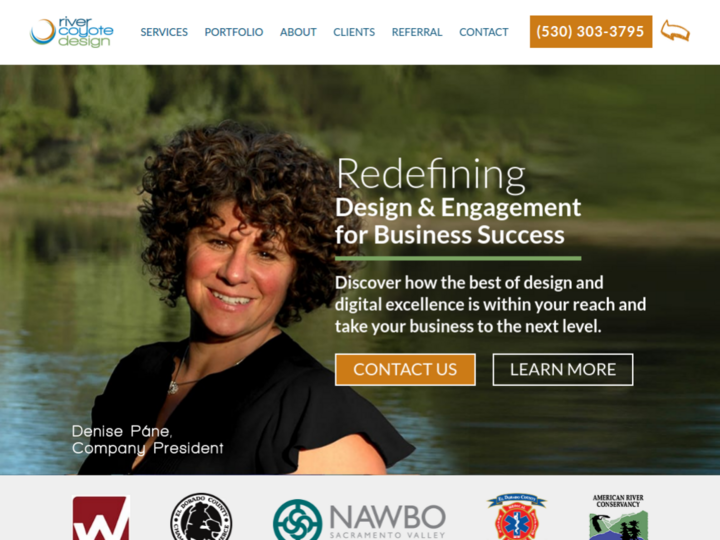 Company Description
Howling at the moon since 2000, Denise Páne started River Coyote Design with goal of supporting entrepreneurs and small businesses. She was owner, designer, developer, mail processor, email answerer, bill payer, plant waterer, floor sweeper.
Review & Rating

Choosing River Coyote Designs for our Website needs has been one of our best business choices ever! Denise is knowledgeable, Innovative, dependable and provides a fantastic value in services for our 501(c)3 Nonprofit Community Theatre.

After years of avoiding building a website for my business, I finally decided to hire a professional. Denise and her crew at River Coyote Design listened to what I wanted and worked closely with me to fine tune every aspect from layout and content to font and photos...many things I did not realize were so important in a successful website design. Not only did I come away with a fantastic website that I love, but I also learned about marketing and the internet. I highly recommend this company!

The River Coyote team is THE BEST! I am the owner of a small soap business and I needed a logo. I only knew what colors I preferred in a logo and the rest of it was up to them. The logo was perfect and so unique. I then asked for business cards and really think I have the cutest business card out there!!!! Because I was so thrilled with the logo and cards I asked the team to design a trifold brochure and it is just beautiful. Again, I only provided basic information and they produced the most amazing marketing materials. I wish I could think of another project for them to do for me. I would highly recommend River Coyote to anyone wanting some marketing material that "stands out in the crowd." Chris Evensen Steena's Suds

I have worked with River Coyote Design for many years on projects that have boosted my businesses to higher levels. Denise and her team took the time to get to know me, so they could understand my passion for my products and my audiences. They really listened and captured my love for adults who find themselves "sandwiched" as caregivers for seniors and children at the same time. The logo the they designed for Dr. Cheryl Woodson, Straight Talk about Eldercare represents my vision in a way that really moves clients. I also worked with Denise and the River Coyote Design team on the cover for What the Mirror Sees, the first book in my romance fiction series that follows grown women as we transition from doormat to diva. The book highlights the mask we wear to hide the impact of life challenges after age forty. The tagline is " You can pretend, but you can't hide from What the Mirror Sees." My readers say Denise and her team nailed the design. Denise listens but she isn't a pushover. Her team does extensive research, and she minces no words in pointing out that the image you want will not place your product above the competition. There is no way to take offense because she is such an advocate; she makes a commitment to help your business send the most effective message. I admire the talents of the River Coyote design team; I trust Denise's judgment and value our relationship. You really cannot go wrong, here

As a small, family owned business, we were so lucky to have River Coyote Designs create our web page. They are always there to answer questions and update our page as needed. Great company and employees.

Denise and her team of people are right on the ball. They have a huge desire to make sure that you are not just happy, but overjoyed with your design. They are a pleasure to work with. I recommend them for anyone that, working with a company that has integrity is important, than River Coyote Design is the company you want.

I have worked with Denise and her team for several years now. I couldn't be happier with all that has been accomplished. From logo design, business card design, website design and creation, my business now has a very polished image. They were able to take my vision and make it even better than I imaged!

River Coyote Design, with Denise Pane at the helm, delivers hands down the best one-on-one consultation, concept and design with a timeline that works with your budget and prospective launch. Denise asks the defining questions of you to synthesis your vision with the ultimate look, feel and speak logo & website, in a creative, crisp & professional format that provokes pleasing landscape for the eye and brain to take a walkabout. If you want to show up, stand out and continue to be a contagious point of interest on the web, go with the flow of many successful businesses, and contact River Coyote Design!

Wendy Coles-Littlepage
UK
River Coyote just finished designing a website for me, to help me publicize my new novel. They took on the challenge of a more creative project rather than a business-oriented one, and it has turned out better than I could have imagined. One thing I really like about working with Denise and her team, is that they listen to me and my concerns, pay attention to my input and make me part of the team. They are very professional and I can happily recommend them.

I have had a small business since 2007 and had wanted to develop a web site for many years but was overwhelmed by the prospect. I contacted River Coyote Design and they helped me create a beautiful website which was tailored to exactly what I wanted, in fact, they developed my vision perfectly. River Coyote Design is professional, easy to work with and passionate about their work. I love passing out my cards and referring people to my professional and beautiful website thanks to River Coyote Design!

Helping family dogs and their owners achieve their best together, as well as training service dogs for clients with special needs is a passion of mine, but it's also my business. I needed a website to reflect my deep-seeded love for what I do as a professional trainer, and help my business grow by attracting new clients. For me, that was a daunting task and I had no idea how to begin. Much like my training, Denise and her team broke the process down into steps and focused on my needs, and those of prospective clients to guide the design. The amazing layout they conceived and photography used captures the perfect emotion, while the details inform and provide visitors with exactly what they need to know and what action to take next. I speak from the heart, but putting that in writing isn't easy for me. Denise's team helped me edit my copy to get it perfect, and offered terrific guidance for marketing components that would help the right customers find me. The feedback I've received on my new website has been great and I wouldn't hesitate to recommend River Coyote Design to other business owners.

Opening Hours
Mon

Closed

Tue

5:00 pm - 9:00 pm

Wed

Closed

Thu

5:00 pm - 9:00 pm

Fri

Closed

Sat

Closed

Sun

Closed
People Also View
Authorize your self with either of these to view contact details, your information will not be shared to any one
Newsletter Subscription for Virtuous Reviews LLP
One more step and you will be subscribed to our newsletters
We have sent you a verification mail on your email id, please verify it.