SEO Silly Limited
Posted in :
Online Services / SEO Services
Claim Listing
Branston Court Branston Street B18 6BA
(+44) 121-554-4834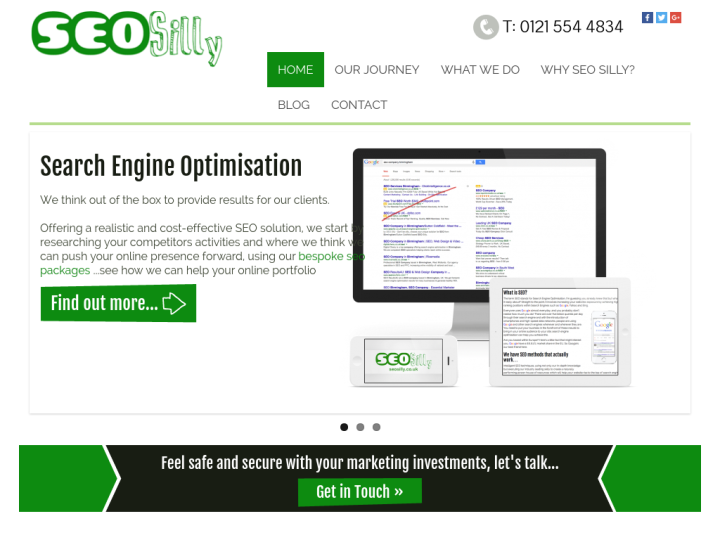 Opening Hours
Mon

Closed

Tue

5:00 pm - 9:00 pm

Wed

Closed

Thu

5:00 pm - 9:00 pm

Fri

Closed

Sat

Closed

Sun

Closed
Company Description
SEO Silly is the company which is ranked 5 in Birmingham, 18 in UK and 334 in the world which was established in January 2013. It provides Search Engine Optimization, Web designing and Social Media Optimization services. The company provides modern and engaging websites. SEO is the necessary step for moving forward to the next step in the online business by applying different marketing strategies.
SEO Silly provides an affordable and result driven results. When you are not capable of thinking of where to start, the company is capable of providing the social media marketing services.
Review & Rating

Absolutely useless. Paid for 12 months up front with a promise to achieve 1-3 rankings on all search terms within 6-12 months. Most results have gone down. The ones which go up are very low ranking to start with and the increase is minimal. Now nearly 8 months in and not a single result is top 10. The only positive movement was when I chased and pointed out the lack of movement. There was a couple of weeks looking positive and now everything has dropped off to be worse. I have now not been able to get in contact with no voice messages, calls, texts, facebook message or linkedin messages being returned. Emails are bouncing back and not being delivered. DO NOT USE THIS COMPANY!!!

As I've stated on the Google review. Don't waste your time or money Jordan Beer at SEO Silly talks the talk but when it comes to effort, monitoring, campaign plan and results he lacks it all. Trust me look else where and save your money. All other reviews on here are from old school friends, family members and the rental office space he operates out of.

Thank you Joe, the review is appreciated greatly.

Since linking up with SEO Silly we have seen clear tangible improvements with our Web listings resulting in solid and improving sales.

I have been dealing with Seo Silly for a number of years. I work for an engineering company called Cotterill Civils Ltd. They have continued to deliver fantastic results and service throughout our time dealing with them. Both Oliver and Jordan have gone that extra mile for us when necessary.

I have been incredibly impressed with the work SEO Silly has carried out for us over the past 12 months. They were clear about the likely outcomes of their work, including how they would achieve them. Their clarity and transparency is refreshing in the search engine marketing sector and they have helped us achieve significant gains across a wide range of competitive search terms, both locally and nationally.

SEO Silly have been fantastic at keeping our website above all competitors on google and improving the campaign month on month. I wouldn't recommend anybody else other than them!

Jordan gave us a lot of time and effort into helping us understand the basics of SEO, giving us the right foundations to move forward.

SEO Silly revitalised by thoughts on SEO after being stung a couple of times over the years. Jordan and the team provided me with honest and straightforward advice leading to a successful ongoing campaign. Thanks again.

Jordan's clear help and advice has helped us to get our website on the map

as a business we really wouldn't be where we are today without these guys. we've got allot more to do to get to were we want to be but the Silly guys are always tweeking and working on new formulas and the future of what is needed.

Thanks Oscar, I wish you all the best and it was a pleasure to work with you. Jordan

Really insightful and helpful training session with Jordan, helping us to maximise our SEO for our start up business. Would highly recommend!

Delighted with the service we have recieved from SEO Silly. They have taken us from way down Google to the first page for important key rank words in 3 1/2 months in what is a very competitive environment, up against well known brands and national retailers - a big achievemement!

Jordan and his team at SEO silly have helped with our SEO for many years and do a fantastic job, very forward thinking and pro active with our web activity and development! Definitely recommend.

Superb, Efficient, Friendly & Successful SEO Service, they have provided a stable campaign for us over the past 3 years offering guidance and tips on how to increase our visibility on google. Along with this they have also got us to top 3 positions in our categories nationwide. If you are looking to be top of google I highly recommend getting in touch with their team!

Jordan is an absolute delight to work with and is very knowledgable about everything SEO. He has massively helped the performance of my business and has taught me a lot. Would recommend SEO silly to anyone

Best of the experts in this trade. Previous SEO service provider got us seriously into trouble, by the end dropping into pages 9-12. Thanks to SEO Silly we climbed up pages, finally returning to page 1. Even better our website has at times been number one even, as an extra bonus. We'll never forget how lucky we were to trust SEO Silly and let them get on with it.

I have worked with a number of SEO businesses over the last few years. Frankly SEO Silly is the only team I trust. The SEO business is full of people wanting to make a quick buck and frighten the pants off you. Not SEO Silly. Considered, careful and results driven people. 5 Stars.

Excellent service and continued improvement month after month. I would highly recommend SEO Silly to any business in a competitive SEO industry. Clear thought out targets and top class industry knowledge is why I chose them, I'm now achieving online sales/enquiry revenue I didn't think was possible from Google. Well done SEO Silly, let's keep it up!

There is no doubt Jordan knows his stuff. We started our campaign with SEO Silly a good few years ago now and very quickly had some amazing results. Starting off with one keyword, Jordan proved his skills getting a long term ranking of position 2 on google. The campaign went from there, expanding on our keyword list and getting very good value for money. What I liked about Jordan from the start was he took the time to understand the business and to the best of his ability, figured out whether keywords would bring our business a return on investment. We've had our ups and downs with Jordan but I cannot fault his persistence to put things right. Again support was iffy at times but like with any expanding business I believe SEO Silly had a few growing pains - which now seem to be resolved. Jordan is always on the other end of an email, phone or text message. His support is so good we recently transferred all web hosting over to SEO Silly. With a new website and another new business launching this year I'm excited to see where SEO Silly can take us. Don't let me down Jordan ;)

Newsletter Subscription for Virtuous Reviews LLP
One more step and you will be subscribed to our newsletters
We have sent you a verification mail on your email id, please verify it.