Sitely
SEO Services
Clavering House, Clavering Place, Newcastle, NE1 3NG
Claim Listing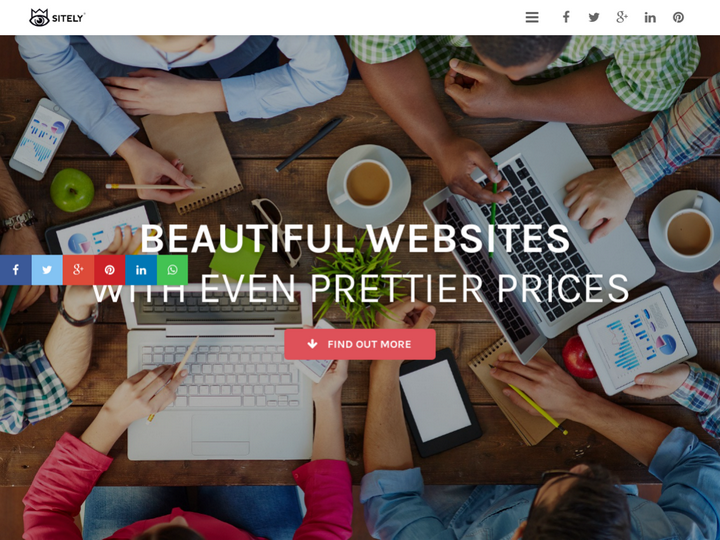 Review & Rating

Sitely is the best web design company I have worked with. Andrew's perseverance in making our web site fit our requirements was very impressive. Andrew's responsiveness is excellent and his attention to detail and design skills are first class. Sitely are a pleasure to deal with and I'd recommend them to anyone looking for a world class customer experience and web site.

Andrew and the Sitely team did a great job of listening to our needs and ideas, in order to create a website that worked for our audience. We are very pleased with final result and looking forward to seeing it evolve over the coming months/years.

I would highly recommend Sitely to anyone looking for a new or upgraded website. Andrew and Jon are a pleasure to work with and are extremely professional. They really wanted to know the ins and outs of my business to make sure they provided the best possible product they could. The article Jon wrote for the local press was fantastic as well and was well received.

Really appreciate all the effort and advice that went into making our website for Sam's Trust. Thank you!! Would certainly recommend Sitely.

Just had our new website designed for our flooring shop based in Newcastle Upon Tyne. Wanted to leave a review to express how happy we are! the whole process from start to finish was very professional and we are so pleased with how our website looks! Thanks again from Flooring Works

Christopher Phillipson
UK
From my initial enquiry I was very impressed with the approach from Sitely, I instantly knew these guys could create what I wanted; a functional, modern, attractive digital experience that would bring in customers looking to install solar panels. They took the time to understand my business and worked hard to get my message onto the website. I have been remarkably impressed with the response from Andrew in dealing with my requests and couldn't recommend them enough, in particular the mobile responsiveness of the website. I now have access to the website to make on going proactive changes and can manage my own content. Because of the success of the website I have decided to use Sitely for marketing my products and services through and look forward to building a great relationship, hopefully with much success!

We contacted Sitely to help us set up our website for our new psychology practice, Tynemouth Therapy Clinic. It was important that the website had a professional yet approachable feel and Andrew has been extremely helpful and responsive to all of our detailed requests to make this happen. We are very happy with the finished website and its great that Andrew has also taught us how to make adjustments to the site should we need to in the future. We would definitely recommend Sitely to others looking to build a modern high quality website.

We have been super impressed with Sitely. Eveything from the design, to mapping out the customer journey to behind the scenes elements such as search optimisation, the Sitely team had all angles covered to make sure our website delivers over and above. They worked hard to get under the skin of our company to understand exactly what we needed. I have to say too that they were really canny to work with and all round good guys! They thought of everything and we feel we have built a very good-looking and well planned website. Thank you.

Sitely have been absolutely fantastic from first contact up to the launch of my website. As an entirely on-line e-commerce site, the website is the absolute lifeblood of my business. For this reason it was imperative that it was gotten right. Sitely went above and beyond to such a degree I am proactively recommending them to my customers. They made every effort to understand my industry and design a website that was right for it, as well as being on call to fix issues as soon as they occurred. Any time I made a mistake and broke something on the site, one e-mail is all it took to have them fix it for me. During his meetings Andrew is at once professional yet approachable, a fantastic ambassador for Sitely. I have had an amazing experience with Sitely and have decided to use them for all future online add-ons to my site, marketing, branding etc. Exceptional Quality. Amazing price. Customer service done right. Cannot recommend enough. 5 stars, because it won't let me go any higher!

Our brief as a local online estate agency was to build a site to rival the best out there. Featuring ecomms, automatic property feed, property search, dynamic content and ease of navigation. Sitely have produced a site we're happy to shout from the rooftops about. No Pun intended J In our opinion the site is both attractive and easy to use – just what we wanted. Sitely have been a joy to deal with and more than accommodating to our needs. We appreciate all the hard work guys.

Sitely produced an exceptional new website for us very quickly, cost effectively and with great communication establishing just what we required. Their post site build support and advice has been really helpful. I Highly recommend Sitely if you are looking for a state of the art modern million dollars looking website

Sitely is a website designer of high calibre and I can't recommend them strongly enough. They have great flair for design and making your website cut through the buzz. Great job and many thanks!

These guys are crooks!! DO NOT TRUST THIS GUY!!! He took £400 for a basic website (ie50%) and after one year still nothing has been done! I have come across others with the same sort of story. STAY AWAY!!!

Probably the worst company I have ever had the experience to come across. Excuses of failure to meet. Lies and constant delays. Lack of professionalism and lacking in real web design. Self taught he claims. Now I have avoided leaving a review before but my website was held ransom by him as he used every excuse under the sun. If I believed his quote 'Promise, I want this finished as much as you do' I would be a winner. After giving him the benefit of the doubt for the 6th or 7th time, I had to involve a police threat, get another company involved to retrieve my files from him. Only at the last desperate attempt did I ask other companies who he claims he has designed their websites to find out he has a rancid reputation for failing to deliver, going awol, being very slow and basically losing businesses time and money. It was only when I other proof, I knew I was not going insane or micro managing. He seems to ignore police threats, seems to ignore reports to trading standards etc. If you are looking for a website by a professional, time sensitive and ethical company, please avoid this company. Yes, he may quote you a lower price but it just is not worth it. I see he will try to mask this bad review with another review that is glowing like the one two reviews down. Please do not be fooled. I would not wish another company that already had a bad experience with another company to hire Sitely thinking they would look after my needs but to be the most disappointing and unprofessional company I have ever come across.

Andrew has been great throughout the entire project. My new website is exactly what I wanted and I couldn't be more pleased. Thank you!

Opening Hours
Mon

Closed

Tue

5:00 pm - 9:00 pm

Wed

Closed

Thu

5:00 pm - 9:00 pm

Fri

Closed

Sat

Closed

Sun

Closed
People Also View
Authorize your self with either of these to view contact details, your information will not be shared to any one
Newsletter Subscription for Virtuous Reviews LLP
One more step and you will be subscribed to our newsletters
We have sent you a verification mail on your email id, please verify it.