Social Fire Media
SEO Services
1777 Sentry Parkway West Veva 12, Suite 306, Blue Bell, PA 19422
Claim Listing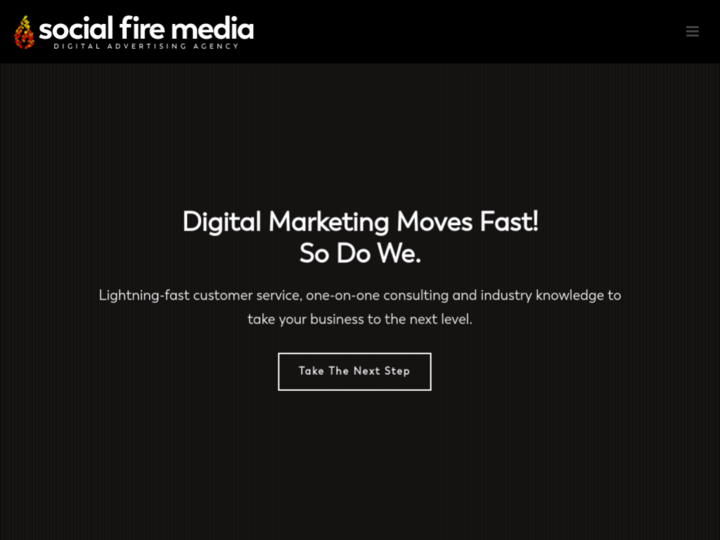 Company Description
Philadelphia Digital Marketing Company involved heavily in social media, Digital Ad campaigns and web design.
Review & Rating

Matt, Brendan and Nick at Social Fire Media have literally helped us to "change the game" for Waffatopia. We were in need of a significant change to our e-commerce site due to a spot on the Food Network showcasing Waffatopia's waffles. The TV spot was airing quickly, and and the team was EXTREMELY flexible in meeting our demands for essentially a "brand new" website experience complete with video enhancements, contact pages, BLOG site, and much more (including integration of our current e-commerce platform - Shopify). The site came off without a hitch for the debut and we're definitely convinced that business boomed as a result of a smooth, efficient web experience. We continue to work with them as our digital partners and have been delighted with the interaction to date. - Brian and Andrea Polizzi, Owners - Waffatopia

Social Fire Media Fire literally saved my business from oblivion. It started with a Social Media seminar by Randi Penfil. We were able to execute changes in our strategy the minute I returned to my office. SFM later updated our website, Constant Contact strategy and Google Marketing. We not only put away our going out of business sign, but are now opening new locations.

These guys are great. I came to them not really knowing the direction I wanted to go with my site. They were helpful with every step. From color scheme and context to a new logo. If you need a great site done on a budget, on time, go with Social Fire Media.

Victoria Forleo Turner
UK
I have been working with Social Fire Media since it's inception. They started doing SEO and Online Campaign Ads, but have since expanded. The company I work for has used them for all of our online marketing including web design. They owners and staff there have been very professional, accommodating, and diligent. I recommend them to businesses without hesitation and I know that they have exceeded the expectations of those who use them.

Social Fire Media truly puts 110% effort into everything they do. I had the opportunity to witness every single day this past summer the extraordinary work they produced. Not only are they experts in their field, but their client relationships set them apart. They go above and beyond to communicate and fulfil the needs of every one of their clients. This is an extremely strong team that can truly be trusted, while being a pleasure to work with. I highly recommend!

The marketing gurus at Social Fire Media implemented an incredibly successful marketing strategy for MyDealerOnline. They run ReMarketing ads to increase traffic to MyDealerOnline's website, help us with our SEO and they hooked us up with an awesome video animation company. We love working with these guys, they are always helpful in answering the technical marketing questions and are great at providing data-driven results. Highly recommended if you're looking for a personable, friendly and hands-on marketing partnership with a team of experts that won't just pass along your marketing campaign to an entry level account executive like many other marketing companies and ad agencies. -Carly Fitzpatrick, Digital Marketing Manager at ALTESO

Matt over at Social Fire Media has absolutely changed the direction of my company. We were behind the times as far as marketing ourselves and Matt has brought us up to date and business has been great. He responds to email, calls and problems promptly and politely. He will even try to help fix a problem that is not something he generally handles. Could not be happier that we chose to use Social Fire Media. I would recommend them to anyone looking for a huge boost in business.

My company chose to work with Social Fire Media after our previous marketing consultants failed to provide our required results (or any results, really). I can say that working with Matt over the past two years has been a pleasure. Matt and his team are not only extremely responsive, but they continue to produce results for my company. Their optimization of our SEO and online ad campaign strategies has resulted in a significant increase in calls from serious prospects.They explain the technical details in a way I can understand, too. I would recommend Matt and Social Fire Media to any company that is looking for tangible results from a knowledgeable and helpful marketing firm

Matt, Brandon and Nick are not only exceptionally good at what they do, they are also very responsive, friendly and incredibly easy to work with. I used another SEO company for years and my business remained stagnant. Not only did my marketing consultant not know or understand my business, but apparently did not care to. I signed on with Social Fire Media less than one year ago. Those three guys worked patiently and diligently with me to revamp my website to make it more search engine friendly. On August 1, 2015 we launched my updated website, and along with SEO, Remarketing, and Strategic Online Ad Campaigns, I have experienced strong revenue growth. Sales doubled in May (from previous year) and have more than doubled for these first two weeks in June! I have and do recommend Social Fire Media to any business wanting to do more business. This expert "hands on" team knows how to get results! Joanne Downes, Boutique Owner

The best!!! They helped me re-do my outdated website, and I couldn't be happier. They were fast, efficient, creative!!, and a pleasure to work with. HIGHLY RECOMMEND!!

THIS CREW COULDN'T BE BETTER! Starting a business is the biggest challenge I've ever faced. But getting off the ground and believing that you have a great concept does nothing to help you grow - that's where SFM comes in. Through progressive thinking, hard work and precise analysis they have helped us grow leaps and bounds within a very short amount of time. I cannot thank them enough for their dedication to my company and the pets and people we serve. The price is right - and you get waayyyy more than you pay for. You can count on prompt, thoughtful responses to your questions. They always take the time to make sure me and my team understand why we are doing something and bring us new ideas regularly. If you need help growing your business, SFM is the team you want on your side. Call them today!

Social Fire Media exceeded our expectations with their response time and expertise while creating a new website for our small business. We received quick turn-around time through the whole process via emails and some phone calls, which was something we were NOT at all used to with our previous provider. They communicated clearly and efficiently about the services they could provide to us in order to meet the needs of our small business. We are very pleased with the fresh new look of our website, and would not hesitate to recommend Matt and Nick @ Social Fire Media.

I first contacted Brendan when I declared a need to switch from my existing web designer to create a more encompassing Author site. I presented him with general ideas and from those he was able to read my mind and create a web site that has generated a lot of traffic and numerous compliments on its design. Brendan kept the integrity of my original site and updated and improved every page. Recently, I wanted to tweak the site to included my new writing focus and and I was able to work with Matt and Nick. Their professionalism, promptness and cooperation with the smallest of details impressed me. It has been a pleasure to work with Social Fire Media. I will continue to rely upon them for hosting and support and know that I will be given top rate service at very competitive rates.

Melissa Patterson Sciotto
UK
Social Fire Media is amazing! They've helped me build my business through website development, logo redesign and Facebook promotions. They have even help me with other software issues I have. They're always there when I need them and constantly supporting me and my growing business!

It was a great pleasure working with Nick and Matt on the design of my new website and online advertising. I must be a nightmare client for a web designer. I came in with a lot of design ideas, some of which were not very good. Nick's ideas for the site blew me away - much better than what I had in mind. He kept the best of my ideas and gently talked me out of my bad ideas. His turnaround was very quick. When we would discuss a change, he would usually have it done within a day. Start to finish, it took about 3 weeks, which includes time Nick waited for me to give him content. Their price was very competitive and they didn't try to sell me services I don't need. I am looking forward to working with them more on advertising.

Nick and Matt were extrememly professional, prompt and most importantly, knowledgeable about websites and all of the items that I wanted included. I've worked with 4 other agencies throughout the years and found this one to be a keeper. We are about to have them create a 2nd one for our other company launch over the next 2 months. Can't wait to see the final project. A great team to work with and I am thankful that we dound them!

Opening Hours
Mon

Closed

Tue

5:00 pm - 9:00 pm

Wed

Closed

Thu

5:00 pm - 9:00 pm

Fri

Closed

Sat

Closed

Sun

Closed
People Also View
Authorize your self with either of these to view contact details, your information will not be shared to any one
Newsletter Subscription for Virtuous Reviews LLP
One more step and you will be subscribed to our newsletters
We have sent you a verification mail on your email id, please verify it.