Tasky Monk
#57 in India
#1 in Vadodara
SEO Services
A 37, Nuclear Park, Opp. Yash Complex, Gotri - 390021, Vadodara, Gujarat, India
Claim Listing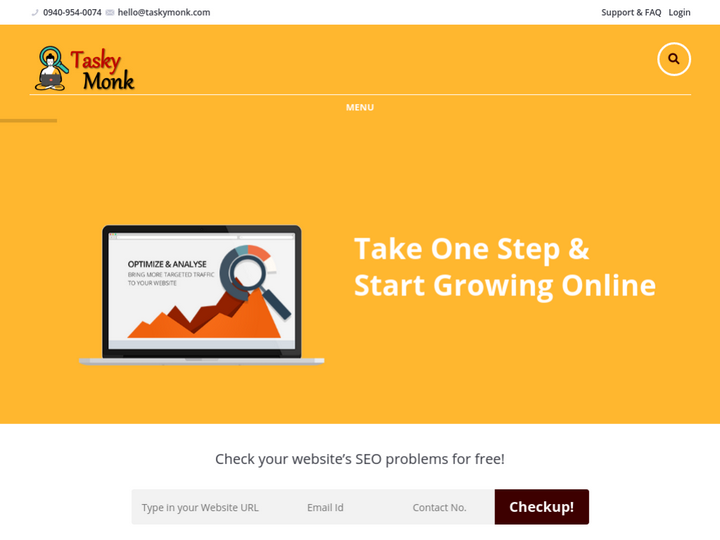 Company Description
Producing long lasting organic SEO results for brands of different kinds for more than a decade, we understand that your company is unique. That is why we approach to each of the projects individually, and we come up with smart solutions and put our technology to work to make us the most efficient among all other SEO agencies.
Review & Rating

Best SEO services and digital marketing course.

Loved it

Its best place for making your business grow online, best digital marketing company and web design services in Vadodara.

I hired Parth to conduct market research. We had a long conversation, after which he delivered an in-depth marketing research, on time, followed by a long feedback discussion, until I got all my inquiries answered. We haven't yet worked on a marketing campaign, but I'm sure his services will be just as good doing marketing as doing research.

Nice response get from the company, and get best work with appropriate price for my requirement. Great experience with TaskMonk. I truly recommend this company.

Doing internship at TaskyMonk is really great experience. I am learning Web Development, Digital Marketing and many other computer software, tricks and techniques. Learning new technologies, exploring new ways and improving my knowledge in the IT field. Teaching is really fabulous with practical implementation. Got chance to work on live projects, which boost my confidence and helps me in improving my skills.

The scope of services provided by this portal is wide and in capacity to bring alive the dreams of anyone who is wishing to showcase his work as a website or needs a marketing lift.My first experience with a website designing has been so full filling as it not only gave me satisfaction but instilled in me a faith in goodness in this world. The services offered were prompt, apt and delivered in a certain very conducive and professional style. This has inspired me to design my own another website with them, a second project I look forward to. The digital marketing plans are also very attractive and surely will go a long way to boost online presence and audience creation. A special honesty and deep commitment to enthusiastic work is the brand of Taskymonk. I wish them great success in all furthur endeavors.

In the professional world the kind of personalized service i am getting. Impressed Good Going Going Great. Good Luck Team TaskyMonk

TaskyMonk is best SEO Company in Vadodara, they did amazing SEO for my website and even redesigned beautiful SEO optimized website for us. They are providing the top quality services with all the latest techniques and A1 level of support. We are really thankful for their continues approaches to grow our business in all possible ways. Best experience in digital marketing and web designing all over India. Glad to work with TaskyMonk. Most Recommended SEO Company in India.

Entertainment King Ka Tadka
UK
SEO is the best way to promote your website on internet and it's done with TASKYMONK. Thanks Team TASKYMONK. Wish you a great success Parth.

Working with Parth has been a pleasure. Apart from his technical knowledge and expertise in web-designing, the key aspect of Parth is his ability to listen what the client wants (which is often contradictory) and to work out solutions, which often exceeds the client's wants.

I recently got my website designed from Parth (TaskyMonk) and he has done a remarkable job. I must say that Parth had not only been professional but very accommodating too during the making of my site. He is intuitive and intelligent enough to understand the exact requirement of the client very quickly. I always considered myself a perfectionist, but Parth has been a step ahead of me always. I am quite impressed with his expertise, strong technical background and splendid creative skills. He is a programmer par excellence. Not only this, he was always very generous in sharing handy technical tips on running my blog. That was like an icing on the cake. The way he conducted business with me speaks volumes about his competence and straight-forward attitude. He always responded to my calls, never procrastinated any work, kept the communication crystal clear and kept his words. I am fortunate to have found a diligent and honest person like Parth, who is passionate about his work. It was indeed a pleasure working with him. All my future websites are going to TaskyMonk! Thanks to Parth and his team for building a website I had always dreamt of.

Had an amazing experience with TaskyMonk, they provided me more than what I was expecting, they made my dream come true. Most reliable and cost efficient website development and digital marketing service provider. Thanks you so much.

An amazing Company which provides super quality of Digital Marketing Work and The Quality of Search Engine Optimization they provide is highly awesome and so to the point. The only company you should count on for any Digital Marketing Work in Vadodara, Gujarat. Loved their work. Keep it Up Guys.

Authorize your self with either of these to view contact details, your information will not be shared to any one
Newsletter Subscription for Virtuous Reviews LLP
One more step and you will be subscribed to our newsletters
We have sent you a verification mail on your email id, please verify it.