Techmagnate
#60 in India
#11 in New Delhi
SEO Services
101 - Kundan Nivas, 2nd Floor Harinagar, Ashram Chowk, New Delhi, Delhi, India 110014
Claim Listing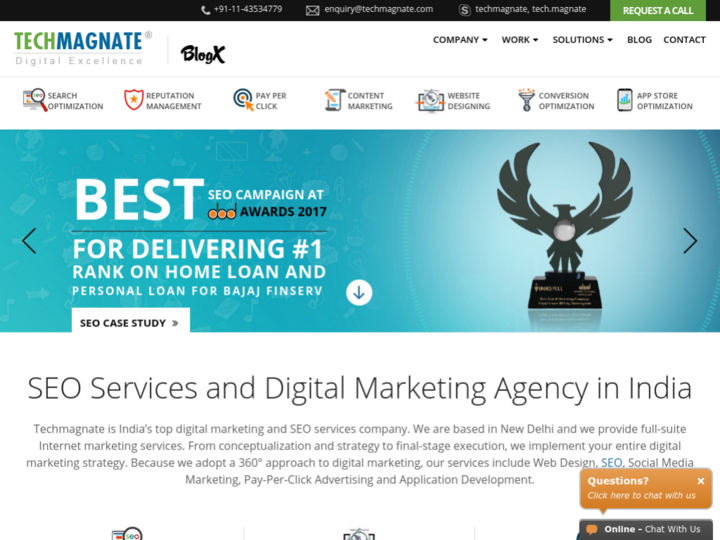 Company Description
We are a respected company for SEO Services India and believe in providing quality SEO services. We are known for our ethical approach and do not guarantee magical top 10 rankings in Google and Yahoo (though almost all our projects enjoy top 10 rankings in top search engines) as promised by many seo services companies.
Review & Rating

I am working with techmagnate from last 6 months for PPC and SEO and it has been great working with them as they are very responsible for every work and they try their best to achieve the expected results. They have a good team of experts, hardworking and professional peoples. Special shout-out to Suhas, Sachin, Pushpendra, Dishant and Reshu. Each one of them has gone the extra mile to make sure things get done. I seriously recommend it. Thank you.

Good organization but tue area in which this is situated is not good, you will not be able to notice this in traffic or while riding. You will have to ask from local shops for thr address.

Since we went online in the early months of 2014, we had been changing SEO every 3-6 months. Let's say this year our luck turned and we got in touch with Techmagnate. Their account manager came to our office and explained everything they would do. But, the confidence in them started building when we realized the plan they shared was actually adhered to. Reports are shared regularly and no call goes unanswered. I have already revised my contract with them! What else is there to say! We would definitely recommend Techmagnate to everyone searching for the best SEO agency in Delhi.

We have worked with Techmagnate for re-designing our group websites and also SEO services for a few years now. We have had no reason to be dissatisfied. Thanks to Techmagnate for providing a contemporary touch-feel to our websites. Their SEO exercise ensures us good rankings in internet search engines. It is our pleasure to recommend their services in these areas.

"Working with Techmagnate has been a pleasure. The work done by team and their understanding of Search Engine Optimization helped expand our outreach for our marketplace and reach the right customers."It is our pleasure to recommend services of Techmagnate. By Sumitron Exports Pvt. Ltd.

We are very happy with the services received from TechMagnate. They are a professionally managed company and take all the necessary action in time.

"Working with Techmagnate has been a pleasure. The work done by SEO team and their understanding of Search Engine Optimization helped expand our outreach for our focus market and reach the right customers. We appreciate the team for their customer-focused work and dedication." Ratul Sethi / CEO / GoldenJeetoIndia

I am a Fashion Designer and my personal label is what brings bread and butter to our table, a team of 120 committed individuals. A few months back we witnessed a sharp spike in negative reviews around the label. I've always advocated customer interest as supreme and seeing these engineered reviews was disturbing. A Google search for orm services in India led us to Techmagnate who were just brilliant in helping us counter the paid propaganda.

Prior to working with Techmagnate, we were extremely frustrated after having unsuccessful associations with two companies providing SEO services. Those were companies which couldn't even achieve a single objective out of the many they had outlined. The arrival of Techmagnate was a welcome change for us. They are a SEO company which delivered what it had promised. It's been three years now working with them and we are extremely happy with the outcomes and their professional approach.

I am very happy with this Company . They really Hard worker + Honesty . they really improve our website in a Digital Channel Dilip Singh Kharra Manager (Marketing & Admissions)

very professional service. all progress info is provided regularly and very efficient staff. i have seen quite a jump in callbacks from my higher rankings in search engines

Understanding the client & acting appropriately is the key…. Techmagnate stands on that. The structured approach falling into timed plans & actions makes their approach completely professional. The team is well qualified & keeps up to their promises. Pleasure recommending them for SEO services.

When we approached Techmagnate to revamp our Hospital website, we wanted a fresh, modern site, which was mobile optimized. The team was perfect from the beginning, listening to our needs and offering suggestions that helped continuously improving the quality. Today, we not only have one of the most easy-to-navigate sites, we have also reduced our dependency on third-party sites for regular events such as Conference Registrations. Big thanks to the Techmagnate Team!

As an NGO, we are very particular about our budgets, but we also realize the need to make donations an easy job for our benefactors. Hence, we wanted a web design company that would ease the processes, and yet not take away from our core. We are using this platform to say that with Techmagnate, we have found an agency that listens and then delivers. Our website is now easy to navigate and users can make donations in a hassle-free manner. However, all this would not have been possible without the quick response and open communication from the Techmagnate team. We have hired them for our overall maintenance! The best part for us has been the ease with which we can plan and execute our own campaigns, without any external help or added expenditures.

Authorize your self with either of these to view contact details, your information will not be shared to any one
Newsletter Subscription for Virtuous Reviews LLP
One more step and you will be subscribed to our newsletters
We have sent you a verification mail on your email id, please verify it.