Technocrab Solutions
#66 in India
#7 in Jaipur
SEO Services
3rd Floor, BL Tower-3, Plot No.S-268, Mahaveer Nagar 2, Maharani Farm, Durgapura, Jaipur (Raj.) - 302018
Claim Listing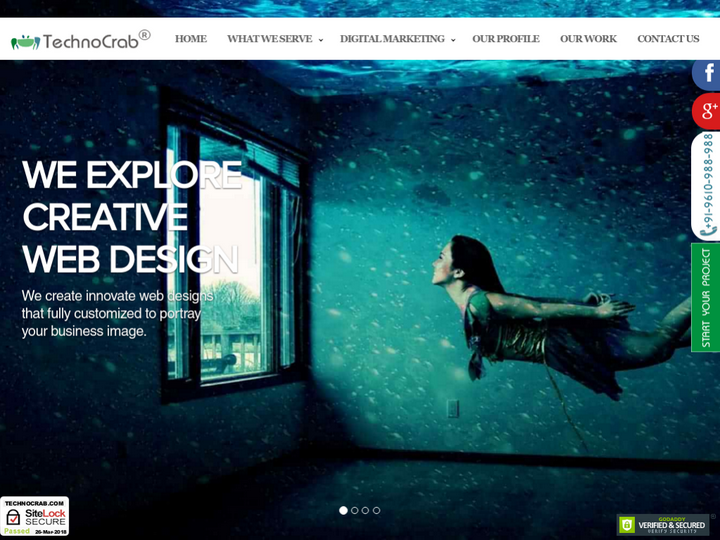 Company Description
Hello! We're technical crabs, all we do just tie nuts and bolts of your brand and provide your digital business presence, yes we do web designing and internet marketing as they are our core areas....
We guess you are thinking that why we're technical crabs?, All we are mad for technology and market trends, we try to do something creative, we never let go anybody up on Google, we are the group of creative peoples who call themselves crabs, Yes we are family of Technical Crabs! Would you like to be a part of it?
Review & Rating

Fraud Company. Quotes enormously high amount to client with a false promise of high quality and good after sales support. Unnecessary delay in the delivery, extremely unprofessional attitude of employees and unethical way of working are the three pillars on which the company is standing. It has fall upon us, but you can save yourself. A computer science graduate can do the same project in a much better way and at 100 times less cost. Yeah, you see it correct, there are two zeroes.

My marketing director gave me the task of finding an established agency to develop a our new website. He was insistent that we needed the website built to a very high standard. After a Google search I came across Technocrab Solutions popped up first in Google on a number of searches. Their website showed a plethora of great portfolio. I arranged a meeting with them in their studio which impressed my director and I. They listened to our requests and gave plenty of advice about the website. After the meeting we felt extremely confident to give them our business. No regrets at all, they were perfect from the start and understood what we needed. The best aspect of all was that they trained the team to use the self updating system they has built. We were extremely impressed so I am happy to recommend them with the 5 stars which are due to them. I would thoroughly recommend their style of work which was a balance of professionalism but also modern creativeness.

One of the best Development firms, I work with. Developing amazing products is passion for them. They really provide me cool solutions and it was amazing working with them. Very supportive and nice staff.. Working environment is very good.. I will give 5 star for work

Technocrab Solutions has recently helped me design and develop a responsive website design for my retail ecommerce business which I have to tell you drove about 19.5% solid increase in conversion in just a couple of months. I wasn't expecting the results to come out so soon, but absolutely grateful for them for taking so much pain in putting up a powerful SEO campaign for my business and of course for designing such a wonderful website.

We did over three website projects together and they have always been on point with quality and timelines. It has been a wonderful experience to work with them.

It was great to work with technocrab solutions. They have delivered my app and website on time. Cooperative and experienced team , regular updates is one of the key factor on which they give excellent result.

Excellent work; DELIVERED MY PROJECT BEFORE TAT. We started our real state project on 12 oct with deadline of 30 Jan 18 but they delivered my project 15 Jan with tremendous work and above of my expectation level. They deserve 5 stars so doubt

This was my first time working with Technocrab and trust me I couldn't be more happier with the e-commerce website they have created for my apparel business. The website is exactly what I have asked them to make. Thank you so much. Nice work done.

Quiet Professional and innovative mobile app developers. They are pro developers and a hard working team with great talent. The entire team is friendly and knowledgeable. Superb in their field. Highly Professional Company. Awesome people!!!

Quite Professional and innovative mobile app developers. They are pro developers and a hard working team with great talent. The entire team is friendly and knowledgeable. Superb in their field. Highly Professional Company. Awesome people!!!

"They are Best Website Designing Company in Jaipur. They've done an excellent job. We are very satisfied. They give us great reporting. We get full data on cost per lead for the various channels. We're extremely happy with the level of contact that we have with Technocrab."

Technocrab project management skills are really top-notch. They are easy to work with and open about their services and strategies to deliver to the best results. They used to provide weekly reports for our SEO project. So it's really easy to keep good pulse on how we're performing overall.

Hello, good folk of the tech community. I have been working with them since long, and ll give you my two cents without mincing my words - which is obviously hard for someone in the business, but here it is Technocrab has been amazingly flexible when it comes to my schedule and working hours. Even though I reside out of Jaipur, they've taken my project development on the top of everything, which is the true test of any organization that values work over other factors. We started the phase with requirement gathering through brainstorming the idea and just a zest to develop best product In market. The designs were made really interactive. My website itself speaks for its purpose and the user engagement is so good that my users praises for it. The code has been written following all the coding standards and fully standard libraries has been imported to make it fully functional. More or less it can never be a less experience than mind blowing or WOW!!!!!! will definitely recommend the team to every know who need help in the domain

Authorize your self with either of these to view contact details, your information will not be shared to any one
Newsletter Subscription for Virtuous Reviews LLP
One more step and you will be subscribed to our newsletters
We have sent you a verification mail on your email id, please verify it.