Technogleam
#40 in India
#4 in Siliguri
SEO Services
Sukumar Roy Road, Subhaspally, Siliguri, 734001 India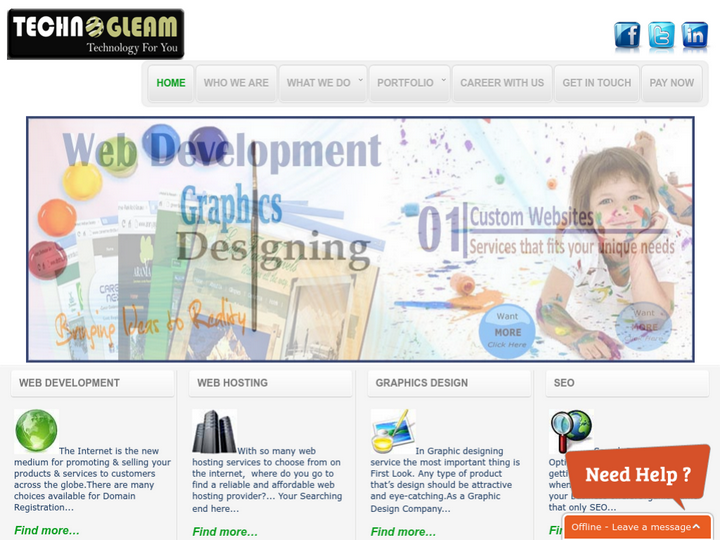 Company Description
Technogleam - Website Design Company From Siliguri, Provide Exclusive services for all his Customers. Technogleam specialize in customize websites Design. If you want a fast, powerful, easily managed website Technogleam is for you.
Review & Rating

Technogleam doesn't close, Technogleam has shifted to a new location. Address-Suktara, Sukumar Roy Road, Subhas Pally, Siliguri-734401

I will definitely recommended it to others, They are good on their job.

They really know their job. They can provide best SEO service you can ever get. Definitely 5 stars.

I loved the service of Technogleam. I was utterly losing my sanity due to my constantly lagging and troublesome website. You people gave me a cheer up, Thanks

Trust me, when I say that you need them, I mean it. They are genuinely creative and friendly. And they design great in a price that you can easily afford. The marketing thorough your website will catch a hike quickly. They are absolutely skillful in their work.

Booking `Hotelsandsightseeing
UK
Thank u for designing our website so beautiful ..

We have previously hired renowned and expensive website developing institutes who promised everything we need but at we were very disappointed with every single of them at the end. We hired Technogleam and it is rightly dedicated and helpful company in their every step. They informed every development of our website step by step to us. Considered many of our last minute changes as their priority and finished their work perfectly.

technogleam did a really good job with increasing our social media engagement and online presence at a really high velocity.

We had previously hired renowned Web Development Company who promised everything we needed but at the end we were very disappointed with every single of them. So we hired Technogleam and I was awestruck with their dedication and passion of their company. Their demonstration and the development of our websites were crystal clear and helped us to grow business in many ways. They even considered many of our last minute changes as their priority and completed the work perfectly on time. - Mr.Debashis Chakrobarty, WIND OZ (India) Vacations Pvt Ltd, Siliguri.

With ethical professionalism induced in every bit of their work, what amazes me is the way they get involved in the nitty-gritty of the points of the clients; giving the entire requirement such a desirable finish that's beyond imagination.

Darjeeling Sikkim Travel Services
UK
Had a great experience with this company. We took services from this company, from last 2 years. Every time when I called them, they have come and resolved my prob on immediate basis. Service is Excellent. They do our website with very nice view and they also do digital promotion for my company. The people r with this company r very nice and well behaved persons. They do their job very properly and with SUperb condition.

Authorize your self with either of these to view contact details, your information will not be shared to any one
Newsletter Subscription for Virtuous Reviews LLP
One more step and you will be subscribed to our newsletters
We have sent you a verification mail on your email id, please verify it.