Techwood Consulting
#67 in USA
#27 in Atlanta
SEO Services
200 Ashford Center N Suite 100, Atlanta, GA 30338
Claim Listing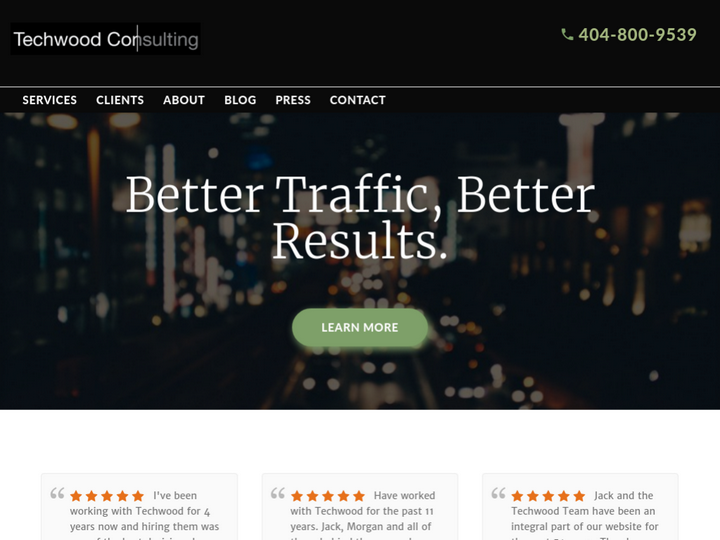 Company Description
Our story began while we were working for a public software company leading and taking over an e-commerce software product after an acquisition in 2005. With over 600 websites on the product, we realized that some of the highest performing businesses were not necessarily the big brands.
Review & Rating

We have been working with Techwood for almost a year and have seen a great increase in our organic search on our ecommerce site! They are a team that feels like an extension of our own team that we also thoroughly enjoy working with. I would definitely recommend others work with them!

We've been working with Techwood for many years and they have continued to provide excellent service and results. They have drastically helped us reduce our paid media marketing costs. This has allowed us to invest more dollars in other areas of our company, while also growing our marketing capabilities.

Three reasons why I love Techwood Consulting … and you will too: 1. Techwood cares as much about my business as I do. They know that their work only has value to the extent it rings the register, and they approach our relationship like it's their money being spent. 2. Techwood is a great team player. Our organization is a co-op, and we have complex and diverse needs. Techwood provides leadership, uses data to build consensus, and drives momentum to completion. 3. I pay for SEO and PPC, but I get so much more. Techwood helps us architect new websites from the beginning. They assist us in evaluating potential new store locations before we negotiate a lease. They help us improve our email campaigns and communication effectiveness. Whatever we ask, they're always there for us. Techwood is an invaluable partner for us. I can't recommend them highly enough. Don't pass up the opportunity to work with Jack and his team.

Techwood has been running our PPC ads as well as handling our SEO for over 8 years. Their team is responsive to new ideas and questions we present regarding competition and our industry. They push us to make changes that will improve our rankings in addition to the work they do. They are proactive in their efforts and we have enjoyed working with their team members.

We have been working with Techwood for about a year and a half now and within the first year we started to see our Google Search Ranking drastically improve. Jack and the entire Techwood team are very knowledgeable with all of Google's best practices and we feel confident they keep us ahead of our competition regarding search. The team at Techwood is very reliable and incredibly responsive to all of our needs. Jack and Jimmy have also gone the extra mile in helping us select developers to work with and have truly been there for us during our phases of technological transition. We look forward to working with Techwood for the long term.

I've been working with Techwood for 4 years now and hiring them was one of the best decisions I made for my company, Find Your Trainer. Techwood really knows their stuff -- they are true experts of SEO and really dig into the nitty-gritty to understand how Google's algorithms work. Within 6 months of working together, we became the top rated organic result for "personal trainer" in New York City. This marked a pivotal turning point for the company and we owe much of our success to Jack, Jimmy and there incredible team!

Jack and the Techwood Team have been an integral part of our website for the past 5+ years. They have not only helped increase our search rankings, but have helped us launch multiple website rebuilds. As a client, Jack has made suggestions that put our business far ahead of the competition. Jack has always been responsive to any issues we have had and always aims to please. The Techwood Team understands that they must continually add value to your site.

Techwood Consulting is truly the best SEO agency. Jack and the entire team are true professionals and I highly recommend their services. We have been number one on Google for the past few years and they are the only SEO agency we recommend to our clients.

The Techwood team has been amazing to work with. We have a very large and complex site, so we needed advanced SEO expertise which is hard to find. Luckily Techwood was up to the task. They gave us a lot of actionable insights even before we signed a contract with them. We've been very happy with our engagement.

Have worked with Techwood for the past 11 years. Jack, Morgan and all of those behind the scenes have been amazing. Our website consistently ranks in the top three positions on any search. Their insight into other ways we can improve our position in Google searches has been on target and paid huge dividends. We feel fortunate to work with winners!

5* is not enough for this company. We worked with a few different SEO companies in the past but none of them come anywhere close to Techwood. They have great employees who are super friendly and helpful. I would recommend them to anyone looking for an SEO company!

After three prior SEO vendors, I have fallen in love with Techwood. This company, this team of people, are simply unbelievable. I have entrusted my entire SEO, PPC campaigns to Techwood. They are partners, they are family. We don't make a move without them, and they don't make a move without consulting with us first. Techwood goes above and well beyond the normal scope of what you have become accustomed to, when working with an SEO partner. We have watched our PPC costs decrease, while our presence increase. We have watched our CTR increase, and in turn watched our sales increase. I literally can't say enough about this company, so contact me with any questions if you wish. Techwood has my contact information if you are serious.

We have been working with the team at Techwood Consulting since 2010, and have been consistently blown away by their attention and expertise. Jack, Morgan and Madelyn have seen us through multiple changes to our web presence, and have most recently been indispensable as we have developed a new and more comprehensive website. With their help over the years, we have seen our SEO ranking grow tremendously, which has had a marked impact on both our international reputation and our revenue. In addition to being experts in SEO, Techwood has gone the extra mile in educating themselves with regard to our business. They are an integral part of the Jackson Fine Art team, and we would recommend them without hesitation.

Authorize your self with either of these to view contact details, your information will not be shared to any one
Newsletter Subscription for Virtuous Reviews LLP
One more step and you will be subscribed to our newsletters
We have sent you a verification mail on your email id, please verify it.