The Boulder SEO Expert
SEO Services
4730 Devonshire Street Suite A, Boulder, CO 80301
Claim Listing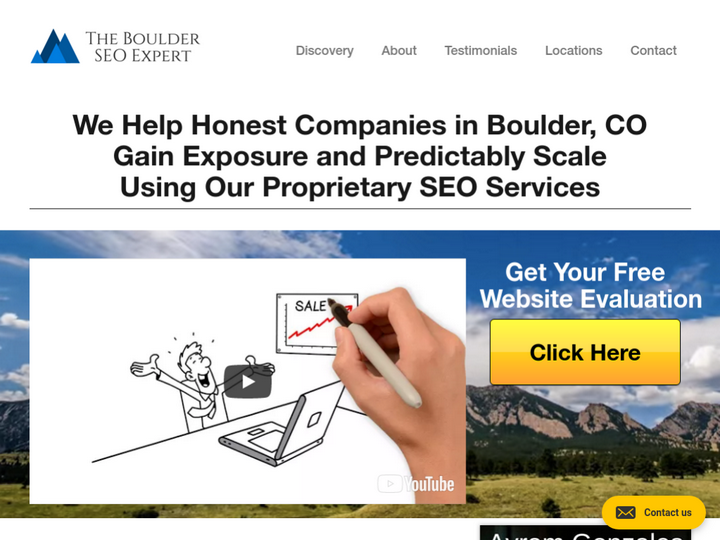 Company Description
In 2011 my family had to file for bankruptcy on our environmentally friendly dry cleaning business right here in Boulder, Colorado. When I look back, what pains me the most is that we had amazing staff, a great process, and a service that so many people needed.
Review & Rating

We are so happy we made the decision to partner with The Boulder SEO Expert, our only regret is that we didn't start sooner!

I was extremely impressed by Avram's professionalism and SEO expertise from the get go. I could just tell that he enjoys what he does and that he feels personally invested in the success of my business. That's why we chose to hire him and his team to help us improve our search engine rankings, and we couldn't be happier with the results! I don't even have to think about my marketing anymore because it's handled, and I can focus on doing what I do best which is serving my clients.

Recently, Avram reached out to me on LinkedIn letting me know about a recent Google update that affected the security of my website among a few other things. His team was able to handle the issue for a nominal fee and had everything fixed the same day.

Very honest, Doesn't beat around the bush and will tell you exactly what he can do for you, what he will do for you, and what your price will be!

Nobody knows SEO like Avram. Been with him for years as he's done all sorts of marketing for our business - but the SEO work he's done for us has been the most substantial out of everything. Couldn't recommend a more impactful service than what's offered at The Boulder SEO Expert for local businesses.

I first connected with Avram on LinkedIn and always found his posts helpful and inspiring. When I decided to get some SEO done on my website I knew exactly who I needed to call. From beginning to end Avram and his team were easy to work with and highly communicative. I always knew how our campaign was going and the return on ad spend has far exceeded expectation.

worked with another SEO company before and got burned pretty badly. I was promised the world, kept in the dark about everything, and my site never got ranked. I was skeptical at best when a friend referred me to The Boulder SEO Expert after I shared my experience with the previous company. Avram was very understanding, shared that this story was, unfortunately, a common one that he hears all the time, and proceeded to walk me through the process of properly framing my expectations and how to better leverage the strengths of my business. I took a chance on Avram because my friend spoke so highly of him, and I'm really glad that I did. Less than a year later, business is better than ever and most days we are booked solid with appointments.

After working with Avram and his team at the Boulder SEO expert for almost a year I can say that they are truly the real deal!!! Good luck finding anyone who will fight so hard for your business and really cares about your success!!! A few months into the campaign I was freaking out (sorry, Avram!) that we hadn't seen an increase in new calls or customers. He reassured me (several times) that this was all very normal and that we were on track with the campaign. Long story short, our contract isn't even over yet and the SEO work that has been done for us has been incredible. I don't think we have ever done any advertising that has been so lucrative!!!

These guys are good, really good. You'll be hard-pressed to find anyone as knowledgeable about SEO as Avram, and with the team and systems in place to back it up. I was nervous at first about the cost of services but could not be happier with the results. I'm definitely a customer for life. Thank you Avram!

I've spent a significant amount of time trying to rank my company website with limited success. After spending just a few minutes with Avram on the phone I realized I was in way over my head and would continue spinning my wheels if I kept trying to figure it out on my own. So, I swallowed my pride and hired him. After being stuck for over a year on page 2 and 3 on Google for several keywords that I really wanted to show up for - they were moving again. Every day these guys sent me a ranking report so I could watch the campaign evolve in real time while I watched my website traffic grow. Avram and his team truly are the experts and I'm thrilled with the results so far.

Authorize your self with either of these to view contact details, your information will not be shared to any one
Newsletter Subscription for Virtuous Reviews LLP
One more step and you will be subscribed to our newsletters
We have sent you a verification mail on your email id, please verify it.