The Mauldin Group
SEO Services
500 Sun Valley Drive, Suite C-2, Roswell, GA 30076
Claim Listing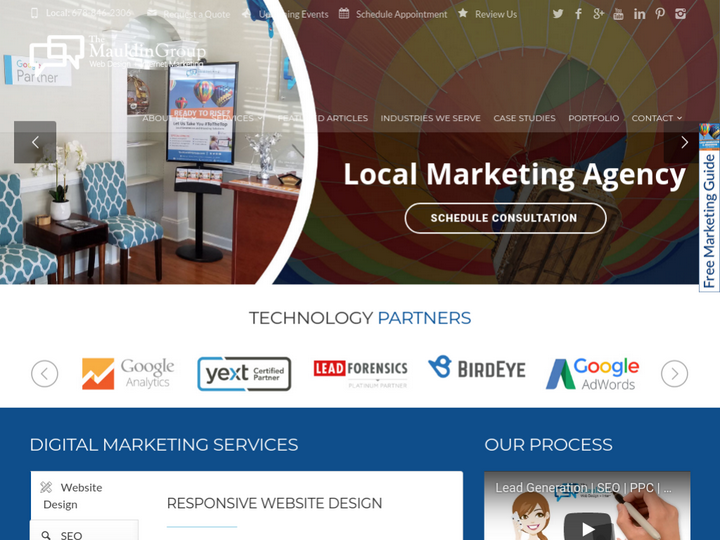 Company Description
It's a digital world, is your company's marketing ready fly or do you still feel grounded? The challenge for many businesses isn't wondering where to go but how to get there. For digital marketing campaigns to be successful, your company needs more than just a good website, you need a great marketing plan of action.
Review & Rating

Innisfree Hotels uses Southern Web for web development and digital strategy. Drew and his team are smart, professional and work with integrity. You can be assured all work will reflect industry best practices and the most up to date approach. We highly recommend them.

I have gained so much from Drew's seminars on WordPress. Although some of the steps seem overwhelming or comprehensive, it sinks in after the courses and makes more sense going forward. Drew and his team at Southern Web have been very helpful and I enjoy attending the classes and hearing about other ways people are using WordPress.

I had tried managing my email account myself and was feeling overwhelmed, not to mention my account had ceased to function. I contacted Southern Web Group, and within less than an hour, my problems had vanished. My email has been working perfectly since they took over the hosting, and I no longer worry about being out of my depth. Thank you so much SWG!

Southern Web Group developed our website with great expertise and thoroughness. They met and exceeded our expectations. Within hours of our website going live, we received calls from customers. Any time we have any questions or changes with our website they have always had an answer for us immediately. This is a great group to work with. I just cannot say enough about them.

Southern Web has hosted my site for several years. They are incredibly responsive to my requests for help and assistance. Just today I had an issue with my blog and within 20 minutes of sending my email plea for help, Drew responded, and another 15 minutes later, he emailed me that the problem was solved! Great service, very fast! It is great to know that I can focus on my business and let Southern Web take care of my web and blog site issues!

Drew and his team did a great job of preparing me for the task of administrating our new company website. Drew took everything step by step and really made wordpress feel accessible. Admining a website can feel like a daunting task, but after the training session - I'm much more confident about it. If I could give the session six stars, I would. Thanks Drew and thanks Southern Web!

Drew and the other professionals at Southern Web have taken care of our web based needs for more than five years. They are helpful, easy to work with and responsive. Our needs are not always large or high, high tech but their professionalism is always consistent and appreciated. As a volunteer it's nice to have a resource that is easy to access and get help.

Southern Web Group did a superb job redesigning my company's website. They redesigned our logo, built a new 30 page site, and did it all with minimal work on our part. I am very pleased with the new site's consistent and intuitive feel. We have already seen a significant growth in our customer base. The increase in revenue allowed me to come back to Drew and build a dynamic customer portal. They worked closely with our programmers giving us a variety of options for integration. My experience with Southern Web Group is that you get what you pay for and more.

Wow! Drew is an SEO guru!

Wonderful company! Very easy to work with, fair prices, and our website edits are always done in a timely manner. Very responsive to phone calls and emails. Could not be more satisfied. Highly recommend!

Very knowledgeable and helpful. Great people to work with. Thanks!!

What you don't know about your website can kill you. I had to fire my web guy. For 3 months my lead capture system was not working and I did not know it. Drew not only identified the problem but fixed it quickly, and then optimized it and made sure my MailChimp email drip campaigns are delivered without issues. No other web guy ever told me that I needed to do that. Pricing was excellent as well.

Business Inquiries have doubled since using the Maudlin Group.

The Mauldin Group are excellent at what they do! Bonnie was able to utilize may layman terminology and transcribe it into a very detailed and technical resume'. all of which was done in a very short time. They were also very quick to return calls/emails. I will be using them for all my future needs. Susie Rankin Case Management

I am thrilled to have found Bonnie. I have been looking for a business coach who gets what I am looking to accomplish and Bonnie is perfect. She has an excellent approach - listening, helping you form a complete plan of action and breaking it down into manageable pieces. I highly recommend anyone, whether you are just starting out or an established business owner, allowing Bonnie to coach you to further success.

The Mauldin Group has done an amazing job for my company! From their amazing web design, the SEO management and their endless creative marketing ideas! And Bonnie and her team are a true pleasure to work with! Kelly Rose Productions' recent growth has been a direct result of the Mauldin Group's fantastic marketing campaign!

Bonnie and the team are amazing. Super professional and deliver on what they promise! Highly Recommend!

Bonnie is knowledgeable, professional, and passionate about helping her clients grow their businesses. I highly recommend the Mauldin Group.

I've been working with The Mauldin Group for some months now and what I love most is the practice, foccused and objective job. I'm very happy with all the services we have done together.

Bonnie Mauldin and her team did a fantastic job creating my company's new website. Their processes are streamlined and very understandable for non-website-savvy people. They listened to the concept I wanted to achieve and turned it into a beautiful, professional website. I highly recommend The Mauldin Group.

Bonnie and her team has been a tremendous asset to Divine Chariots Limousines. Since we began working with the Mauldin Group, our on line presence and more than double! Thank you to the entire Mauldin Group team!

I have a brand new practice and have been using the Mauldin Group for all my marketing including my website and social media and they have done a wonderful job. I also had them handle the promotion of my office' ribbon cutting/grand opening event and that could not have gone better.

I first met Bonnie at the WOE (Women's only Entrepreneurs) event in Alpharetta and then once we sat down to strategize I realized what a valuable resource she was. Bonnie helped me lay out the plans for my networking group and inspire me to start my platform with a growth mindset. My company officially launches this month with a strong background to build from thanks to Bonnie's advice. I feel motivated to move forward with her team behind me in 2018!

Bonnie's social media classes are content rich and very professional. It is clear that Bonnie and the team at The Mauldin Group are very knowledgeable and get results for their clients. If you are looking to raise your Internet visibility and generate business from your on-line presence definitely give them a call.

Authorize your self with either of these to view contact details, your information will not be shared to any one
Newsletter Subscription for Virtuous Reviews LLP
One more step and you will be subscribed to our newsletters
We have sent you a verification mail on your email id, please verify it.