The SEO Shop
SEO Services
The Bolands Centre, 14 Spence Street, Cairns, QLD 4870 Australia
Claim Listing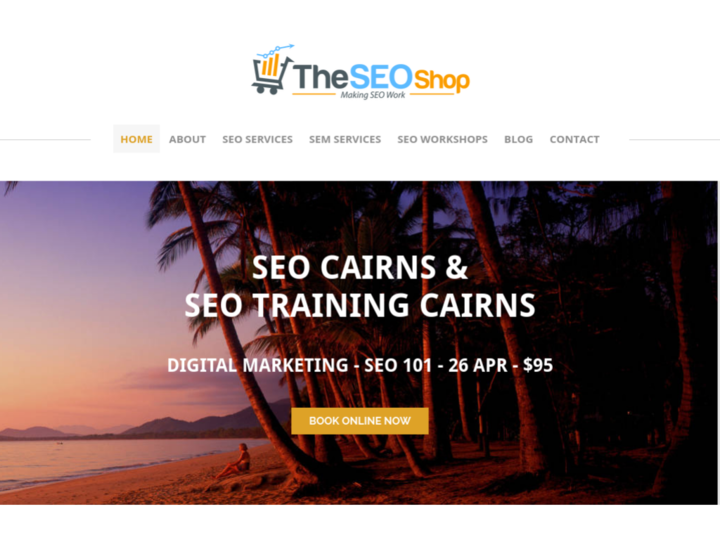 Company Description
Our focus has always been on the SEO education side and The SEO Shop was formed around the concept of teaching good quality white-hat SEO as a direct response to the needs of small businesses.
Review & Rating

Top Bloke, and awesome to deal with, Thanks for your help.

Jan Purser Naturopathic Nutritionist
UK
Thanks to Adam Guerin at The SEO Shop I now have a terrific new website that I love and so does Google! The fact that I'm in Perth and Adam is in Cairns was irrelevant. Adam was professional, helpful and patient through the whole process. And the results are obviously outstanding.

Adam is awesome! He speaks my language (the non-technical type) and goes the extra mile to assist with tasks that are not in his job description such as helping set up Google pages. I highly recommend Adam to any budding entrepreneur.

I've found Adam to be incredibly helpful, he has gone out of his way to help me get my new business website up and running, although my old website was quite visually appealing it just wasn't generating a lot of work for my business. After discussing things with Adam we decided to start again and build a new "Google friendly" website. It's hard to find people in the business world who you can really trust and be confident with their expertise in their field. I do not hesitate in recommending Adam to anyone who wants to generate more work for their business as he is very skilled in this department. Gavin - Pest Off Solutions

I found Adam when I needed help with my website. It was doing OK and then for some reason the ranking and sales took a steep dive. I had no idea what I had done wrong but I knew I had upset Google somehow. I had spent months trying to work it out myself. I attended Adam's SEO workshop which I found easy to understand and learnt so much about Google ranking. In the follow up appointment (included when you do the workshop) we went over the site and found a few simple things that I had done wrong. Within a couple of days my sales improved out of site. Adam audited my website and sent it through with suggestions on how to fix other things so Google would rank me higher. I still have a lot of work to do but I will be purchasing a SEO consultancy package so when I have a question or two I can just give Adam a call or send an email and I will only be charged the amount of time it takes. My only regret is I wish I had found Adam sooner.

I have worked with Adam for a couple of years on a series of long running government funded training initiatives. Adam has presented workshops and provided coaching and mentoring to our clients primarily in the digital field, focusing on areas such as SEO, website design and development, digital marketing, social media and mobile technologies. Adam's workshop presentations are always relaxed, engaging and interesting, and his passion for his field and his desire to help others is evident in the focused, attentive way he presents. Adam is able to convey complex digital information in a way that allows his workshop attendees to fully grasp the topic and envisage the ways they can make digital technologies work for their business. His unique ability to simplify information and make it accessible to all is the key to what makes Adam an unbelievable presenter. As a coach and mentor, Adam provides tailored support, giving his clients the advice, tools and techniques they need to enhance their businesses. All feedback provided at the conclusion of all of Adam's sessions is consistently overwhelmingly positive, and the standard of his work and depth of his knowledge is second to none. Adam's friendly, down to earth nature combined with his professionalism and commitment to providing excellent service makes him an absolute pleasure to work with.

I can honestly say that having my gutter cleaning business ranked well for my most popular keywords has made a massive difference to the number of clients we service on a weekly basis. We are getting at least an average of 18 to 25 new clients a week and I couldn't be happier. The SEO Shop has been an immense help in the process from start to finish. I had to be completely educated on how it all worked and their training workshop came in handy for that. The team at SEO Shop were very patient. I can highly recommend the SEO Shop for any business located in Cairns or any other part of the country for that matter. The only warning I have is to be prepared for the extra work!

Wellness Embodied Cairns Physiotherapy
UK
It's amazing how much info Adam can impart on SEO in these 3 hours workshops... I've done a free one and the paid and still have heaps to learn and work on continually :)

Very informative & productive SEO workshop, learnt a lot in 3 hours.

Adam from the SEO Shop really knows his stuff! What's better is he willingly shares his knowledge and does it in a manner which is interesting and simple to follow. This workshop is well worth the time and the money and something every business should make it their business to attend.

Adam is the nicest guy to work with, his advice and knowledge seems limitless and nothing is ever too much trouble. You'll always get a realistic approach to anticipated costs, timeframes & outcomes, and ROI is over and above - highly recommended!

Completed Adam's workshop last week and it was full of great content and a step by step procedure that I am looking forward to implementing. Thanks Adam, much appreciated.

I have attended a couple of workshops now with Adam and am always impressed with the amount of information and tips he provides. No nonsense and easy to understand. Highly recommend and will continue to use SEO Cairns.

Having launched a new business website we'd spent many months working with a big SEO provider who wasn't making any progress in improving our search rankings. With that in mind, we met with Adam at The SEO Shop to see what he could offer and he was a breath of fresh air. Adam didn't make any grand promises or offer guarantees of "position 1", rather he made it clear that he would work with us to improve rankings, and that it would take a little time and consistent effort from both him and us to achieve the results we wanted. The great thing about Adam is that he is keen to pass on as much information as possible, with the view to teaching you how SEO works. The aim being that there will be a "handover" back to you once the desired results have been achieved - unlike many other SEO providers who are happy to just keep taking your monthly fees indefinitely. A mere matter of months later our website is ranking top ten (made it to page one but still a bit of work to get to position 1!) on the two most important keywords and I have gone from knowing nothing about SEO to having a good understanding of how it all works, and the ability to maintain (and keep improving our rankings once the handover is complete). As someone who knew very little about SEO, Adam encouraged me to ask as many questions as possible, and I never felt like I was asking a silly question. And he seem to genuinely enjoy sharing his knowledge about all things SEO. We have been more than happy with the service provided (and results) that The SEO Shop have been able to deliver and would thoroughly recommend their services.

Authorize your self with either of these to view contact details, your information will not be shared to any one
Newsletter Subscription for Virtuous Reviews LLP
One more step and you will be subscribed to our newsletters
We have sent you a verification mail on your email id, please verify it.