Taj Jai Mahal Palace Jaipur Wedding Cost & More
---
A wedding at the Taj Jai Mahal Palace is nothing less than a dream. What makes it even more remarkable is that it possesses the fragrance and essence of Rajasthani architecture. One cannot take his eyes off those arches, galleries, windows, and intricate designs. So, you can easily imagine how special the couple would feel being a pivotal part of the Taj Jai Mahal Palace Jaipur wedding.
Well, isn't it beautiful when a city's buildings successfully represent its traditional culture, heritage, craft, and architecture in one go? It becomes a perfect destination to not only visit and relish but also to get hitched, take vows, and get married for the rest of your life. Today's couples and families have wedding desires that revolve in and around architectural beauty. They are therefore extremely enthusiastic to marry amidst the endlessness of Indian palaces and forts.
A dreamy affair!
Nowadays, brides, grooms, and their families look for a destination that can make their wedding unforgettable for themselves and their guests. They wander for destinations like the Taj Jai Mahal Palace Jaipur wedding venue that's complete on its own and needs no artificial decorations. If you're a couple who dreams of having a dreamy wedding, jump to the following section to know all things useful about the palace. Cost, occupancy, food expenses, inside exotic locations, and more can be known via the below details. So, let's go.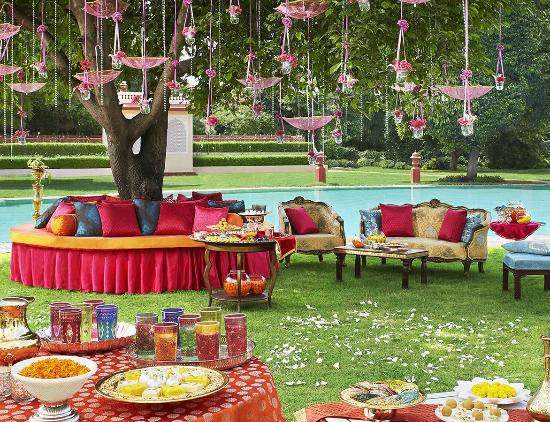 Taj Jai Mahal Palace Jaipur Wedding Cost, Available Spaces & More
History & Present
The Taj Jai Mahal Palace was built in 1745 AD and was refurbished into a five-star luxury heritage hotel by the Taj Group. Built on 18 acres of land, the lush green property is equipped with 94 rooms, 6 suits, contemporary amenities, and comforts.
Proximity to Location
The Taj Jai Mahal Palace is located in the heart of Pink City, in Civil Lines, Jaipur. Approx 30 minutes away from the Airport, the palace stands in proximity to forts like Amer Fort, City Palace, and Hawa Mahal. Shopping centers, railway stations, some prominent hotels, and other tourist attractions are just a few kilometers away from the palace.
Available Spaces (Indoor & Outdoor) & Occupancy
A suitable luxurious indoor space for wedding ceremonies at Taj Jai Mahal Palace is the Sterling Boardroom, with an occupancy of 150 people. On the other hand, there are outdoor venues, basically lawns, such as Palace Lawn (capacity - approx. 2500), Lotus Pond Lawn (approx. 250), Baradari Lawn (approx. 200), and Fountain Lawn (approx.500).
Taj Jai Mahal Palace Jaipur Wedding Cost
If you're throwing a wedding ceremony for up to 200-250 guests, the Taj Jai Mahal Palace wedding Jaipur cost will be calculated on the following factors:
The property has 94 high-amenity and luxurious rooms, with each room costing between 25k-35k per night.
Per person expenses for lunch - 3k-4k
Per person expenses for dinner - 5k-7k
Based on the above rates, the accommodation may cost you between 50-80 lacs, while the food expenses will range between 16-22 lacs. Hence, the Taj Jai Mahal Jaipur Palace wedding package will cost between 66 lacs and 1 crore.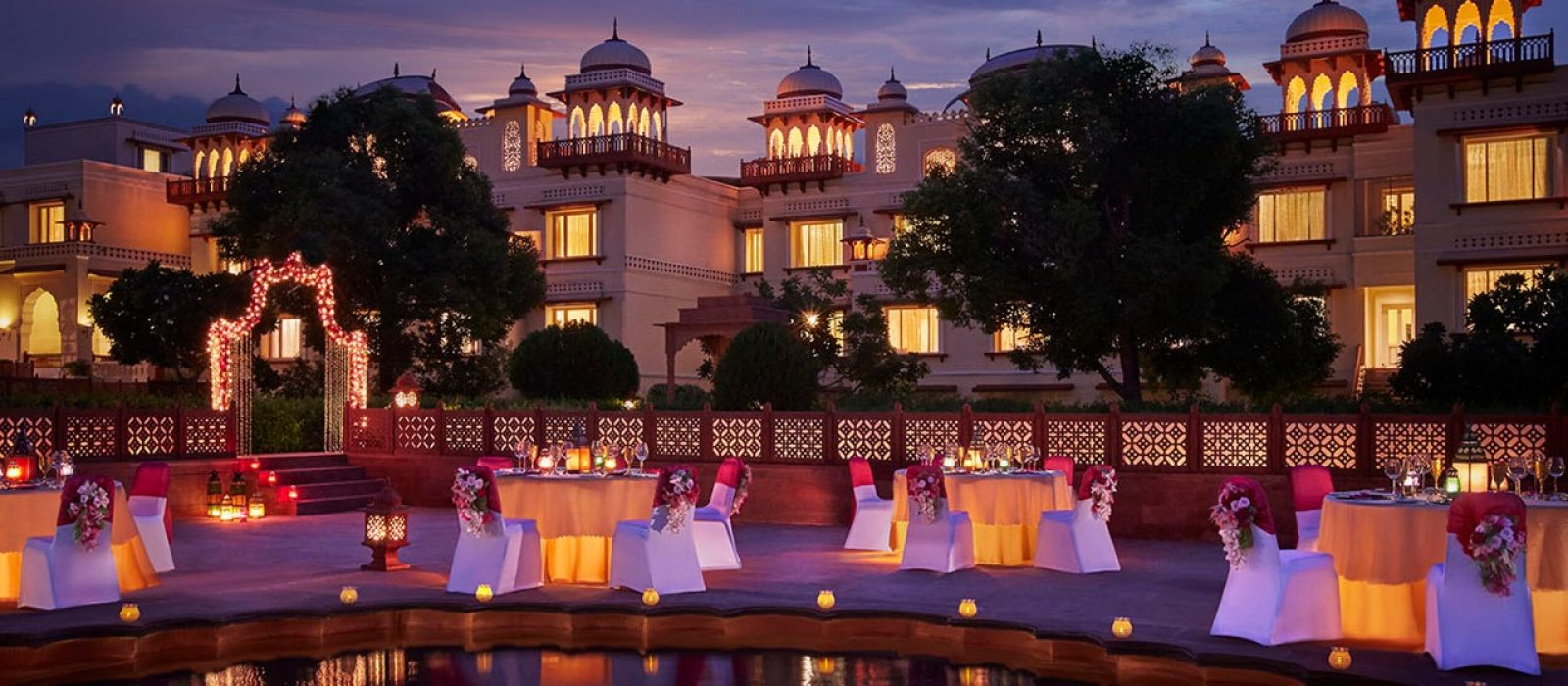 Other Arrangements
While you plan your heavenly wedding at Taj Jai Mahal Palace by carefully considering its costs and amenities, do not forget to count the expenses of other arrangements. These arrangements primarily include finalizing a destination wedding planner in Jaipur, a caterer, a choreographer, a team of photographers, MUA and mehendi artists, and of course wedding outfit brands to shop from.
Wrapping Up - Taj Jai Mahal Palace Jaipur Wedding Cost & More
Booking a grand and lavish destination for your wedding isn't a simple task. What's even more tricky is finding an expert destination wedding planner in India. A wedding decorator by your side is a must-checkpoint on your checklist. One who can double up the beauty of the destination and make the wedding unforgettable for all.
When you choose an expert destination wedding planner, you get to access the creativity, teamwork, and exclusivity of the team of professionals. A team of such enthusiasts is all set to plan your fairy tale wedding. All you have to do is tell them your requirements and how you and your family want the wedding to be. They'll plan it with you, and get the food, decorations, guest entertainment, and ceremonies in place. In short, they will organize the most memorable wedding of your life.
Find the most amazing wedding planners at Virtuous Reviews, a popular listing platform for searching for the best wedding and event management companies. Visit their website today, connect with the most suitable companies near you, and start planning your dream wedding planning in time.
Leave a Reply