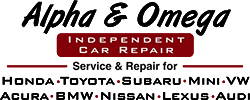 Alpha & Omega Independent Car Repair
Auto Repairing
2555 49th St. Boulder, CO 80301
Claim Listing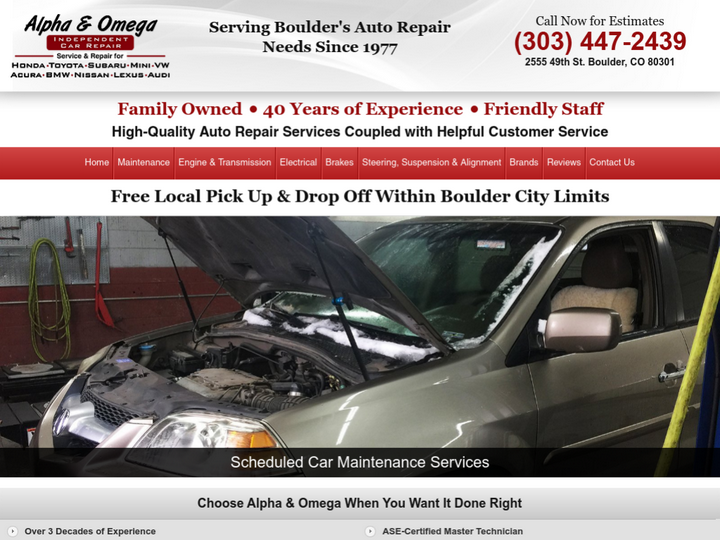 Company Description
Alpha & Omega Independent Car Repair has over 36 years of experience in providing highly reliable, expert car repair and maintenance services to Boulder, Colorado. We are a locally-owned, family-operated automotive shop dedicated to delivering exceptional workmanship with superior customer service at competitive prices.
Review & Rating

Brett is awesome. He was honesty, friendly, helpful and understanding. It is rare to find a mechanic who is honest and does good work. If you are in need of any automotive repairs in the Boulder area I would highly recommend Alpha & Omega.

Had an issue with a stripped lug nut and they replaced it for free. Transparent, honest, and quick.

Different kind of review ow here.... Met Eric while dirt biking today in the middle of nowhere here in Colorado. We talked cars for about 10 minutes, found out about his business and told him of the issues I'm currently having on my B8.5 S5. He had knowledgeable input and advice. Needless to say, I'm changing repair shops due to our conversation/interaction. He knows his stuff and is an honest guy shooting from the hip with experience with German cars. Lol forward to seeing he and his shop this week. More excited to get my damn transmission diagnosis and repair. Pleasure meeting you Eric!

It was my first time coming here and i have to say it was absolutely, hands down, the best experience at a auto shop i have ever had. to be honest, i usually don't have good experiences with auto shops as a lot of them try to take advantage from the customer if they don't know what they are doing (usually me) and not only did he apply a coupon to the service and tell me other little things he noticed that I needed to keep an eye on and get fixed, but I asked him a question about my break light being out and he fix and replaces them with no charge added. BEST COSTUMER SERVICE EVER! 10/10! would and will recommend! thanks so much you guys rock!!

This is the place I'm recollecting we're talkin about Alpha and Omega Auto Care mechanics. Their dad built a great business and as I understand it his sons now run it. Way to keep it in the family... Blessings.

Let me just say, friendly isn't in the vocabulary. I feel I was treated like an inconvenience. Also, after calling BEFORE they received my car, I told them EVERYTHING was that was wrong with my car after squirrels chewed on my wiring. They call and tell me it's ready and they fixed it. I drove it home and parked it, the next evening I drove it and used my heater. When I got home turned off my car the heater stays on as do the control lights for my windows and door locks. (Neither should stay on after car is off and keys are out. And my wipers can be used without the car being started.) The next day I looked under the hood and OMG nothing had electrical tape, wired were exposed and the electrical hub had been zip tied to my car and its missing the wire. I called, told them what was going on and was told they were going to charge me to figure out why those things were happening. I asked why and would answer me. I told him they were paid to fix my car yet it wasn't fixed. He said "I still have to charge you to fix it". Um no you don't, it should have been fixed the first time. All the "parts" you charged weren't used. And only one piece had a small amount if electrical tape that cost me over 5.00 with them. Personally, I'm so unhappy with the entire experience and they can't even look at my car for another week. Only means of transportation and I'm disabled. So frustrated.

Alpha & Omega Independent Car Repair consistently provides excellent service. I have often come in with no appointment and the Evans brothers have always resolved my car problems immediately and for any basic repairs will do so at no charge. They really know what they are doing and are consistently helpful, kind, knowledgeable and professional. I highly recommend this excellent business!

Well what can I say other than my most trusted mechanic facility around. I manage a collision center in Boulder, and Alpha Omega is the shop that will perform the mechanical work we can't. I also use Eric and Brett for my personal vehicles as I always know that are straight shooters that I can trust. Excellent service across the board. Hard to find these days which is sad to say, but a real pleasure when you find guys like this to work with.

The Old Man was a good mechanic and businessman, but the brothers have taken this company to another level. Amazing service, integrity, and fair prices. They take care of my personal vehicle as well as our company vehicles. Highly recommended.

My experience with Alpha & Omega was excellent! I needed help with my headlights and they were professional, courteous, and VERY helpful! I would take my car to them again in a minute!

Opening Hours
Mon

Closed

Tue

5:00 pm - 9:00 pm

Wed

Closed

Thu

5:00 pm - 9:00 pm

Fri

Closed

Sat

Closed

Sun

Closed
Authorize your self with either of these to view contact details, your information will not be shared to any one
Newsletter Subscription for Virtuous Reviews LLP
One more step and you will be subscribed to our newsletters
We have sent you a verification mail on your email id, please verify it.