Concierge Unlimited International
Wedding Planners
20 North Wacker Drive, Suite 1730 Chicago, Illinois 60606
Claim Listing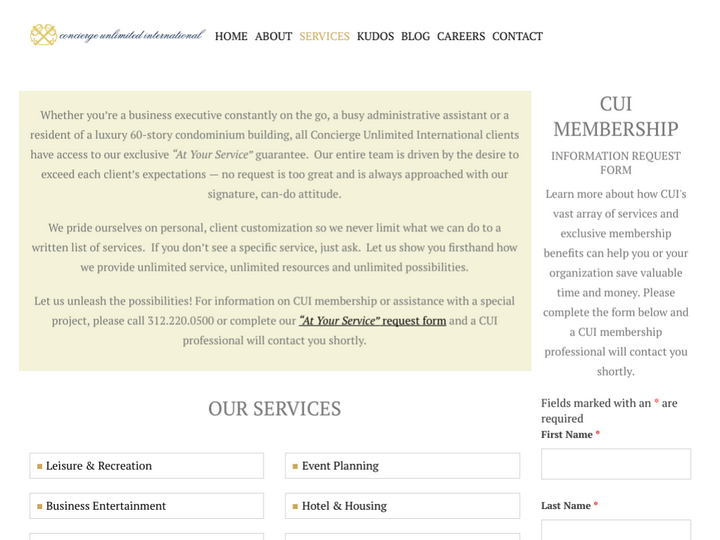 Company Description
Whether you're a busy professional, small business, Fortune 500 company or residential development, our team has the experience, relationships and resources necessary to add immeasurable value to your lifestyle, business, employees, clients or residents.
Review & Rating

I was called in for a interview...i get there brung all my credentials and waited for over 2 hours to be interviewed and finally the front desk lady walks in and says we're sorry the guy that suppose to interview you cant make it...to add insult they knew i called off from work to make it to that interview and i almost lost the job i do have to try to persue new opportunity...3days later i get a email saying we went with someone more suitable for this position....and im like how suitable are they over me when i never got the INTERVIEW!!! only thing they knew about me was that im a black man...because everything was all good until i got there...i guess darker than expected...still haven't got a call even though i called multiple times looking for a explanation VERY POOR AND UNPROFESSIONAL....only reasin i gave them 1 star is because the elevator didnt get stuck on my way out

This place is really good. Nice place to rest and hang out with friends. Great place for visiting famous places such as the gold coast and universities. Much transportation is near by to allow easy access for those who want to visit tour type places.

If you or your company need a Concierge, please go with ANY other service. I worked at Concierge Unlimited for a little over a year and I can tell you that these are the most unprofessional group of "adults". They don't have any better connections at the new, hip restaurants than you do. Anyone can call and ask to speak to a manager and weasel their way into a reservation. To anyone reading this review thinking about applying for a job here, DON'T. You will regret it if you do. It will be a huge waste of time, and anything you learn while working here you will have taught yourself. Save yourself the trouble and learn it on your own without the stress. The company dynamic is awful, the treatment toward employees is awful. You will feel like less of a person after just a couple weeks here and you deserve better than that.

They hired me for literally 4 whole days. They just needed someone to answer there phones while another girl was out. So, I let a job go, changed my whole routine to now be unemployed. They are extremely unorganized, bad mouth all there clients and employees. There is one genuine good person and that's the book keeper. I've never come across a company so unprofessional. To the individual below, it's not about raise, they judge you from the moment you walk through the doors. Olga (owner) says her company is all about appearance, however, she doesn't want to pay you the salary so you can afford to represent her company the way she expects. So unbelievable! As for Dominque's review, it's so obvious she was told to give this company a good review. No one in there right mind would ever compliment this company and it shocks me that the City of Chicago allows this type of business in their buildings, buildings that people put millions of dollars into. Also, how the treatment of their residences. The Mayor just did a speech on the treatment of the employees/residents of Chicago. Please, if you decide to work here be careful. We all need employment, they just don't care.

The absolute worse place I have ever worked. Where do I even begin? The interview process is a nightmare. Which should have been a warning to begin with. When you arrive at HQ you are asked to take several remedial tests (spelling, grammar, typing and personality) that no other company still uses. If the company President, Olga Pierce, does not deem your appearance suitable for CUI, you will be sent home within 30mins. If you pass the looks once-over, you will be given additional tests including one on your knowledge of Chicago and one which has you in make believe land, pretending you are already a concierge in a commercial building. This test will quiz you on open houses, requiring you to come up with 12 ideas for a theme. In total this tests can take as long as 4 hours. Yes, you read that right…. 4 hours. CUI does not have a HR department. There is a huge turn over at HQ so you will likely not see the same people in a (6) month period. The (2) admins located at the front desk handle all interviewing, for which they are not trained or experienced in this area. They are very unorganized, stumble on their words, appear nervous, intimated and as if this is their first time doing an interview. I remember it was pouring rain the day I interviewed. I arrived at 8am, at noon I was requested to meet a concierge on Lake Shore Drive. Still pouring outside I had to hail a cab which CUI did not even offer to pay for. I met with a senior concierge for approximately 30mins. I was hired the following day with zero experience in the concierge world. I was given no training. I sat at HQ for 14 days listening to Olga terrorize her entire staff, during which I witnessed (6) people leave the company. I was then presented to property management to replace a concierge that quit. The President typed up a resume to present to property management that I didn't even recognize. She added things to my resume which were not accurate. I was ready to give my left arm to get the heck outta HQ. I was hoping that being at a distant from Olga and not seeing her on a daily basis would be the right recipe for a great working environment. I was sorely mistaken. Any chance Olga gets she will verbally abuse, belittle and strong arm you without any hesitation. I was placed at a building and I was so thankful to be away from Ms. Pierce. Unfortunately, that was short lived and I ended up back at HQ which let to my eventual departure from CUI. Many years ago, I was taught to ask "what happened to the last person in this position". With CUI, it is often "what happened to the last 6-9 people"? In the first 6 months of 2018, 9 concierges have resigned. Most employees do not last longer than one year. I have been waiting for months, MONTHS for a commission check from CUI. The bookkeeping department is the worst! Olga and the staff at HQ are the most unorganized, unprofessional, inappropriate, bad form, uncalled for company I have ever been employed by!

I applied for an operations manager position with this company and travelled from out of town to have my interview since I needed to be there in person to complete their character test (So they say).I was on time, dressed for success,and in my opinion did great on my test. Compared to some of the other people there I thought I had a great chance of being hired. I was told I'd hear from the in 2 weeks...heard nothing...ended up calling them to see what was going on and I was told that i was still in the running and someone would be calling me back in 24 hours...again nothing..I called again and was given a flimsy excuse why no one called me back..needless to say after a month of playing with these people I decided to withdraw my applicantion since I never was so much as emailed a denial letter. There's a reason why this place has a low rating and I hope my review will help the next person trying to apply for a job out of state. To the company shame on you for conducting your business so poorly whoever is in charge of HR needs terminated and to anyone else reading this stay away.

I worked here for a year back in 2015.....Unorganized management and discriminatory practices against their employees of color. I wouldn't recommend working here nor using their services.

Opening Hours
Mon

Closed

Tue

5:00 pm - 9:00 pm

Wed

Closed

Thu

5:00 pm - 9:00 pm

Fri

Closed

Sat

Closed

Sun

Closed
People Also View
Authorize your self with either of these to view contact details, your information will not be shared to any one
Newsletter Subscription for Virtuous Reviews LLP
One more step and you will be subscribed to our newsletters
We have sent you a verification mail on your email id, please verify it.