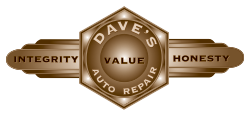 Dave's Auto Repair
Auto Repairing
830 E Charleston Rd, Palo Alto, CA 94303, USA
Claim Listing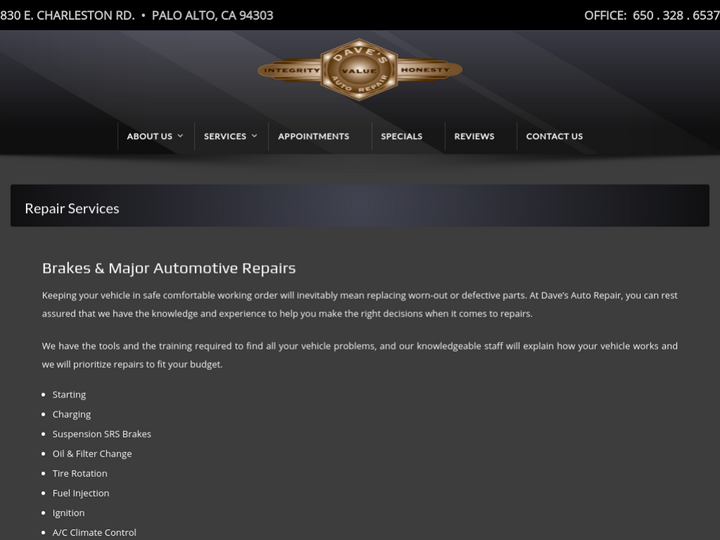 Company Description
Let's face it, your automobile is complicated! Modern vehicles have become exceptionally fuel efficient, reliable, pollute less and are designed to have a much longer in-service life.
Review & Rating

I have a '97 Chevy and had a bumper to bumper incident that jammed my hood back and ruined the hood hinges. I tried four other auto body shops in the area before I found Dave's. Three of the places named prices more than the car was worth. The fourth named a more reasonable price, but ultimately wouldn't do the work because they couldn't find hinges from when the car was made (it is still not clear to me why those specific hinges had to be used, according to that shop). Finding Dave's was miraculous. He did the work for a twelfth (no joke) of the price the first three places named and half the price the fourth place put the work at. And he did it in about three days. I could not recommend Dave's more. He's fast, efficient, and beyond reasonably priced. I can't comment on how he does with high-end cars, but if you - like me - want your car to run, there is seriously no better place to get your car fixed.

Dave's Auto Repair has done the maintenance on my vehicles for quite some time. Dave's has reliable mechanics who are swift and thorough with all of my vehicles maintenance. If any part of my vehicle needs special attention Dave's brings it to my knowledge and readily gives me options on what needs to be done. Give Dave's Auto Repair a try and I believe you will not go away dissatisfied.

Very nice And fair prices.

These guys are great! They are honest! Integrity! They inspected my car very carefully and give out the report. This was free! I felt bad when I checked out. Even if i tried to pay the check fee and labor, they didn't take it. But they shared with me the dollars needed to fix each issue. Reasonable price! This place is the right place to go!

I've lived in three states and this is the first mechanic that didn't try to jerk me around or convince me to do unnecessary repairs. Chuck actually talked me DOWN from doing work I didn't need quite yet. They're also the first to CORRECTLY diagnose a problem I've had with my car for 2 years, while everyone else claimed it could be anything from power steering and fluid leaking to a broken head gasket (being too lazy to check properly). Everyone kept recommending I get a new car, because the work they wanted to do on it supposedly outweighed its value!! But I followed Chuck's advice to get new tires, he did a couple of other adjustments, and my '03 Elantra is PURRING. These guys are knowledgeable, hardworking and honest. Will recommend to everyone I know. BONUS: Your free inspection comes with an itemized and detailed "good/needs repair soon/urgent" condition report (delivered to your email). Very nice touch

I just made an appointment for this Friday to get my brakes repaired on my Ford Fusion. The receptionist that answered the phone was kind, thoughtful extremely informative and gave a very detailed explanation on how they do business and how the warranty works there. I have to say, even before you get there, they treat you like a valued customer in the way they did back in the old days. I've never been excited about getting my brakes repaired, this is a first— actually looking forward to meeting the team on Friday. CONGRATULATIONS on making customer service a priority!!!!!!! It's no wonder why your business is Thriving so much!!! Best, Tony

Excellent customer service. They utilized professional level of explanation of what was going on with my car. KT explained in detail at the time of inspection. I highly recommend this place!

I've been taking my cars to Dave's (and before that Ole's, who Dave worked for) for many, many years and the only complaint I had was recently, when someone else took over the management. Suddenly, it seemed, the lot was filled with cars, the place looked a mess, and turn around time to get the cars out was delayed. Dave got the message, came and cleaned it up and put it under new management. Now it seems back to normal. The new Manager, KT (spelling?), came out to my car when I arrived, explained the new situation and promised me the car back by 5pm. At 5pm it was ready, the office had been cleaned up and KT said they were going to be remodeling soon. Thank goodness. I would hate to have to find another place to take my vehicles, after all these years. Because of the recent blip, however, I only gave it 4 stars this time. Tara

Just had my car serviced today here. KT and the team did a superb job! Thank you!

From a formerly-loyal customer for the past 10+ years: DO NOT GO HERE. Background: Dave left Dave's Auto repair late in 2017 and moved away leaving a remaining business partner in charge. That business partner, who was serving as service manager left last week, according to some new mechanic. Dave always had a steady service manager, most recently Chuck who left when Dave left. It appears all the mechanics Dave hired and brought up left in the past years or so, particularly Patrick, who was excellent. I was a happy customer for 10 YEARS up until these changes. Recent Experience: I just picked up my car at 5:00PM today and it was NOT SERVICED. I had scheduled an appointment for today two week ago and thought things were fine since I brought my car in sometime in November for a broken fan felt since the business partner and one of the existing staff, I trusted, were around. I MADE AN APPOINTMENT FOR MINOR Service. I dropped my car off and had leave my keys in an "off-hours" envelope in a drop box at 8:40 this morning. NO ONE WAS THERE. This was already scary. I noticed a car left in front of the garage on top of a jack with a wheel off left from yesterday evening. That was also something sloppy and out of order you never saw. At 4:55 there was clear evidence NO ONE even started my car to check the mileage since a box with replacement lightbulbs on the driver seat I left are completely unmoved. I receive NO PHONE CALL update around noon or one - which I always get to hear if there were more issues found or if the car is on track for pickup. I decide to get a ride there anyway around 4:50 with my spare key, and hear from John, the new mechanic that the business partner\service-manager bailed, leaving him on his own, and he "was just about to get to my car." I told him not to worry, grabbed my keys off the office desk and drove away, never to return and to leave this feedback here. It was clear no one even sat in my car to check mileage as a box of replacement signals lights still sat on the driver's seat. DAVE- If you're listening- you should shut this down if you're still a business partner. If you're not - you might want to have your name removed so you're no longer associated with a business which is now a total train wreck.

Opening Hours
Mon

Closed

Tue

5:00 pm - 9:00 pm

Wed

Closed

Thu

5:00 pm - 9:00 pm

Fri

Closed

Sat

Closed

Sun

Closed
Authorize your self with either of these to view contact details, your information will not be shared to any one
Newsletter Subscription for Virtuous Reviews LLP
One more step and you will be subscribed to our newsletters
We have sent you a verification mail on your email id, please verify it.