Dr Paul S Rabinowitz, MD
Doctors
Suite 325 5555 Peachtree,- Dunwoody Rd NE Atlanta, GA 30342
Claim Listing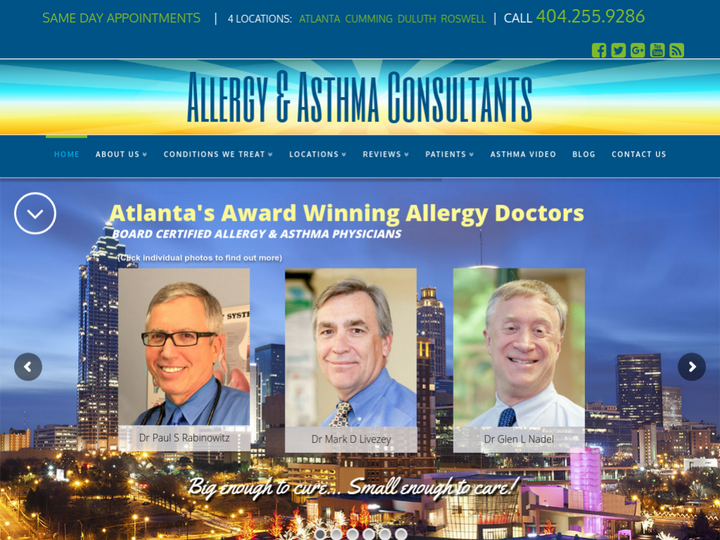 Company Description
At Allergy and Asthma Consultants, our award-winning physicians and staff are committed to providing our patients with compassionate, state-of-the-art medical care in a warm and friendly environment. We certainly aren't the biggest allergy practice in the metro Atlanta area, but we feel that we are the best (and so do many of our patients)
Review & Rating

I felt like the doctor and nurses really cared for my wellbeing. They all took the time to talk to me and worked with me to find out what our next steps would be. The staff is extremely friendly.

Dr. Rabinowitz and his staff have taken care of me for almost 2 years now. Without exception, each interaction is a positive one. Dr R is very responsive and proactive in treating me and the staff is always friendly and accommodating. I am very thankful I was referred to the practice and highly encourage anyone needing their services to become a patient of the practice.

I've found my experience at the clinic to be a good one the staff treats me with the upmost respect and professionalism . I know that Dr . Glen Nadel has my life in his hands and I trust him completely when it comes to my well being.

For some reason the doctor likes to shares his political views. They differ from mine greatly. I don't feel comfortable listening to him opine about these things. I am there for his medical skills and not for his politics. It was inappropriate and I had to ask him to stop. Second time I had this experience. The office is well run, but life is too short to have my own physician push this trash in my face.

The staff here are very nice and helpful. They care about your well being and also they are great with children. Awesome office!

We saw dr. Nadel and absolutely loved him. He was very thorough with our 10 month old. Felt like he should also be her pediatrician because he literally covered and went over everything. The staff was so friendly and accommodating. They showed us empathy and compassion as well was super friendly and respectful. We loved everyone from the front desk to the Cherie in the back office, the nurses and dr. The kindness and Patience they showed us made the 2 hour drive in the rain with a screaming baby worth it.

Let me first start off by saying, I LOVE the staff. From the time you walk in, you are greeted. The nurses are so wonderful. Dr. Rabinowitz is so funny and caring.

Dr. Rab is RabFantastic! He takes his time to assess your issues and is very personable, friendly and knowledgeable. I was able to get two appointments almost immediately upon my request. The office that I visited was very busy so maybe the staff in itself was a bit overwhelmed for that, perhaps they can make some adjustments in accommodating the staff so that they can handle the workload - otherwise I'm still very impressed with Dr. Rab and have indeed forwarded his information to others that are in need of asthma and allergy concerns.

Dr. Rabinowitz is great! He is very thorough and he cares about his patients! He keeps up with new medications and procedures. He listened to my symptoms and worked with me until he resolved my problems. My life is back to normal now. He also has a great staff! I have been coming to his practice for thirty-five years!

Dr. R is very nice and down to earth, the nurses at both the Roswell and Sandy Springs/Dunwoody location are too. However, when I got the allergy test and expressed to Dr. R that I was interested in treating my allergies with immunotherapy, there was no explanation as to the time or financial commitment that was to come. I would have much more appreciated knowing what I was getting into AHEAD of time. In addition to this, I found one woman in particular that works at the front desk at the Dunwoody location to be pretty rude...she always made these condescending comments about how high my bill was and how it was going to get reported to collections, even though i was told that as long as I paid 25% of the bill each month that I was fine—I didn't even finish my therapy because I didn't want to deal with her anymore. Either way, the facility is nice and MOST of the people that work here are nice. As long as you're willing to put in the time, I would recommend.

Authorize your self with either of these to view contact details, your information will not be shared to any one
Newsletter Subscription for Virtuous Reviews LLP
One more step and you will be subscribed to our newsletters
We have sent you a verification mail on your email id, please verify it.