FPI Security Services
Security Services
1771 N Flamingo Rd, Pembroke Pines, FL 33028
Claim Listing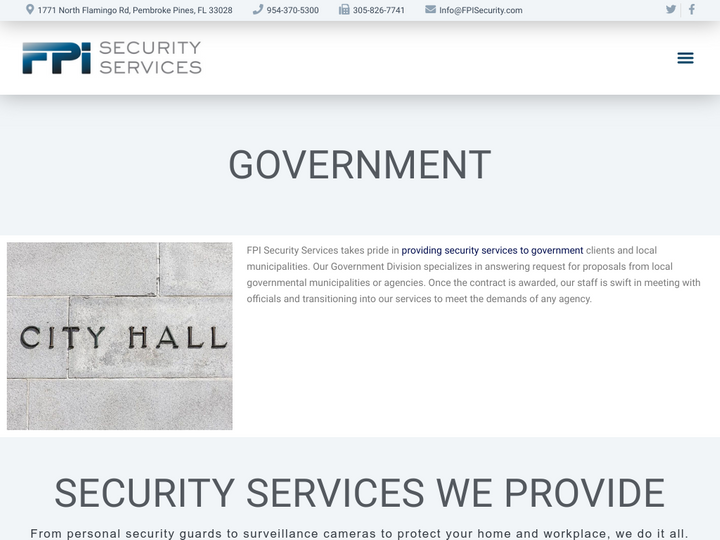 Company Description
With more than 25 years of experience, FPI Security Services embodies the characteristics of outstanding security: top-quality personnel, extensive training and development and focused management. Among security companies in Miami, FL that provides security guards, patrol and private investigator services, FPI is determined to be #1.
Review & Rating

This company is a Joke!!!

I was scheduled to be an SRO for a charter School, and I was given the wrong address twice---so I decided to Google the correct address and go there to introduce myself. Because of that I was terminated by Luis Dominguez . On top of that, I was given the wrong start date, and I blame Luis Dominguez for giving me the wrong information!!! Beware all APPLICANTS!!

I had the WORST EXPERIENCE with the service provided by FPI Security Services at Century Village at Pembroke Pines, this laddie named Julie was screaming and treating all the residents really disrespectful manners and using bad words, first time ever I deal with this, I had my little one in the car with me and he was really scared and crying , this laddie was holding people's driver licenses (and this is ILLEGAL ) what is going on ?????? this company should be protecting their residents and making the experience of family pleasant not a night mare !!!!

This company is terrible. All they know to do is harass people.

Having shared previous employment from FPI let me tell you that if you are seeking employment here I hope life turns outbetter for you. This is a company that is operated by a short annoying and disrespectful man called alex , he will curse you out if you are not his supervisor and even then you will still most likely get disrespected by him too. I just wish you the very best in your future to be drama show that is called fpi. Where the supervisors talk mad stuff about the owner to then throw you under the bus when ever they want to look better or like they are supervising . They will send you to a post and tell you its all they have when its not true, they have multiple openings because people leave the jobs due to lack of treatment and lack of respect to the employess.

Trash service. Ghetto unprofessional employees , with treating remarks. Stay away from there services.

Rebuttal My name is Anthony Post Supervisor for FPI Security Services. I have been an employee for 11 years. We are a family of many ethnic groups. We have African American as the Captain and supervisors, we also have Anglo Americans as supervisors, we also have Hispanics as supervisors. We also have a diversity of ethnic groups as Security Officers that do an outstanding job day in and day out. These officers are recognized and promoted with in. Unfortunately we also have a few people that come in to the company thinking they are entitled and the rules and regulations do not apply to them. The few Malcontents' don't realize that by ignoring rules and regulations they put themselves and others in danger. These few are always given the benefit of the doubt via verbal counseling, if the violations continue then the officer is given a Disciplinary Action Report. If the officer continues to ignore the rules and regulations therefore putting at risk the client's employee's and our security staff then we have no choice but to relieve them of duty. In the 11 years that I worked I have never been paid on a Wednesday and never had any problems with my check. Unlike another security company that I worked for and will remain nameless, that paid us every Friday but if you didn't get to the bank by 3 pm you couldn't cash your check until next Tuesday or Wednesday. Company cars are kept in good working conditions, employees are paid 1/2 hour lunch and are encouraged to eat lunch in the facility where they work. Some eat in the vehicles and leave it filthy. I have relieved Hispanics, Anglo Americans, African Americans equally as violations deemed it necessary. These are the ones that write bad reviews but fail to say why they were discharged and write with fictitious names and email addresses. They also fail to realize that the new company that they are seeking employment also reads their reviews and are skeptical to hire them after bad mouthing prior employer. So in conclusion I would like to thank those who criticize me for ensuring the safety of our client employee's and our security staff. Have a great life.

I worked with this company at white rock quarries got hired by Luis who is no working for the company I moved to Texas giving a two weeks notice I did all my hours and even waited to be replaced I left with good standards now I'm back at Miami and was looking for work and since they have no recollection of me giving a notice I'm not up for rehire saying I left without notice. Captain Berice I've never seen him or dealt with him and he showed no interest to hear me out. He didn't even know I left in good standards and is there saying I left without notice. Comes to show no matter how good you are they don't care about the employees. Very disappointed

This is one of the worst security company ever. First, you get paid every two weeks on Monday. Most of the time they are having problems with their system and you might not even get paid until Wednesday. Second, all their cars are full of roaches. thirdly, this company is only looking after themselves and their post supervisor. They will fire you first and ask questions later. If anyone is willing to work with this company make sure you record every conversation you have with them and the post supervisors. They will always be blaming the guards for everything, just to save there butts. And fourth of all, they have a lot of post supervisor that are just down right racists. They don't even try to hide it. There's one in particular who's name is Anthony Ruiz. He works at HBO Latin America as the post supervisor he's the worst. He's the most racist man I ever met.

I just visited Century Village on Pines blvd as a service vehicle for an elderly resident. I waited 40 minutes to get in. This one young girl security guard was busting her butt tomove cars while two other guards chatted the entire 40 minites. When i got to them, I asked chatty cathy if service vehicles can enter the other lanes...and she said YES! So i waited 40 minutes when you could be directing cars to other lanes? She told me she was talking about work...? So? If you cant talk and do your job, you shouldnt talk.

Well let see they cant send your check by mail cause they cant affor the stamp and they charge you for uniforms why would i want to keep the uniform I would not recommend these companny for work even if is the last company.

Opening Hours
Mon

Closed

Tue

5:00 pm - 9:00 pm

Wed

Closed

Thu

5:00 pm - 9:00 pm

Fri

Closed

Sat

Closed

Sun

Closed
People Also View
Authorize your self with either of these to view contact details, your information will not be shared to any one
Newsletter Subscription for Virtuous Reviews LLP
One more step and you will be subscribed to our newsletters
We have sent you a verification mail on your email id, please verify it.