Freund Container & Supply
Others Services
16230 W 163rd St, Unit 900, Lockport IL 60441
Claim Listing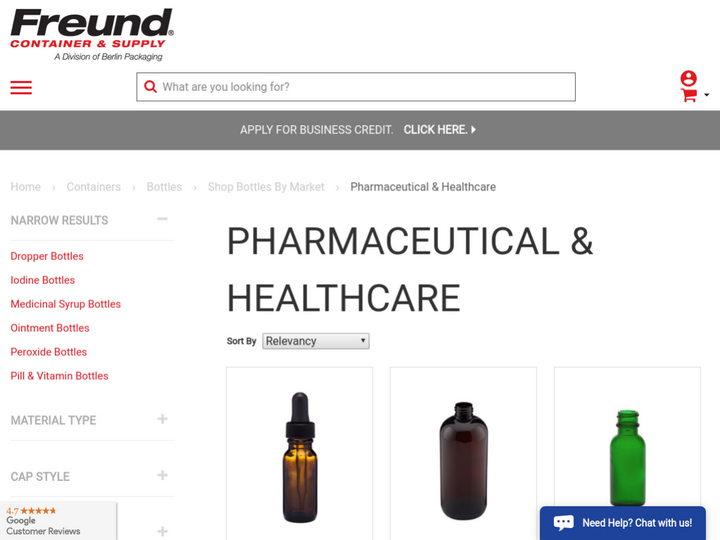 Company Description
Freund Container & Supply has been America's leading supplier of rigid packaging and industrial supplies since 1938. We proudly ship more in-stock containers than any other US company, bar none. We offer over 10,000 items in stock every day, with no order-minimums, and unbeatable customer service. We serve the majority of the Fortune 500 while also giving the same great touch to smaller, emerging companies. For all customers, we offer a low-price guarantee regardless of quantity: one case, one pallet, or one truckload.
Review & Rating

Paid extra for Next day Delivery and it did not process as selected. It was shipped UPS 3 Day. Totally Inconvenient during the busiest time of the small business year- the holidays! I received no compensation other than credit and an apology for their error. I really wished Uline carried my selections.

Items were exactly as advertised and arrived on time! I'm supper pleased with Freund packaging. They're the best especially for small businesses!

One huge mega mess. I ordered some bottles which, according to their site were in stock. Two day later they send an email stating that the bottles were on back order for at least another month. I asked to cancel my order, only to receive a canned apology email. Now, more than a month later I received two emails in one day. One stating that my order was cancelled and the second one stating that it was shipped. Seriously, how can you cancel and ship the order on the same day?

They do not honor their price match guarantee ...

The good reviews on this company have all got to be from their employees. This company set us a week behind in our development because I ordered samples of a bottle they SWORE was in stock and would stay there. Got a small portion of the sample bottle order along with a reprimand for ordering more samples than allowed - I only followed their website form which allowed the order. When I asked what I should do to get samples, offering to pay extra for samples, and asked if I should go to US Bottle for samples their response was to let me know they didn't have any open cases of the product so I couldn't get a sample. What??? They Honestly expected me to spend over $120 to order full cases just to see one of the bottles we may or may not want later - all I needed was 2 of 3 types to give to the designers. On top of it their bottles were significantly higher than their competition. After reading the reviews here I'm actually glad I had a smaller bad experience now so I know not to order with them moving forward!

Ordered online and never shipped their item. I called after 10 days and they tell me it's on back order. I never received an update. Don't trust this place!

Freund has gone downhill over the past few years. I have used them for 20 years.They used to be the best! It is so frustrating to order something that they show as "in stock" on the web page, pay for it, have the order confirmed on the email,THEN, get a follow up email saying the item is on backorder. How misleading! The website said IN STOCK. This happened the last time I ordered. On that order they sent the wrong back ordered item twice! Also, accounting charged me incorrectly and it took precious time to untangle that error. No more chances. I will be looking for a different source.

I have zero issues whatsoever with Freund Container. For all those complaining about buying out of stock items being sold as in stock, I find these reviews suspicious. Every single time I have ordered a quantity of jars that were not in stock the site makes you adjust your quantity to what is in stock. The only way this can be happening possibly is if you are adding items to your cart and then delaying actually paying for the items. I find the Freund to have a great selection on small size charges for those of us making cosmetics. I wish their shipping was cheaper but other than that I have no complaints.

A day after ordering, I found a competitor's price that was 41% less than Freund's price (a big red flag). I immediately contacted Freund's customer care to cancel the order. Customer care disconnected me. I then emailed Freund to cancel. No response. The next day, I tried again. Three days after ordering, customer care finally replied to inform me that the order, which I had asked to cancel twice, was just loaded on to a delivery truck. Customer care offered me a $25 gift card for their error, which has still yet to be applied to my order or sent to me (not that I'd ever order with Freund again). Freund then offered to start their "Lowest Price Guarantee" process. Today, 9 days after asking to cancel my order, and after speaking with 3 different "customer care advocates," Freund emailed me to deny me their "Lowest Price Guarantee" match.

Perhaps if you do large volumes they are are good, but when we tried to order a few hazmat shipping boxes they wanted over $140 to ship $60 worth of boxes to us from their fulfillment warehouse. Not overnight ship them, not 2 day ship them, just ship them. Additionally they dragged their heals for more than a week. Look somewhere else and don't waste your time with these guys.

Opening Hours
Mon

Closed

Tue

5:00 pm - 9:00 pm

Wed

Closed

Thu

5:00 pm - 9:00 pm

Fri

Closed

Sat

Closed

Sun

Closed
Authorize your self with either of these to view contact details, your information will not be shared to any one
Newsletter Subscription for Virtuous Reviews LLP
One more step and you will be subscribed to our newsletters
We have sent you a verification mail on your email id, please verify it.