Oxana Alex Photography
Posted in :
Claim Listing
2100 Sawtelle Blvd #307, Los Angeles, CA 90025, United States
(+1) 310-854-9695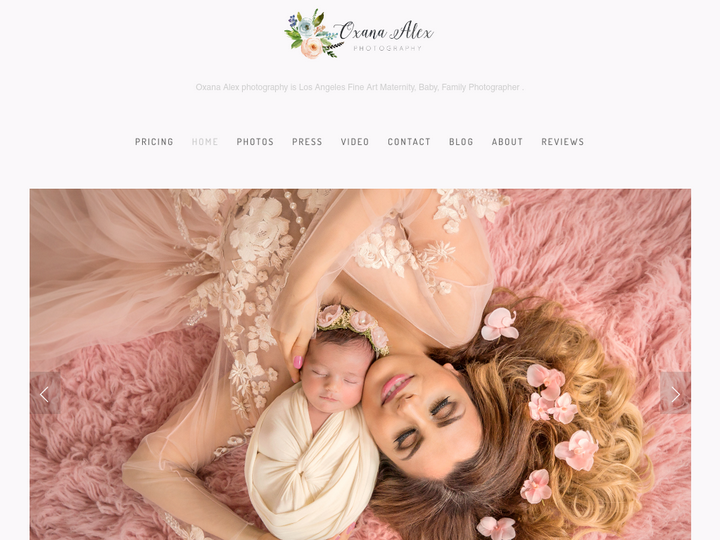 Opening Hours
Mon

Closed

Tue

5:00 pm - 9:00 pm

Wed

Closed

Thu

5:00 pm - 9:00 pm

Fri

Closed

Sat

Closed

Sun

Closed
Company Description
My name is Oxana Alex. I am a wife, mother, artist and a dreamer who is truly passionate about photography. I specialize in Maternity Photography, Baby Photo Sessions and Family Photography.
Review & Rating

We just had a maternity shoot with Oxana and I am super happy with the experience! :) We were an hour late to the photo session and even with that limited time she was able to include all the looks I wanted both in the studio and outside. The pictures turned out fantastic and they all are so good that I am still struggling to choose the top 20 for editing :))) There are too many good ones! Can't wait to do a photo shoot with Oxana when our baby arrives! Highly recommended. I truly believe she is the best photographer in LA!

We had such a great experience with Oxana for our maternity shoot. She was so helpful with poses and helping select the perfect dresses. On the day of our shoot the weather wasn't ideal for the beach portion and she knew how important the beach pictures were to us so she allowed us to reschedule for the following week. She took so many great photos it was difficult to narrow them down for editing. We highly recommend for your maternity shoot! We just wish she was in town for arrival of our baby to be able to capture our newborn photos but understand she is much deserving of a vacation! :-)

Oxana is simply a master at what she does! My husband and I are both blown away with how my maternity photos came out. When researching photographers, I knew Oxana would be good, but she far, far, FAR exceeded my expectations. She's friendly, warm, incredibly talented, and I felt super comfortable from the second I entered her beautiful studio. Thank you Oxana, I cannot recommend you enough!

I absolutely loved my experience with Oxana and have been SO thrilled with all of the photos I received! She was quick to respond to all of my questions when I contacted her to book and she sent me multiple hair and makeup ideas. She made sure I had a list of important items to bring (for wardrobe, underwear, makeup and hair touch ups, etc.) so I showed up feeling totally prepared and confident. She was completely open to any creative ideas I wanted to try, had a ton of beautiful outfits and accessories for me to wear, and also helped me style the outfits that I brought with me. Her studio is super easy to find and very bright, airy and clean. I love my pregnant body, but I also feel a little self conscious about some of the changes and wasn't totally sure how to pose. Oxana made me feel so comfortable and beautiful, she directed me perfectly and showed me different poses and ideas. I think my favorite thing is that after shooting for a bit, she would always walk over and show me the images... it helped me pick poses I liked, adjust myself if needed, and was a big confidence boost (the pictures looked so good straight out of the camera, she's an expert with lighting and angles!) I received my color corrected images a couple of days after our shoot and am in love with allllll of them. I highly recommend Oxana if you're looking for maternity photos, she's so talented, professional and sweet and will give you photos you will cherish forever!!

Very satisfied with my photos and experience with Oxana. From start to finish, she's responsive, professional and prompt. During the shoot, she gave me a mini modeling session because she cares about the quality of your photos and wants you to look your best. It's hard to find someone whose customer service is just as good as their work. We traveled out of state to work with her and don't regret it.

I just had my maternity photo session with Oxana and it was amazing. I am not a big fan of taking pictures but Oxana made me feel so comfortable and I actually enjoyed the process. Oxana, thank you so much for the your talent and professionalism.

Dear Oxana, Thank you so much for spending a whole day with me taking my maternity photos. I was feeling insecure, but your kindness and professionalism helped me feel more confident about my body. You helped me find the perfect outfits for the photoshoot and you made it so much fun! The photos haven't even been edited yet, but they already look amazing!!! I can't wait to see the final product. I will definitely choose you again for my second pregnancy! Lots of love <3

Oxana is one of the best photographers I've worked with! She is incredibly sweet and very professional. She made me feel comfortable right away. Her studio is amazing with every kind of lighting you could ever need! I just received my pictures and I'm so happy with them! We were able to get through many outfits! She is so talented! I will definitely be returning for more pictures when my baby boy is 6 months!

WOW!! I cannot put into words how amazing Oxana is. She is extremely talented, professional, kind, accommodating... and the list goes on and on. She did EXACTLY what I had envisioned (even better!).She color edits ALL of the photos and then you get to choose your favorites that she'll spend extra time on editing. Even just the color corrected ones are gorgeous. She made me feel so comfortable, got my pictures to me in less than 24 hours (and trust me, there were A LOT of photos!!), did not make me feel rushed at all, and helped me with everything from selecting my outfits to posing. She also has her own outfits, accessories and props you can choose from. For once, I LOVE my photos.

Thank you to Oxana and Kathy (I believe that was her assistants name.) I just finished choosing my maternity photos from the gallery. Oxana is so talented and professional. I felt completely comfortable during the shoot. Her photos and elegant and timeless. The maternity shoot was a dream. I can't wait to see the final edits!

Newsletter Subscription for Virtuous Reviews LLP
One more step and you will be subscribed to our newsletters
We have sent you a verification mail on your email id, please verify it.