Phoenix College
Banking & Finance
1202 W. Thomas Road, Phoenix, Arizona 85013
Claim Listing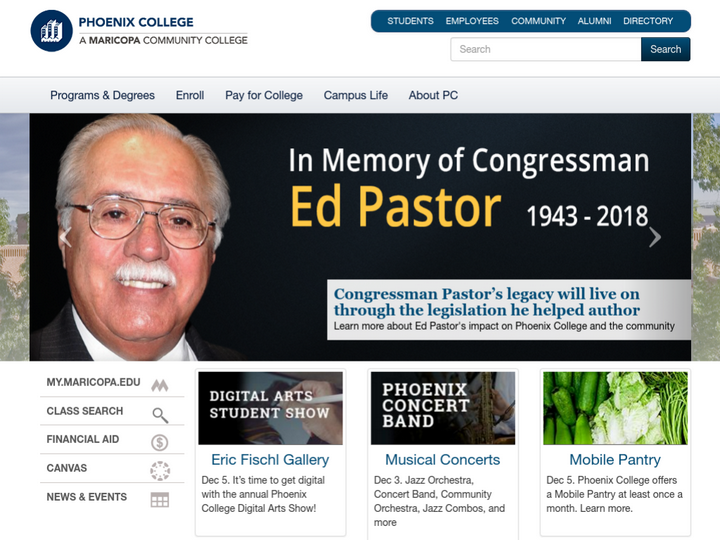 Company Description
Established in 1920, Phoenix College is the flagship of the Maricopa Community Colleges, a district that ranks as one of the nation's largest community college systems and the single largest provider of higher education and career training in Arizona. Phoenix College is a learner-centered, comprehensive community college dedicated to providing affordable, high quality and accessible education to the diverse community it serves.
Review & Rating

So far so good for the most part. It is only week 4 however. There are some students who are genuine about working towards their education and those who are.....well.....who knows what they are. Kudos to the ones who are working on their future and going somewhere in life.

Jonathan Cardoza-Medrano
UK
Really great college, especially if you recently graduated from High School. I can't think of one single negative thing about this school. Great campus, awesome instructors, good location, (lowkey)though they should add a Starbucks.

I understand they have students working for work study but too many of them lack customer service. I dread everytime having to go in and dealing with "kids" who don't listen and don't know what their talking about.

...." ...... Oh !! .. I had the nice opportunity to study here at PC back in 1990 !!! ... And my experience as a student was so great !!!! ... All the staff, the professors, and the students were so fabulous !! ... I performed live music here at PC !! .. I played live music f..( Cumbia & Salsa Music ) .. for .." The International Club " .. when I was an active member in those amazing & stunning years !! .. Thank you .. " Phoenix College " so much for the beautiful & eponymous experience !!! .... Augusto " Timbales Player " Ames. Circa 1492. ....." .....

The Vet Svc Mgr, Mike is amazing & super friendly/professional! He has resolved any issue that cldnt be resolved by a Vet Svc staff member or enrollment employee. It's sad that it takes a mgr to resolve even the simplest of tasks or take the time to help the customer. & please remind all staff to greet customers/students/Retired Vets with a friendly (not fake) "hello...how may I help you". Some staff members have lack the etiquette, common courtesy, & professionalism.

Good if you are a student. Very poor if you are an employee especially if you speak out against mistreatment of employees or young students of the Phoenix College Family Care Center. Myself and three other teachers were retaliated against several times over, three of us lost our jobs from retaliation. What we did was speak out against the mistreatment of staff and children at the Phoenix College Family Care Center. The retaliators included Dr. Anna Solley, The current director Gloria McGinty, past directors Alverta McKenzie, Ginger Sandweg and other key employees. Do you think this is how a community college should treat caring employees who speak out?

It's rare to find a school here in the Valley as a guest teacher where I was super impressed how well behaved the students are. This school is located in the Encanto Park area. They offer college general ed classes to the students here, so the majority who graduate high school also have an AA degree in hand ...free. From what I understand, a student who goes here has to write an essay on why they want to go here and pass an English and math proficiency tests before being accepted. If I had children of high school age... they would go here.

this college is a wonderful awesome school including a lot of opportunities and facilities , but some of instructors or too much discriminated against second language students or refugees students. Most of them aged and teaching from long time there that is why no one can dare to talk about their mistakes , and the make differences between native speakers and second language or refugees during academic courses, base on disabilities or language barriers. this way students s...

I was able to walk around this campus with my son. It's so beautiful I couldn't believe. I was on a community college campus! The Hanley (spelling?) Center is completely modernized with glass railings, updated technology, and beautiful floors throughout. I was able to go into the disability center and career services center and get information for my students about enrolling. Very accommodating and super helpful!

Love the atmosphere, very laid back, no tension. I expected to see some protesters, but didn't see one,. Mixed people sitting and walking along side of other mixed people, cats that reside at the school are all laid back beautiful and healthy, even the pigeons that walk through the breeze ways seem relaxed. Awesome comfortable atmosphere.

Opening Hours
Mon

Closed

Tue

5:00 pm - 9:00 pm

Wed

Closed

Thu

5:00 pm - 9:00 pm

Fri

Closed

Sat

Closed

Sun

Closed
Authorize your self with either of these to view contact details, your information will not be shared to any one
Newsletter Subscription for Virtuous Reviews LLP
One more step and you will be subscribed to our newsletters
We have sent you a verification mail on your email id, please verify it.