Pilot Medical Solutions
Physicians
Hangar 14 Wiley Post Airport (PWA), 5901 Philip J. Rhoads, Suite 215, Bethany, OK 73008 USA
Claim Listing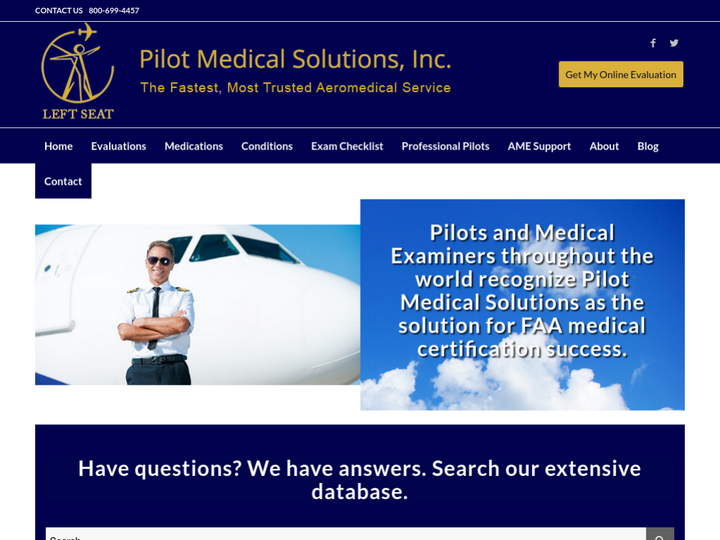 Company Description
Pilot Medical Solutions is the oldest confidential aeromedical service company, serving Pilots and Aviation Medical Examiners continuously since 1995. LEFTSEAT.com is owned and operated by Pilot Medical Solutions, Inc.
Review & Rating

The professionals at Pilot Medical Solutions provide superior, pilot-focused services and help during your time of need. I would, without hesitation, recommend their services to an airman in need.

Pilot Medical helped my dad get his medical after a somewhat long hiatus with only a sport certificate. His situation was complicated enough to warrant the owner of this business to handle it personally. Responses were always prompt, informative, and compassionate - all traits that are becoming increasingly rare in business. I highly recommend Pilot Medical to anyone having questions or concerns about their own FAA medical certificate.

For the most part we post negative reviews out of anger for not receiving what was promised. My intent is not to defame anyone or the company nor to hurt or harm them. But as a retired Airline Captain of 40 years for the largest airline in the country and dealing with special issues since 1992, I feel compelled to share my experience with Pilot Medical Solutions. The internet is full of lies and misinformation and it is difficult to discern between the good ones and the bad ones. There are no internet police, therefore I feel that I need to share this information in protection of those pilots that are using there last dime trying to regain their long hard earned profession, placing false hope in a company that will do absolutely noting for them other than take their last dollar. Pilot Medical Solutions can not do anything for you that you can't do for yourself. This is fact one, next their claim to speed up the process, if anything they slow down the process by adding a third wheel to the process. They do not have any special connections inside the FAA, as they insinuate. I dealt which David Hale for several months in his attempt to prove that they could in fact do what they say they could do, in conclusion it is my heart felt belief that I was dealing with a Narcissists Sycophantic and that David Hale should seek professional medical help for his condition. But the problem is that he is surrounded by a group of Narcissists cheering him on. Is Pilot Medical Solutions a SCAM? Yes, by all accounts they are a scam and do not provided any substantial help that you can not do for yourself. This conclusion is derived after eight months of dealing with them. Is David Hale a lying Sycophantic? This is the only reason I do not call him a crook, a thief a scam artist, since I truly don't think he himself thinks he is lying. This is why it is an illness, he believes in what he is saying, but it just does not work. (most dangerous thing in the cockpit, situational awareness) In closing Pilot Medical Solutions provided zero help in my case, I was forced to serve them with a 30 day demand letter for funds paid to them and Pilot Medical Solutions agreed to a full and total refund of all funds, to include continued help in the recertification of my medical certificate to a successful completion, which they did not do. But then, what would you expect from those that continue to lie to you. On their website they proudly post a logo of the Better Business Bureau, why should I be surprised. Another lie! Then to prove how stupid they are the link clearly states the follow, This Business Is Not BBB Accredited Pilot Medical Solutions." I filed a complainant with the BBB. Pilot Medical Solutions owes me noting and has reimbursed me in full. They did not follow through on their promise of continued help, I have not heard from them nor do I care to, since it is a waste of time and money. They Can Not Help! As for you David, I wish you the best. However, I will not just stand-by an watch you offer false promises as a business and see my fellow pilots follow you down that rabbit hole. We have worked our whole life to get to where we are, then, to be scammed by a carnival barker like yourself.

I lost my medical certificate and having difficulty maneuvering the bureaucracy of the FAA to have it reinstated. I spoke with different groups who specialize in this area but did not feel a lot of confidence in any of them until I spoke with David Hale at Pilot Medical Solutions. David was extremely knowledgeable and very kind. I received personalized professional service from David and all his staff and was very impressed with the depth of knowledge not only of my issue but of how to manage the process with the FAA. I could not have been more pleased with the outcome. I can recommend Pilot Medical Solutions completely and without reservation.

Opening Hours
Mon

Closed

Tue

5:00 pm - 9:00 pm

Wed

Closed

Thu

5:00 pm - 9:00 pm

Fri

Closed

Sat

Closed

Sun

Closed
Authorize your self with either of these to view contact details, your information will not be shared to any one
Newsletter Subscription for Virtuous Reviews LLP
One more step and you will be subscribed to our newsletters
We have sent you a verification mail on your email id, please verify it.