AFS Premier Fitness
Fitness Centers
12740 Merit Dr suite 200, Dallas, TX 75251, United States
Claim Listing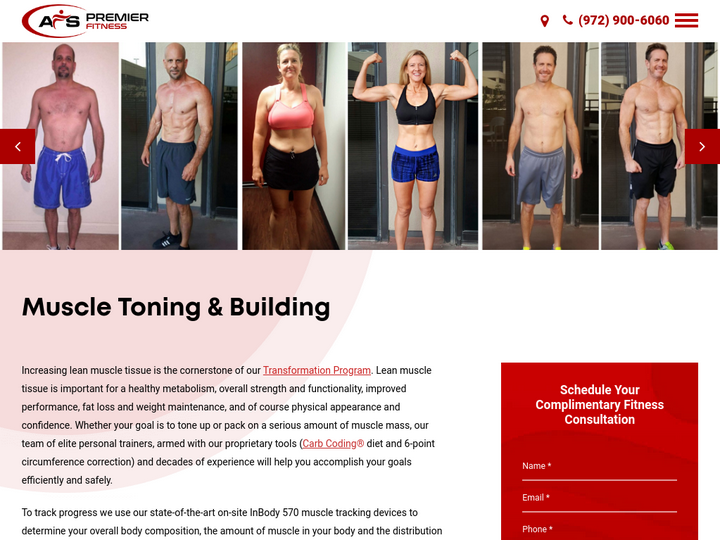 Company Description
AFS Premier Fitness is an all-inclusive fitness transformation center that combines personal training, diet & nutrition and metabolic screening & measurement tracking. AFS has a team of elite personal trainers specializing in Weight Loss, Muscle Toning & Building, Diet & Nutrition, Strength & Conditioning, and Corporate Wellness. Our fitness services are backed by two decades of in-house research, education and first-hand application, giving us the superior knowledge that exceeds industry standards.
Review & Rating

You can go many places and hire a trainer but there is only one Ali! His passion and knowledge transformed my life. For years I struggled with the rollercoaster of weight gain. With Ali I worked harder than I ever did before and the results were amazing. 50lbs in 6 months 25% body fat to single digits. the best part is I learned what it took to achieve my goals and that it was possible. Every step of the way Ali was there to encourage and hold me accountable. I was just not a number to Ali, he truly celebrated my success more than I did!

AFS Premier Fitness is the real deal. No nonsense, nutritionally based, weight loss planning and fitness training. Ali and his team are supportive and thoughtful in their customized approach but will hold you accountable to the proscribed diet and exercise regimen. While the work can be physically and mentally challenging, you get results quickly and safely with no gimmicks, additives, etc.. My only regret is that I waited until I was over 60 to embrace this program. If I could give six stars, I would.

If you truly want to make a positive change in your health and physique, Sarah at AFS Premier Fitness can definitely make it happen! Sarah is very knowledgeable in nutrition and fitness. She guides you through a carefully planned program replacing fat with muscle. It is a lifestyle change that will last!!

No doubt, one of the best experiences I have ever had. Ali makes what seems impossible doable through step by step, stern but compassionate, and precise, individual direction. He lives and breathes what he teaches and has the rare heart and patience for the novice or anyone seeking to make changes in their health. Ali and his team bring a combination of challenge, obvious discipline, encouragement, and fun that make you want to succeed... and not just in the gym...in life!

Ali and his team's passion for body transformation at AFS builds motivation and excitement that translates into amazing results. You can tell that they really care about their clients and helping them develop.

If you're serious about improving your body's form and function, Ali's the expert to help you make it happen. It sounds simple: eat right; cardio; and weight training. Ali will show you there's more going on with that than meets the eye. No gimmicks; just the right tools applied with unwavering talent and determination. He'll keep you motivated to learn the finer points and make them part of your new and better normal. Do what he says, how he says to do it, and you'll see results you thought impossible. That's exactly what he did for me.

I have been training with Ali and AFS Premier Fitness for three years now and the experience has been life changing! A carefully managed regimen of strength training, cardio and nutrition using the AFS Carb Coding Diet has enabled me to entirely transform my body. At age 62 not only am I in the best condition of my life, I am in my best shape by orders of magnitude. The benefits extend to the mental and emotional. I am more calm, feel less stress and am more productive and focused than at any time of my career. If transformation is your goal, AFS Premier Fitness is your destination.

I have been training with Sarah for several months and absolutely love the professional approach she takes to develop a customized meal plan and workout routine that works for my life and body. She is amazing and I recommend her to friends who are looking to develop and work a plan to get healthy, strong, and feel awesome. Thank you Sarah!

I've worked with Ali remotely for six months and he has brought me better results than other trainers and nutritionists that I've worked with for twice as long! He genuinely cares about results and has the know-how and experience to back it up. His work is evidence based. If you follow Ali's plan, you absolutely will see results. I'm in the best shape of my life thanks to him, and his guidance has forever changed my eating and fitness habits!

I've been training with Sarah for about 3 months with the main goal of muscle gain and 6-8lb body fat loss (I was in decent cardio shape, but not toned). I've noticed major changes in my body, both in visual muscle tone and in my speed/stamina when I run and play tennis. Sarah is very knowledgeable and genuinely cares about your success. She will push you in both workout and diet, but you WILL see results if you stick to them.

My program at AFS Premier Fitness has truly changed my life. That's not me being melodramatic - here are the facts: Lost 28lbs of fat in the first four weeks; Lost a total of 56lbs of fat in four months; Went from 28.8% body fat to 10.4%; Built 9lbs of lean muscle and well on my way to a goal of 15lbs of lean muscle while maintaining a 10% (or less) body fate percentage ... and all of this at the age of 55! AFS knows what it takes - I could not be doing this without Ali and his team - so if you're as serious as I am about transforming your life, this is where you need to be ... period.

Opening Hours
Mon

Closed

Tue

5:00 pm - 9:00 pm

Wed

Closed

Thu

5:00 pm - 9:00 pm

Fri

Closed

Sat

Closed

Sun

Closed
People Also View
Authorize your self with either of these to view contact details, your information will not be shared to any one
Newsletter Subscription for Virtuous Reviews LLP
One more step and you will be subscribed to our newsletters
We have sent you a verification mail on your email id, please verify it.