Aldo Leopardi
Dentists
7400 E Crestline Cir Suite 235, Greenwood Village, CO 80111, USA
Claim Listing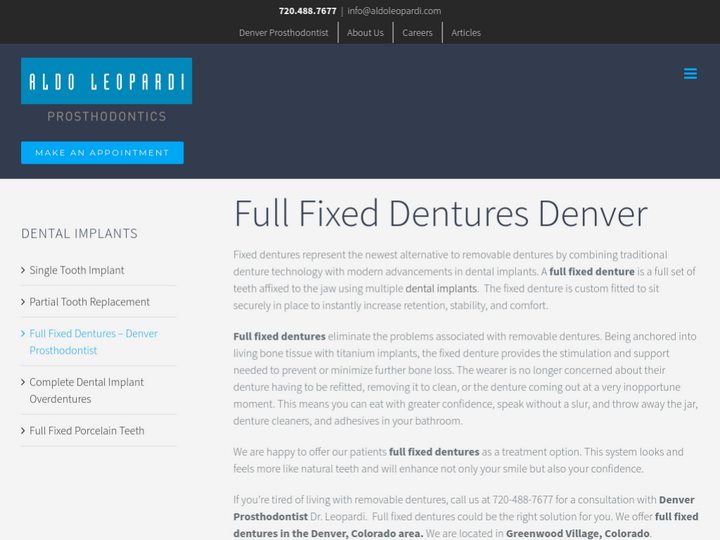 Company Description
Dr. Aldo Leopardi's Practice focuses on Prosthodontics, which is a special branch of dentistry involving the restoration and maintenance of aesthetics, improvement of oral function, patient health and general comfort.
Review & Rating

I have been a patient of Dr. Leopardi for 15 years. I had so many problems with my teeth, because of poor care from a general dentist, that it took several years for Dr. Leopardi to complete my treatment. I am so happy with Dr. Leopardi's care and my beautiful smile, that I will not trust my dental care to any other prosthodontist.

Trust only Aldo Leopardi dental implants in Dever Colorado as more than 30 years of experience into dentistry and making happy smiles..

I am sorry but I had to Butt in and finally put up my review on Dr. Leopardi. I took it for granted how much better he is than any other. I had some shotty dental work done on a crown that had bothered me for a few years. I did not want to go to any dentist so I looked for the best. I literally interviewed many dentists and when I walked into Dr. Leopardi's office I have never experienced a kinder staff as his. I felt like I was in my own home and Dr. Leopardi is so patient and detailed in explaining process and what to expect that I just told him to do what he thinks is best. All along the way he checked with me to make sure I was confident in anything he proposed and the decisions I made. I went with all his proposals and he ended up saving me time and money. He definitely has a way to make you feel assured that he is all in for your best interest. His whole entire staff cares to the extent that I will fly to have him work on me in the future even if I live half way around the world. No exaggeration here!!!!!! I seriously would.

While I was initially impressed with the services from Dr. Leopardi's office (attentive and knowledgeable front office staff and thorough interview from Dr. Leopardi about my situation), I soon became disenchanted. I don't think calling a client "dear", "honey", etc., at a first appointment (or any appointment) is appropriate. While we had a fairly lengthy appointment, I felt rushed out the door at the end and wasn't able to receive answers to all my questions. When I called back for clarification on next steps on repairing broken/missing teeth on a temporary basis, the office person I spoke with put me on hold and Dr. Leopardi picked up the phone. He proceeded to yell at me, including saying "No means no!". Presumably he thought he had answered my question in the office (he had not addressed this specific detail) or that I was questioning his judgment. Nearly in tears I hung up the phone and decided I would not be returning to this office or doctor. I had this appointment over a year ago and was initially not going to write a review. However, I recently received an invitation from his office to write a review, and I decided it would potentially prevent some one else from having the awful experience that I did. He may be good technically, but his ego and poor chair-side manner didn't work for me. I had recently been through a trauma, and I needed a professional care provider who would reduce, not increase, my stress-level.

I didn't have the easiest of dental problems and when I finally decided to do something about it, my general dentist, oral surgeon and periodontist all recommended Dr. Aldo Leopardi. Over the years, I've become a self proclaimed expert on dental customer service, both good and bad. Dr. Leopardi and his staff are off the charts. His care and attention to detail are phenomenal. He doesn't offer a one day solution or promises that sound too good to be true, because believe me those are not. He offers excellent care, a realistic plan and delivers it. After years of holding back, covering my mouth, I'm smiling. The referring dentists referred to Dr. Leopardi as an artist... and he is.

Dr. Leopardi and his staff only deliver world class treatment all around. I travel from Los Angeles to see him regularly and I feel extremely lucky to have him and his crew as my dental care!!! He's also kind of a bad ass musician! Who knew…

My wife and I travel from Los Angeles to have Dr. Leopardi care for our teeth. Being under his care is second to none. He is well worth the thousand mile trip. I really appreciate the time he takes to educate his patients. He really knows his stuff. You really feel at ease during any procedure or surgery he's performing. I feel very fortunate to have found such an awesome doctor!

Opening Hours
Mon

Closed

Tue

5:00 pm - 9:00 pm

Wed

Closed

Thu

5:00 pm - 9:00 pm

Fri

Closed

Sat

Closed

Sun

Closed
Authorize your self with either of these to view contact details, your information will not be shared to any one
Newsletter Subscription for Virtuous Reviews LLP
One more step and you will be subscribed to our newsletters
We have sent you a verification mail on your email id, please verify it.