Atlanta Technical College
Online Courses
1560 Metropolitan Parkway SW, Atlanta, GA 30310-4446
Claim Listing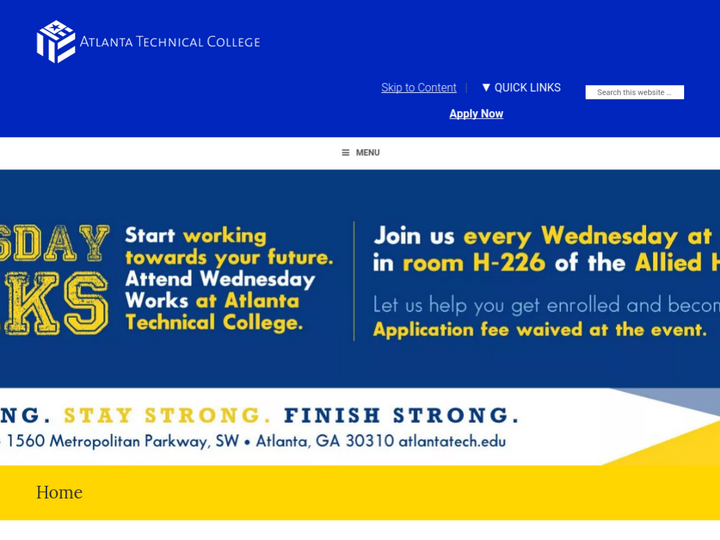 Company Description
The strength of Atlanta rests in its citizens whose skills, values, and ethics make them a productive and competitive force. The men and women of Atlanta should be productive workers if the city and its environs are to attract new business and industry and strengthen existing companies that have enabled Atlanta to become the commercial hub of the entire Southeast.
Review & Rating

I hate to be a new student and down the school ALREADY. But seriously, get it together. Have a nice friendly environment with nice smiling faces, positive attitude. I have not even started and the school is already frustrating me. I come up almost every day to check on everything for myself because they NEVER answer the phones. Or reach out to me. And act concerned as how am doing, or if i have any questions. I have to work my butt off to pay for school. I really dont have mu...

Everyday I pray and wish i never went to this school am tired i hope my teacher is happy she got what she wanted she let the the student bully me and then withdraw me from her class without my written consent or signature congrats this is my last n final year

This college is the worst college that I have ever attended. When this semester is complete I will not return. I applied for this college in April 2017. I did not hear from the school until two weeks before class was to begin. Needless to say I was rushed through the admissions process. My financial aide til today is still not correct. I have met the requirements to recieve my student loans, and I have done and provided all the necessary information and documentation needed but still my loans have not been approved. I can not even purchase my books and now its after drop/add and I can not withdraw without penality. The student service staff (testing site, financial aide, IT, registar, and admissions offices) at the student services windows are absolutely repulsive. They have forgotten that without me and many others applying to this college is what gives them job security. Maybe they have gotten very complacent and maybe I need to contact Sentor John Lewis' Office to inform him of this unbelieveable experience. For these staff members to speak to with prejudice and an uninviting tone and demeanor is unexceptable and will not be tolerated by me. I do not even apply the golden rules of customer service, " Eye contact and smiles". I refuse to spend my money anywhere that I am not respected. I still have not recieve my prior college credits added to my account after several requests and two visits to the registrar's office. There are excuses after excuses of why they haven't completed that task. I am still waiting to recieve an accpetance letter that I was told would come through the mail before school starts. There was no orientation for new students to attend or if it was I was not informed I only chose this college for convenience. I guess I get what I paid for. As I am writing the review I have been holding on the phone for financial aide to pick up on the other end of the phone for going on for an hour now. This is my second or third attempt in three of the business days, and still no one answer. I am a fulltime worker so I can't stop by the office and stand in lines that consumes my study time to converse about the same issues again and again for going on two months now. I am ashame to call myself a student. Can not wait to transfer!

To the staff... Have you ever considered having a customer service department at least a small office where they can take incoming calls? That would shorten the lines because most people are standing in line just to inquire about their enrollment status. I think its an idea worth looking into. I think it would be a big step in resolving the issues that most of the current and potential students have and help the administration as well. Hey I'll answer the phones!

All the professors I have encountered have been a pleasure so far as this is my first semester, but I do have an issue with customer service. There never seems to be anyone to answer the phone and I'm writing this as I am on hold after having being transferred by the automated system to the admissions department.So far it has been 33:34 in which no one has picked up the phone and this is after I was on hold 16:02 before I hung up to receive another call. If this was the fir...

Atlanta Technical College gave me my start in EMS and now I am an Owner of an EMS service. Giving back to the Community.

Wanesha AuthenticallyMe Wright
UK
What people say about the front office is true, they are extremely understaffed but once you get past that the school is actually quite nice. I'm halfway to getting what I came to get and I'm quite proud. I graduate in December and feel that I will be more than competent to work in the field that I chose. The Healthcare Sciences administrators and faculty have been a blessing because they helped me through registration problems and any other concerns that I had. They love students who are willing to learn and they are a wealth of information. I would recommend this school to a very determined person because there are opportunities here for the diligent.

Atlanta Technical College is the worse school to attend ! The accountant there admitted she disbursed to not only myself but plenty of other students a over payment of $1875.00 back in 2016 when I was attending . How do you as an accountant over pay somebody $1875 . You need to be fired and back in school yourself . Now I can't get my transcript which of course my grades are in good standing ! It's very suspicious that they've done this to multiple student !

The dean's are rude here they don't try to understand you did always take the teacher side. Even if you are telling the truth about what he said they're always like oh we need evidence like you were basically a liar

Olanike Shobande Ifesanmi
UK
I believe responsibility deals with an individual and not as a group, someone made me understand that an error of a group, marked every individual wrong. She displayed her responsible part, which really changed my impression about ATC. At first I was worried but meeting her was the best thing of my life. Ms.Rachquel carter, Aministrative Assistant. Thank you!!

I think they had the right idea when they started, but it needs a major overhaul in certain departments such as Sterile Processing. Look at the graduation rate, it says it all (29%). Don't waste your money or time. Old Hierarchy must go, classroom material is old and outdated, full of spelling errors and instructors don't have command of English, the pronunciation of words and unfamiliar with what they are teaching. RUN don't WALK from here.

There seems to be a clash between the students and staff, with the staff being very unprofessional at times and quite arrogant in the higher echelon of the Atlanta Technical College administration. Displaying "no compassion" or genuine leadership qualities, that are taught at this institution via classrooms/online courses. It seems to begin at the top and dwindle to the (some) teaching staff, along with the support staff, to include the Learning Support management staff. Not the hard working, caring, and patient tutors in Learning Support. Great job! Learning Support tutors! Kudos! Not complaining, just facts and points that need to be brought out as an observant former student. Class of 2017/2018 ROCKS!

Opening Hours
Mon

Closed

Tue

5:00 pm - 9:00 pm

Wed

Closed

Thu

5:00 pm - 9:00 pm

Fri

Closed

Sat

Closed

Sun

Closed
Authorize your self with either of these to view contact details, your information will not be shared to any one
Newsletter Subscription for Virtuous Reviews LLP
One more step and you will be subscribed to our newsletters
We have sent you a verification mail on your email id, please verify it.