Carter Physiotherapy
Doctors
2700 Bee Caves Rd., Suite 113, Austin, TX 78746 USA
Claim Listing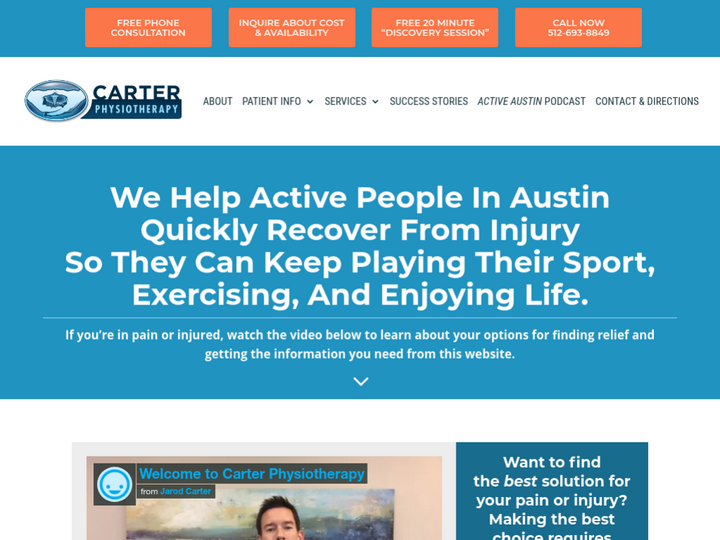 Company Description
Prior to joining Carter Physiotherapy, Ben was an apprentice for over 3 years learning biomechanics and custom foot orthotic fabrication, clinical applied kinesiology, a wide variety of soft tissue and joint manipulation techniques, as well as eastern medicine philosophies and treatment systems.
Review & Rating

The best for minimum amount of time back to normality.

My whole experience going here has just been great. The discovery session was incredible, let alone that they offer it for free! I went in for two sessions before running the upcoming 3M Half Marathon due to knee pain. Without going here, I probably would not be able to run it. Ben really took the time to understand my goals and get to know the big picture. They don't take insurance so be prepared to pay for each session. Highly recommended for any athlete looking to get back on their feet or bike.

Husband went to Carter Physiotherapy and felt a lot better. I wish I had gone in earlier! Ben Shook is the best! Super friendly, knowledgeable and helping me feel so much better in a shorter time than I thought possible. Mary is a ray of sunshine right when you step in the door. She makes everything easy. Lots of parking so quick in/out. Liked being able to watch their video before I went. Would recommend to anyone needing PT.

I took PT treatment from Dr. Carter for pain in my left shoulder blade area. It was quite a severe and discomforting pain level that reduced my productivity at work, made it diffcult to drive and overall constrained my normal activities. Through MRIs the pain was diagnosed to be due to pinching of nerves in the cervical vertebrae. Dr. Carter was able to heal me in about 4 sessions of weekly 1 hour sessions. It was my first time ever to go through PT so can't compare him to any prior experience. But I felt he definitely has high level of mastery and skill of the art. Apart from his hands on work of soft tissue massage and some traction, he provided proper guidance to maintaince proper posture, muscle strengthening and range of motion exercises for long term prevention. He is a great conversationalist and keeps his appointments on schedule.

Knowledgeable staff, Ben worked on me and I immediately felt better after my session.

I had torn ligaments in a bad ankle sprain and received PT from Ben Shook. His treatment was amazing and very knowledgeable as he also took the time to explain what he was doing and how the ankle worked. He followed by e-mail not only in between treatments but after completion to see how I was doing. It was always easy to get appointments which is why I chose Carter Physiotherapy as getting appointments for in-network PT was a week out and were not guaranteed the same therapist. I would highly recommend Ben and Carter Physio.

Dr. Carter is an excellent PT. His evaluation was thorough, he explained all of the issues affecting my shoulder, and laid out a cohesive plan of how to address these issues to improve my range of motion. The combination of manual therapy and home exercise have resulted in improved range and I feel empowered to continue this progress. Thank you for the excellent care. William

Thank you Ben and Jarod for all your input and great work. I highly recommend the treatment, Bens knowledge was essential for my recovery. Best, Wes

I went to Jarod Carter after I had an injury playing baseball where I separated my AC joint in my shoulder. Jarod did a great job in getting me back on field playing where I feel like my shoulder was as good as before injury. He does hands on therapy the whole session which is what I wanted and not just a lot of talk on what to do or how to rehab it. He got in there and worked out the fascia and scar tissue and made the healing faster and better. I will definitely use Jarod in the future should I need PT care. Thanks again.

Highly knowledgeable and passionate staff that truly cares to help. Great at what they do, and worth the visit.

Opening Hours
Mon

Closed

Tue

5:00 pm - 9:00 pm

Wed

Closed

Thu

5:00 pm - 9:00 pm

Fri

Closed

Sat

Closed

Sun

Closed
Authorize your self with either of these to view contact details, your information will not be shared to any one
Newsletter Subscription for Virtuous Reviews LLP
One more step and you will be subscribed to our newsletters
We have sent you a verification mail on your email id, please verify it.