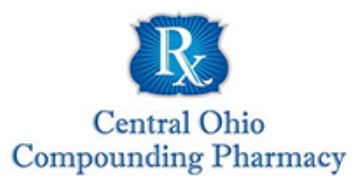 Central Ohio Compounding Pharmacy
Others Services
7870 Olentangy River Rd 202, Columbus, OH 43235
Claim Listing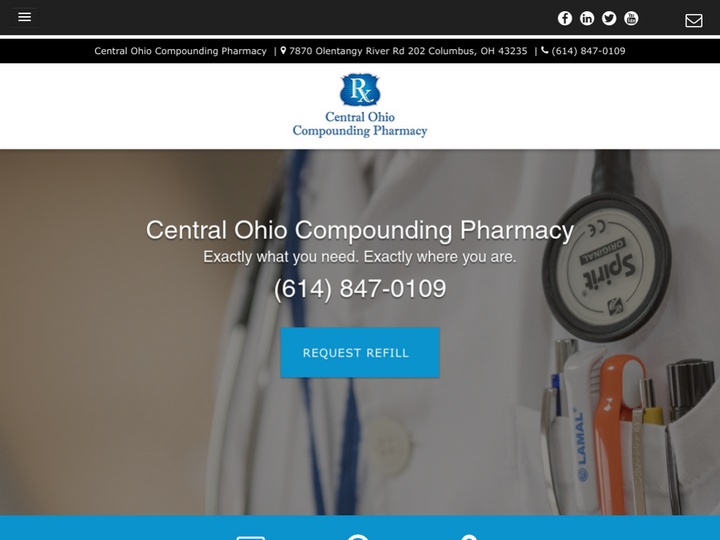 Company Description
At Central Ohio Compounding Pharmacy, with more than 40 years of combined experience, we realize that each patient is unique. We pride ourselves in working with you and your physician to provide the highest quality of care. Our pharmacy uses the most up-to-date technology, precision, and quality control to compound your medication.
Review & Rating

I just recently learned about compounding and since then, every time I visit Central Ohio Compounding I feel taken care of. I have a scar on my knee from an ACL surgery that I've been somewhat self conscious about ever since college. Tony (the owner) recently suggested I use a specialized cream that would minimize my scar and so far, I've had great results. I love the philosophy of this pharmacy and the way compounding is so very personal to your individual needs (gluten free, special allergy restrictions, etc). They are located within an office building in Worthington (near Hills Market) which is really convenient for me to get to. I also just learned that they deal a lot with veterinarian needs as well which I think is really neat!

I really enjoy going to Central Ohio Compounding for my prescriptions. Their staff is friendly, and it's in a very convenient location so I can pop by The Hills and pick up some items as well.

We have a 13 year old dog, Roscoe, who is a Border Collie / Blue Healer mix and he has had mobility problems to the point he couldn't even make it up the stairs. We talked to Tony the owner of the pharmacy and he gave us some recommendation's for possible treatments. Roscoe has gotten his mobility back, over the past year,and this morning surprised himself,and us by jumping up on our bed. His look of surprise that he could do it was priceless. Thanks Tony!

My son suffered from severe acid reflux. I felt helpless because he had a very hard time taking the volume of medication prescribed. The pharmacists at Central Ohio Compounding Pharmacy were miracle workers. They customized the medicine so that my son only had to take a fraction of the volume and flavored it so it was easier for him to take. The pharmacists knew exactly what to do to make things easier on me. Getting refills was easy and stress free. Their delivery service is amazing for a new mom. I have COCP and the pharmacists to thank for getting my family through a very stressful time. I would highly recommend COCP to anyone!

I would not recommend this place to my worst enemy! They have a joke of a employee there name Terry and all he wants to do is talk about cars to his fellow employees and his customers. He did not help me at all with my medication (the main reason that he was called into the waiting area). I could hear him make comments about not wanting to help me. Well guess what terry, thats your job. Then don't even get me started on the "owner" if you want to call him that. Ive heard horror stories from my neighbor about him going off on his employees and punching holes in the walls, at the pharmacy! (Of all places) I didnt believe them so I still got my prescription filled here sadly. Well guess what, they were right. This immature "owner" has a temper like you would not believe. So rude to his employees and rude to his customers. I cannot believe I ever made the decision to get my prescription filled here, ill never make that mistake again!

CALL FIRST and call again!!! I gave 2 stars instead of 1 because they DID call back right away. I talked to a representative on Friday and was told my prescription would be ready Monday morning. On Monday, at 11 am, I left work and drove all the way there, only to be told that the prescription wouldn't be ready for another 2 hours, so then had to drive all the way back to work, wait, and return. Called back 3 hours later to check before making the trek and was told it would be at least another 1/2 hour until prescription was ready. Good thing I called! Only pharmacy in town to provide the medication I needed to prevent pre-term labor.

I filled my daughter's prescription there when she was a baby. They were able to make her prescription so that she would not have to take a large volume of medication and they also made it a flavor she would easily take. I also loved their delivery service. I would highly recommend using this pharmacy. I felt safe knowing they were making a prescription for my little one.

I needed a different strength of medication when my insurance decided to quadruple the price of my medication and could not find any solution because there's only a few options. I had no idea I could get a custom formulation and it ended up costing me less. This place is amazing and Tony was incredibly helpful and patient walking me through my options.

Very hard to find, doesn't look like a pharmacy at all. I was confused if I'm at the right place. But if you are there just use the stairs, it's on the first floor, on the right. Friendly staff, no waiting time.

It is wonderful that we have a compounding pharmacy in the C-bus area. I've always had good service and positive experiences here, and I highly recommend it!

Opening Hours
Mon

Closed

Tue

5:00 pm - 9:00 pm

Wed

Closed

Thu

5:00 pm - 9:00 pm

Fri

Closed

Sat

Closed

Sun

Closed
Authorize your self with either of these to view contact details, your information will not be shared to any one
Newsletter Subscription for Virtuous Reviews LLP
One more step and you will be subscribed to our newsletters
We have sent you a verification mail on your email id, please verify it.