Colorado Reproductive Endocrinology
Doctors
4600 Hale Pkwy #350, Denver, CO 80220 USA
Claim Listing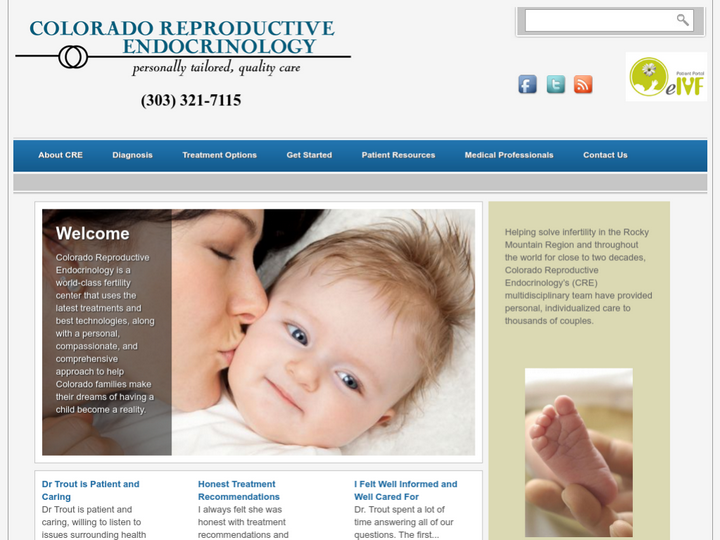 Company Description
Our team's reproductive endocrinologist, Dr. Trout, ensures that each patient receives the treatment that is right for them. Dr. Jonathan Van Blerkom operates CRE's IVF lab, which was named by US News and World Report as one of the nation's top 10 laboratories dealing with advanced reproductive technologies.
Review & Rating

The Best doctor meet in my life , she is the right hands , more than happy having her as our doctor , God bless you and a heaven as a reward for you

We found Dr Trout to caring and patient throughout our journey. Her nurses and staff are equally excellent.

My experience with Dr. Susan Trout was a nightmare. I was referred to her by my OB/GYN as she is specialist of Endometriosis. Dr. Susan Trout didn't take further exams or checkups to clearly understand and confirm my situation. She thought that it is fibroid and a simple laparoscopic surgery will do it. During my surgery, the doctor found she misdiagnosed my condition, and decided to give me a c section without informing my family. My husband was told that the surgery is within 2 hours, but he waited and waited without any status report and notice until the end of surgery after more than 3 hours. Days after I was discharged from the hospital, I had to go to ER because of surgery related infection. After the horrible surgery and painful aftermath, I was forced to deal with large out-of-network bill because she used the out-network anesthesiologist which we were not told of before the day of surgery. It was a very painful experience that I should not have had to go through. Throughout this surgery, I experienced torturous pain, only to be reverted to a state worse than I was originally. Compared to the doctor of my second treatment, she did not care about her patient and does not like to spend time on details. In addition, her stitches left much larger scars when compared to similar surgery I had from another doctor.

Where do I start? First off - you don't ever get full details of your egg quality or ANYTHING like anything after you give them over 13k for IVF. THEN when we called cause they kept trying to bill us copays and they were like oh yeah sorry that's wrong you don't have copays. They sent my husband to collections for a 30 copay. Worst place ever.

Dr. Troutt and he team are mediocre at best. She has poor bedside manner and their clinic has made some large mistakes in two IVF attempts we made with them. For example, they neglected to thaw sperm which was needed for retrieval. It seems so elementary but indeed that's what happened. They were so embarrassed that they gave us a discount on our next try. On the next attempt they neglected to tell me that I had failing motility of my sperm and therefore would need to use donor sperm. This was conveyed to me with less than 1 hour to decide. Even though they had this information for days. We couldn't even choose the donor. They are typically disorganized and Dr. Troutt has weak bedside manner and when confronted about any issues, reverts to a little giggle which sounds at once condescending and incompetent. If I were you, I'd check with some other clinics before coming here. Other people seem happy but I'll bet there are more just like me.

If i could give less that one star I most definitely would! Trout doesnt thoroughly explain things and gives you only two options of HRT and she doesnt listen nor does she care about her clients. Her staffing is slowly going down the drain. I would not recommend one single person to her servoces (or lack thereof).

Dr. Trout and the entire team are amazing. They worked with me and my husband, were so supportive, and now thanks to them we are parents. I'm eternally thankful for the the care I received from this team and would recommend them to anyone.

I would highly recommend Dr. Trout for any fibroid related issues. I had a very large fibroid that was causing abdominal and bladder issues. I saw three specialists who all told me that I would need a full abdominal hysterectomy (two night minimum stay in a hospital, 8 weeks minimum recovery and I have a 2-year old)! Dr. Trout was the first doctor who understood my desire to have as minimally an invasive procedure as possible and she was confident that she could perform robotic surgery on just the fibroid. It has only been two weeks since my surgery and I am already at basically 100% recovery. I am picking up and playing with my toddler like normal (with a hysterectomy I would not have been able to pick her up for 8 weeks) and back to working out and walking my dogs. I feel great. Most importantly, I feel that Dr. Trout listened to and understood my concerns and desires for my own health approach and body and took those into account. Dr. Trout also does free, 15 minute phone consultations, which is a huge advantage when you are trying to get multiple opinions from multiple doctors (all with an office visit and charge).

From the beginning of starting with Dr. Trout we had immediate good vibes. After one round of IVF I am pregnant :) Today was my last Ultra Sound with Dr Trout and I've been released to my regular OBGYN. My husband and I were always treated so well. Malerie and Melinda are so awesome to work with they always keep in touch and make sure you always know what's going on and never feel confused. Lori also is always welcoming & genuine. Dr. trout is extremely smart and knows exactly what she's doing. I always felt in good hands and trusted her judgment completely. It is bittersweet that we won't be at the office anymore but I will most def be back for my second embryo when it's time.

My husband and I had been trying to conceive for about a year when we were referred to Dr. Trout. Both Dr. Trout and all her staff are absolutely amazing! They're super sweet, caring, and very helpful. We were able to conceive after one month of working with them! I know even if we hadn't of gotten pregnant that quickly they would've worked with us to help the best way they could. Definitely recommend!

Opening Hours
Mon

Closed

Tue

5:00 pm - 9:00 pm

Wed

Closed

Thu

5:00 pm - 9:00 pm

Fri

Closed

Sat

Closed

Sun

Closed
Authorize your self with either of these to view contact details, your information will not be shared to any one
Newsletter Subscription for Virtuous Reviews LLP
One more step and you will be subscribed to our newsletters
We have sent you a verification mail on your email id, please verify it.