Delgado Community College
Engineering
615 City Park Avenue, New Orleans, LA 70119
Claim Listing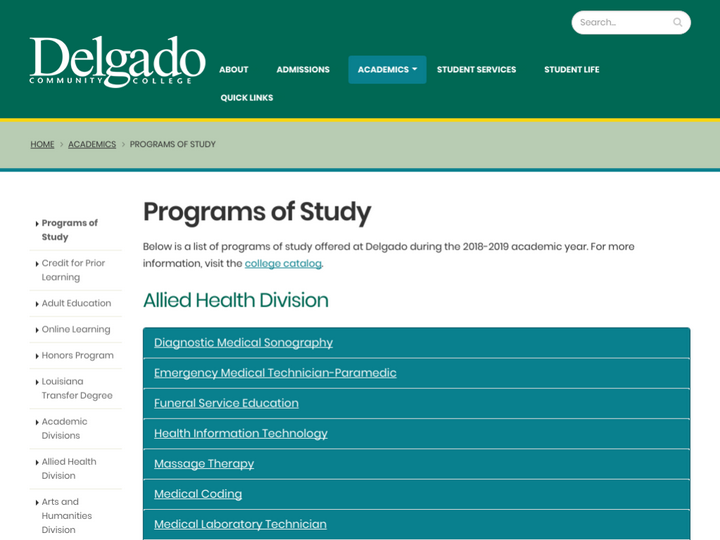 Company Description
Delgado Community College, a comprehensive community college, offers programs through the Associate degree. The College provides a learning-centered environment through face-to-face and distance education to students from diverse backgrounds to attain their educational, career, and personal goals, to think critically, to demonstrate leadership and to be productive and responsible citizens.
Review & Rating

I graduated in 2014. My experience at this school was great. The teachers care and the campus is nice. They offer a lot of classes for pretty much any subject. Plenty of places to study outside on a nice day or have lunch. Also they have a nice selection at their library.

Delgado Community College offers a big variety of classes and programs. They also have alot of awesome instructors. The issue I have is with the administrator's. It's like pulling teeth and nails trying to get paperwork to them. The communication and customer service skills are the worst. It's always difficult getting in touch with someone over the phone. You can speak with someone in person but again, the customer service skills are awful and you might have to wait there for hours. I'm currently having issues with the Accounts Receivable Department. Andrea Gibbs seems very sweet when I spoke to her on the phone, but she refuses to process my AmeriCorps educational award! It's very frustrating and preventing me from registering for future classes. I've been trying to fix this issue for months and still no resolution. I've been very patient and have no choice but to report this to the BOE.

Delgado is a roller coaster. One day, you're in the office for hours and still nothing gets done, and the next day you've graduated and you're life is better. The prices are ridiculous, the staff is terrible and undersized and the classes are very underfunded for what they charge. But the campus is pretty and conveniently located across from City Park. Overall, I dislike the school more than I liked it.

i wish i would have came to Delgado first out of high school, going to University of new orleans first was a expensive mistake bc i wasn't discipline and focus enough. delgado prepares you at much cheaper and slower pace

I'm in the process of registering here, but when I asked a question via email, I was told to fill out a form and email it back to a given address. I did exactly what I was told and the person who received my email completely disregarded the form I filled out and told me to come in person. I went there today and the person who I was supposed to see wasn't there so I was told I'll get a call telling me when to come back. One of the ladies there was so confused, like it was her first day working there. I took the initiative in sending all the information they asked for. Do they want me to stand over their shoulder and make them do their job? Classic New Orleans bureaucratic incompetence.

Delgado Community College is a terrible terrible college. I am a transfer student and I am regretting on my decision that I've made for Delgado College. Think twice before you get enrolled for your classes. I feel sorry for myself taking admission into this college. Administrative staff is terrible and rude. Nobody is willing to help you over the phone even with a very simple question. They will keep transferring you from one call to another. They don't care about providing good education, they are nothing but money making business. Hoping my review can help somebody else to get in this trashy college.

The professors are great and always have been really helpful in areas that I struggle in. Aside from that, the administrative staff and dean have been nothing short of disrespectful and condescending when I approach them with questions. Also, it seems like when you go from department to department, everyone has different answers for the same simple questions. It is extremely frustrating to wait hours in line to only deal with bad attitudes from the staff and virtually no help to begin with. They need to hire better staff or better train the current staff because they're a nightmare to deal with.

Ok for a community College. Very organized with an impressive main campus and some regional campuses as well. Facilities are well maintained and classes offered fill fast. Don't blink or you'll loose your turn. Delgado also offer a nice gym facility for its students and faculty

This college is a joke. Do you have anyone competent working for you? I need my transcripts from another college and some how you have a hold on my account. I was NEVER even a student there! The person in your admissions claims it's from an application in 2011! You want me to pay $50 for an application that was never processed. Since I desperately need my transcripts I agree to this ridiculous blackmail. I get transferred from person to person. Finally I'm told that the balance is so old that I have to speak to accounts receivable. I call over and over and the phone rings! Can I please pay this black mail fee and get my transcripts?

Delgado used to be a trade school, one of the few in the area, mainly for boys and men, it has become a community college. When I attended in the early 70's its instruction in most trades and crafts was thorough and efficient. As far as I know, Delgado in the beginning never pretended to any academic criteria, but now that it has become part of a larger educational movement, it must improve its performance. It is, apparently, a good starter college. When I was growing up in New Orleans back in the Fifties, it was where young men needing training in the industrial arts and sciences would go for their high school education.

Opening Hours
Mon

Closed

Tue

5:00 pm - 9:00 pm

Wed

Closed

Thu

5:00 pm - 9:00 pm

Fri

Closed

Sat

Closed

Sun

Closed
Authorize your self with either of these to view contact details, your information will not be shared to any one
Newsletter Subscription for Virtuous Reviews LLP
One more step and you will be subscribed to our newsletters
We have sent you a verification mail on your email id, please verify it.