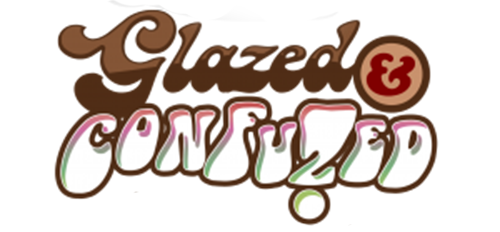 Glazed & Confuzed Donuts
Delis
2501 Dallas St, Aurora, CO 80010
Claim Listing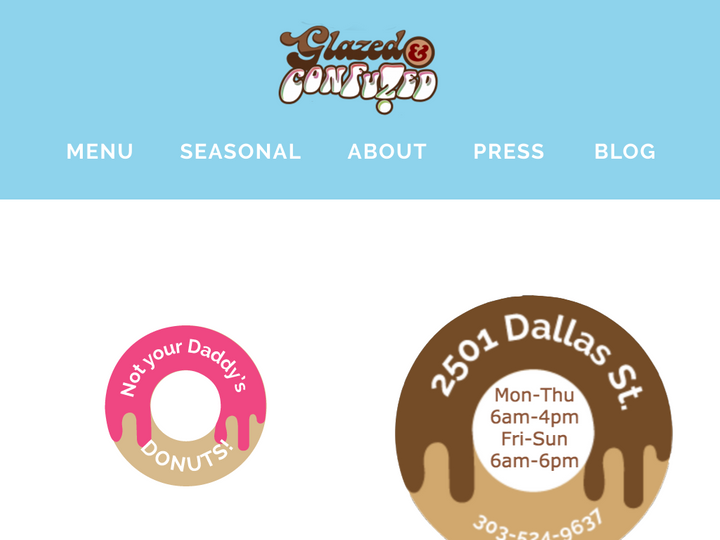 Company Description
Born and raised in Los Angeles, one of my first memories was going to the corner donut shop with my family. This grew into a tradition where my Grandfather would bring a dozen donuts for every Sunday Dinner. My love of food and passion for creativity lead me to Culinary School in Pasadena.
Review & Rating

Update: Josh responded directly to me and made it right! The service I received today was being amazing and I can't wait to return! It just goes to show that they truly care about their customers. Thank you for offering GF donuts everyday! My husband is very happy! We are always happy when we come here. However, today was very different. Both my husband and I have worked in the service industry our whole lives so we have high expectations but rarely is the service we receive such poor service that we leave a review. The young lady there was very rude. She didn't even acknowledge that he required assistance. When he began to place his order, she rushed him and gave him his total. Well, he wasn't done and asked for his additional items and SHE ROLLED HER EYES! Like, what?! If you're going to roll your eyes at customers, get a different job. We go fairly frequently and we won't stop because of this experience but I assure you that we will keep on walking if she is there.

Their donuts are great. I had the Confused Samoa and it didn't disappoint! I like how the flavors blend together and not too sweet. The donut was a little cold though while the price was a little high ($3.50), which is why it doesn't get my 5 stars.I will be back to try their strawberry cheesecake flavor and the root beer float.

A really fun and delicious assortment of oversized donuts that are flavorful, if a bit dry. As an added bonus, it's located in the amazing Stanley Marketplace. The only knock is the coffee selection. It'd be nice to have a few more options to go with the wild donut spread.

Donuts look great, wouldn't know how they taste, the worker was cleaning during business hours and said we couldn't have donuts for another half hour. So maybe if you don't interrupt they're cleaning you might get a good donut, I wouldn't know.

My family brought these donuts home. The first one had a weird taste and was really dry (looked like glazed with a light dusting of sprinkles), the second didn't have the off-putting flavor of the first but the dough seems overworked. I've never had donuts I didn't at least somewhat enjoy until eating these.

tl;dr - Creative flavors and toppings, but serious issues with consistency on the actual donuts The first time I went, I tried the Samoa one and it was dry and dense. Enjoyed the flavor, but did not enjoy the donut itself. Given all the good reviews, I wanted to give them another chance, so I tried the sweet and salty a few months later. This time it was fluffy but the center was slightly raw and had a prominent yeast flavor like you'd expect from raw dough. I feel the same way about this place that I do about Voodoo - you can't mask a poorly executed donut with unique flavors, no matter how good those flavors are. I'd rather have a plain glazed from a shop that consistently nails the execution on the donuts themselves than any crazy flavor from a shop that can't cook the donuts properly.

Fantastic donuts. The selection is great, classic flavors with some fun new and different flavors too. The coffee was very good as well and complimented the donut. The service was fast and friendly. Great for a quick treat as you explore the marketplace shops

Easily one of the best donuts I've ever had! I tried the Passionfruit Lemonade donut and it was incredible. So much delicious passionfruit flavor, and not greasy at all. It also had a great balance of sweetness that only left me wanting more, instead of leaving me feeling overstuffed or gross. If I didn't live all the way in Florida, I'd be back once a week!!

Donuts = 5 stars Customer service = 10 stars We were in Stanley Marketplace for brunch elsewhere and were shopping around while we waited. My mom and I wanted to grab some donuts to take home, so we waited in line. The line moved quickly especially because only one man was working. When we got to our turn, the man informed us he ran out of pastry cream, so he couldn't fill any of the donuts! We were so sad, but he told us to come back after breakfast and he had plenty of donuts so he wouldn't run out. We did exactly that and he was right. All the donuts we still wanted were there, and BONUS! He rewarded us for our patience by giving us 2 free donuts as well. We never expected that and it was truly an over the top, 10 star gesture that we won't forget! Now to the donuts, AMAZING. We got a variety and so far nothing has been disappointing. Sometimes I feel donuts can be TOO sweet, but Glazed and Confused has solved this problem beautifully. You can tell all of their recipes have been tried and tested and very well thought out. We will be back very soon, THANK YOU!

We heard great things about this place and drove from out of town to check it out but unfortunately they were closed without any explanation. Hopefully we can give them another shot some time.

Opening Hours
Mon

Closed

Tue

5:00 pm - 9:00 pm

Wed

Closed

Thu

5:00 pm - 9:00 pm

Fri

Closed

Sat

Closed

Sun

Closed
People Also View
Authorize your self with either of these to view contact details, your information will not be shared to any one
Newsletter Subscription for Virtuous Reviews LLP
One more step and you will be subscribed to our newsletters
We have sent you a verification mail on your email id, please verify it.