Penn Foster Career School
Management
14300 N. Northsight Blvd., Suite 125, Scottsdale, AZ 85260 USA
Claim Listing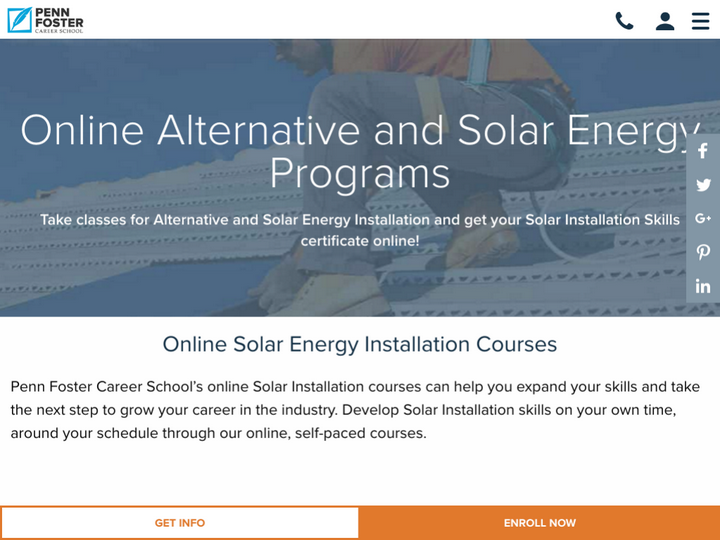 Company Description
Penn Foster's mission is to enhance the lives of our students and clients through the acquisition of knowledge, skills, and credentials that can help them work toward their goals of advancing in their chosen field, starting a new career, or pursuing lifelong learning.
Review & Rating

I absolutely love my business management bachelor's degree program you will learn so much be prepared to study its not easy. I called the student number to get help and was only on hold for maybe a minute. The consultant was very knowledgeable and answered all my questions as well as offered study tips etc. I did not feel hurried at all. Thank you John at penn foster. Don't miss out on getting a degree give penn foster a try its a real college and each semester gets harder but you will be thankful . Thank you penn foster! Oh as far as payment I don't know of any college yet that will give you your transcripts until you pay your bill . Sincerely,

Penn Foster seems pretty good and yes, they are accredited I checked that out before I registered. Penn Foster does have fees but they are also a for profit college.

Horrible, all they want is MONEY ! I tried to get "official transcripts" sent to me by mail and they refused because I did not get through it, but only because even if your done your not gonna receive your actual diploma until to pay them off even if you have finished the classes. So if you don't pay YOUR DUES YOU CAN NOT RECEIVE YOUR TRANSCRIPTS BY ANY MEANS. I would not recommend this school.

I already had one or two degrees in some technical fields when I started the engineering technology course with Penn Foster. I haven't finished my diploma yet but the amount of knowledge I acquired throughout the years is been amazing. Organized self paced learning is being an invaluable tool for me as it allowed me time to thoroughly go through and understand the subject matter. Also, I've been very lucky to almost always be assisted by the very friendly and competent student care representative. Well done Penn Foster; keep it up!

I am very happy with Penn Foster. Instructors are very helpful and knowledgeable as well. Very affordable and I never have any type of problem with them. I will definitely recommend Penn Foster to anyone. I LOVE THIS ONLINE COLLEGE.

I'm seeing some people say you won't get your high school diploma if you don't pay in full... duhhh !!! Common sense you have to pay before you receive your high school diploma...even if you complete your classes. This isn't free !!! And they always answer my calls in a timely manner. I believe people are leaving negative reviews b/c they're not getting their way. Go with your own experience before believing someone else's bad experience.

I honestly had no problems with this school. They were always nice when I called. Well, I was going to switch to a community college, so I needed them to send my transcripts to the other school. They said that would be no problem, I would have to pay nothing for them sending the transcripts . They never sent them and are calling me a lot saying to pay the full amount. I think not, as soon as you try to transfer schools they go from nice to money hungry. I made sure to I didn't have to pay anything else and they said no then, that tone sure changed.

My daughter started the high school program right after middle school and completed it in less than 2 years!! Right after finishing her diploma, she enrolled in a local technical college and completed an electrical program in 1 year! We're so proud of her start at Penn Foster. By age of 17 she had her high school diploma and graduated top of her Technical College class. Thank you Penn Foster!!!🤗

Penn Foster is a very great school! IT IS MOST DEFINITELY A LEGIT SCHOOL! It's accredited where I want to attend college too. As Penn Foster says, you would have to call your local college to see if their diploma is accredited. I was happy when Pitt Community College accepted it. My experience with Penn Foster is great for me! Very easy to contact instructors. Test results are sent to you immediately after test is sent in. The work isn't overly complicated but still challenges your mind, the lessons are well put together, and then teachers are very helpful. I should be expected to graduate by or before January 2019. Highly recommended!

Absolutely love this school. I CANNOT understand the low reviews. The low score shouldn't be based on you can't getting through with a call(which seems ludicrous because our daughter and friends call and email all the time with no problems). I really hate that this school get such a bad rapport. We see the curriculum our daughter did and see the many hours of study and focus she put into her work. Reviews should be based on curriculum and quality of work so it gives parents an accurate depiction of the school. I tell everyone who is considering homeschooling their children about this school. I also tell adults who have busy lives and need flexibility and affordability. FYI: other colleges accepts PF credits that are not listed on the list online. For anyone considering this school, read the low ratings and see what the complaints are about and make sure those issues are not a deterrent for you personally. Then read the high reviews and see what are the positives. Always make an informed decision.

Opening Hours
Mon

Closed

Tue

5:00 pm - 9:00 pm

Wed

Closed

Thu

5:00 pm - 9:00 pm

Fri

Closed

Sat

Closed

Sun

Closed
Authorize your self with either of these to view contact details, your information will not be shared to any one
Newsletter Subscription for Virtuous Reviews LLP
One more step and you will be subscribed to our newsletters
We have sent you a verification mail on your email id, please verify it.