Simone Scumpia, MD
Doctors
2200 Park Bend Drive Building 3, Suite 300 Austin, Texas 78758
Claim Listing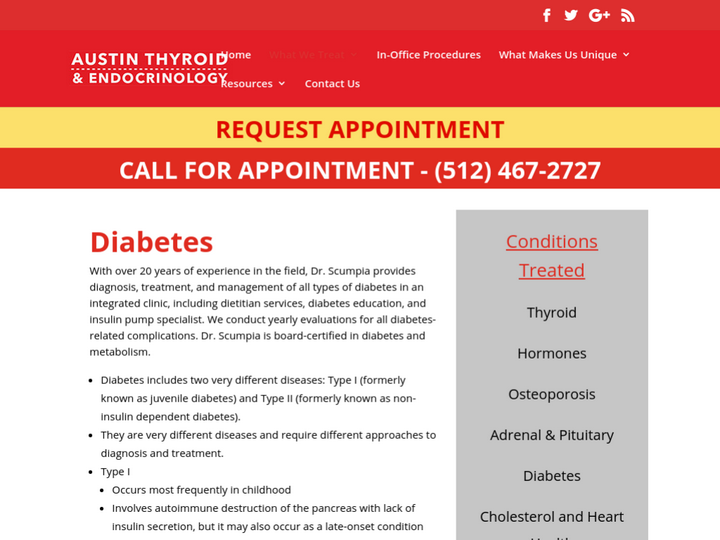 Company Description
Dr Simone Scumpia, FACE FRCP FNLA, started Austin Thyroid & Endocrinology in 2002 as an integrated center for comprehensive endocrine care for the Austin community. We specialize in comprehensive hormone assessment and treatment.
Review & Rating

Dr. Scumpia and the staff are professional, expedient, and well trained. I like the patient portal that keeps track of all of my appointments, lab results, and billing. Dr. Scumpia took the time to review my case in detail and even referred me to other doctors before she signed off on her prescribed therapies for me. Too many doctors today want to do it all because if they refer you to another specialist, you may never come back. She knows her stuff, and when in doubt, she refers you to an expert in their field. This is such a refreshing experience in a doctor!

I love Dr. Scumpia! I haven't been so happy with the way I've been handled and communicated with by some of her staff, but I can't say the practice as a whole is awful. Most of those I've dealt with in person have been kind and professional. I did lodge a complaint when I was there recently (about a rude returned phone call) and was told they're "cleaning house", due to that very issue. Fingers crossed!

Great medical care and the most efficient office ever. I'm a busy professional, and so I really appreciate that Dr. Scumpia values her patients' time and tries to reduce stress by making everything streamlined. I got an appointment within two days. When I got there, I didn't wait long in the waiting room and I've never been to a physician where as many diagnostics were available under one roof and where the doctor reviewed them at the same appointment. At any other doctor's office, the tests would have taken weeks and involved trips to multiple clinics. She is thorough and, as others have said, she really knows her stuff. If you want to know what's going on with your health and want a doctor who will not cut any corners, Dr. Scumpia is a great choice.

Dr. Scumpia is very thorough with her testing and I appreciate that...others may not due to cost, but it has worked in my favor for an early diagnosis.

This is one of the worst practices I have ever been to. I've never felt compelled to review a doctor until now. Expect hours long wait times, rude staff, and an absurd lack of care or attention from doctor. Every review here and on Yelp is painfully accurate. And if you're making an appointment simply to get your blood work read, I'd advise you to go elsewhere. Even if your levels come back normal, you'll still have to go in, spend hours, and pay your co-pay just to find that out. The irony that despite the overwhelmingly bad experiences seemingly everybody has here, they have a sign up that asks patients to review them on Google.

The entire office, and especially Scumpia, could use a few classes on interpersonal communication. Aside from that, they are good... Just not very well at communicating upcoming tests, treatments, or anything really.

The least interested Dr I have ever been to. Not interested in the slightest in helping me figure out why I have the symtom's I do. Told me my blood work was an error and basically dismissed me . Every question was answered "Absolutely not". The staff is pretty rude too.

Shocked at all of the negative reviews. I have found Dr. Scumpia to be very professional and thorough. I have never, ever had to wait over ten minutes to see her for my appointment, and she has always been quite pleasant to both myself and my husband. Yes, she told me that I was overweight, but I am, and it has helped me lose the weight and get healthier. Perhaps some of the negative reviewers need to get thicker skins and also not feel that their doctor has to be their best friend. As far as ordering expensive testing, I have a plethora of health issues, including cancer, so I appreciate my doctors proceeding with caution in my health care.

I have been a patient for over 20 years. She has been nothing;but, professional and thorough with my medical conditions which are many and complex. She offers most labs and testing in house which is very convenient and the other specialists she had referred me to are also top notch. Very pleased.

I'll be honest and state that I left Dr. Scumpia years ago. I'm posting a review because after reading current reviews, I see she hasn't changed a bit. Her building, which isn't all that old, should be named after me since she had me in her office very other day with some horrid charge. I look back at my experience with her and wonder if a lot of the "care" I received was to make her more money, rather than to treat me. As many have suggested, find a different doctor. I did years back and have been ever so happy with him and his practice.

Opening Hours
Mon

Closed

Tue

5:00 pm - 9:00 pm

Wed

Closed

Thu

5:00 pm - 9:00 pm

Fri

Closed

Sat

Closed

Sun

Closed
Authorize your self with either of these to view contact details, your information will not be shared to any one
Newsletter Subscription for Virtuous Reviews LLP
One more step and you will be subscribed to our newsletters
We have sent you a verification mail on your email id, please verify it.