Stephen Castorino MD
Doctors
653 North Town Center Drive Suite 202, Las Vegas, NV 89144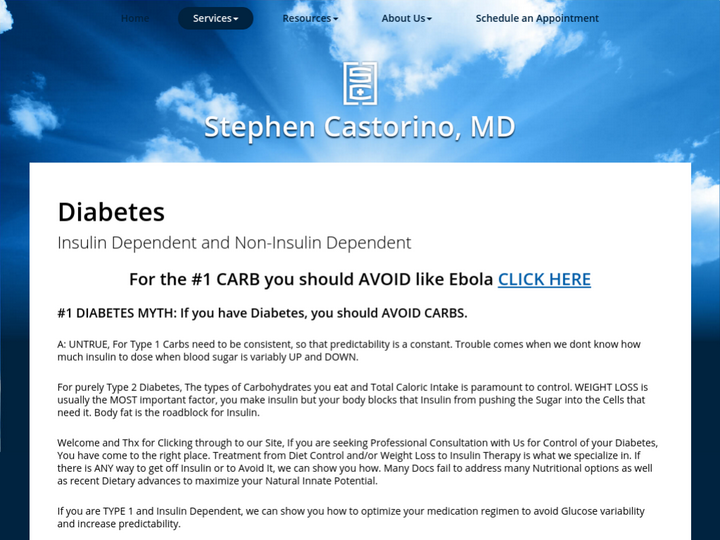 Opening Hours
Mon

Closed

Tue

5:00 pm - 9:00 pm

Wed

Closed

Thu

5:00 pm - 9:00 pm

Fri

Closed

Sat

Closed

Sun

Closed
Company Description
An endocrinologist in Las Vegas, Dr. Stephen Castorino was schooled at University of Pennsylvania and Pennsylvania College of Medicine. He diagnoses, treats, and manages endocrine disorders, those affecting the body's natural balance of Hypothalamic-Pituitary Axis disorders such as thyroid, diabetes, adrenal, testosterone and estrogen disruptions. Well versed in Medical as well as alternative therapies in restoring your body's natural balance.
Review & Rating

The Dr. was dressed like he buys his clothes from Goodwill..Very unkempt...His nurse is mean and told me I was non compliant...The Drxtold me I was going to die a hard horrible death from my diabetes....Wanted me to go on the Atkins diet...Kind of stupid when my Trys are already high...He didn't want to try anything else...Never suggested any changes in meds...Didn't want to do blood work when I'm due for it again...swore at the computer when it loaded slow....I even suggested trying a different insulin....when we were done he said call me when you want to dial up the insulin....Huh?! This Dr in my opinion is a quack...please don't go to him...He's talks in circles and doesn't make any since

This is by and large the worst medical experience of my life. I frankly think that medical board should take Dr. Castorino's license away. He is dangerous as a human being and a doctor. I knew that I have an under-active thyroid and came to Dr. Castorino hoping for treatment. He did give me a consultation and send me to get lab work for thyroid panel. I paid out of pocket for both his visit and the lab work, around $350. After blood work came back, Dr Castorino simply never returned my calls and I have called and called, left messages, texted to no avail. I have never heard from him again and it took me a while to find a different doctor who of course discovered that I have a hypothyroid condition that affects my blood pressure. It only took one prescription to correct that. Dr Castorino simply never bothered to see me for the second visit or even to return my phone calls. I basically threw $350 into garbage also known as his pocket.

Thank you Dr Castorino!!! Great physician caring attentive the BEST!!!

My spouse is an insulin dependent diabetic. Since becoming a patient of Dr. Castorino he has had excellent care! Dr. & staff are always ready to assist & help in whatever way is necessary with a myriad of problems associated with diabetes. Diabetic neuropathy causes unexpected balance issues and subsequent falls leading to stubborn infections that do not heal. Dr. has saved him several trips to the ER due to his ability to treat these wounds. Patients should be concerned about the quality of care they are receiving for this disease and Dr. Castorino's expertise as an Endocrinologist rather than his not being in GQ attire.

He solved ALL of my problems. That's all I am asking for and it's apparently very hard to find in Las Vegas. He is courteous and willing to listen to his patients' opinions without judgment.

Dr. Stephen Castorino is my Endo Dr. He has a good character, nice to talk to. He is also open minded regarding different thyroid selections to see what works best with you. Unlike some Dr's i have met that are not willing to prescribe dedicated hormone. Good patient friendly environment.

Seriously? How judgemental can you be? If you dont like the Dr or his staff why do you go there? And to degrade him like that? What kind of person r you? Could there be a reason the nurse was so mean to you? Dr castorino is a walking book of knowledge, explaining everything in detail, amswering all my questions and providing ingormation to help me understand . He took the time to listen to my concerns. Instead of pushing insulin on me or adding meds he took a different approach. Dont u know Drs have feelings too. Perhaps you could have taken a more kind approach rather than broadcasting your nasty feelings all over the world. Totally degrading, you should be ashamed. Thumbs up, Dr Casirino.

Best doctor. Takes his time and listens. Truly interested in finding an answer. Staff is the best, especially Nathan, very helpful

Today, I thank God that there are still doctors like Dr. Castorino. We sat down with all my test results, and he explained in detail. He listened, he analyzed, and he responded with a lot of knowledge.

Saw Dr for the 1st time and he was great. The 1st thing was I did have to wait 2 months for a visit! His staff were very nice and helpful. As to Dr Castorino he was very welcoming and interested in my problem. He was very open and helpful and a good listener too. Looking forward to seeing him again!!

Authorize your self with either of these to view contact details, your information will not be shared to any one
Newsletter Subscription for Virtuous Reviews LLP
One more step and you will be subscribed to our newsletters
We have sent you a verification mail on your email id, please verify it.