Temple of Kriya Yoga
#85 in USA
#30 in Chicago
Fitness Centers
2414 N Kedzie Blvd, Chicago, IL 60647
Claim Listing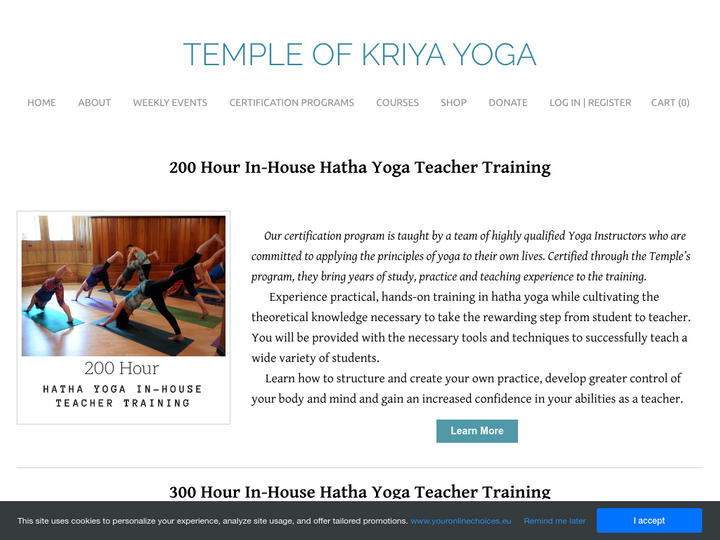 Company Description
Welcome to the Temple of Kriya Yoga. We are much more than a yoga studio. For six decades, students have come to the Temple to practice and learn more about the spiritual aspects of Kriya Yoga and listen to the dynamic teachings of Goswami Kriyananda, the founder and Spiritual Preceptor.
Review & Rating

Love this place!

A friend of mine took me to a book festival one Sunday and listening to Goswami Kriyananda talk blew my mind. There was a Physicist from Sweden, I believe, and they were talking about.intention and energy and molecules and it had quite an impact on me. Over the years I have taken yoga classes (best classes ever), completed the seminary and taken many other classes. If you're looking for peace, maybe at a cross roads, this place might offer some assistance. I believe the teachings are based on Sanatana Dharma (Hinduism) influenced by Swami Paramahamsa Yogananda as Kriyananda was from that lineage, blended with wisdom from other ancient cultures.

I will be eternally grateful for the work the Temple of Kriya Yoga does to share the wisdom of the great sages. Thank you for your service! Shanti Shanti Shanti

Dynamic and wonderful!

A May 25, 2003 graduate. This course changed my life. I am so very thankful for it.

The Temple of Kriya Yoga is an acquired taste and not everyone is ready for its magic. If you are looking for a vigorous workout for your body, this will not suit you. If you are looking for a mainstream yoga studio with shiny floors, a steam room and interval training on Friday mornings, this may not be your cup of tea. This place is a spiritual mecca...and I'm not kidding. Nothing fancy, but it's beautiful and rich in its own way. You go here to find your soul, to find out who you are and to start taking that hard look in the mirror to see how you contribute to your own darn misery. Hatha Yoga here is authentic and stays true to the ancient teachings but it's the workshops, meditation classes and spiritual teachings that are the real gem. Sign-up for a home study class and be transformed. Kriyananda's teachings are the best of Tony Robbins, Deepak Chopra, The Secret and the best self-help book you've ever read! When you are ready, check it out.

Great place to study and go deeper into the study of Yoga and its relationship to other Mystical studies. Sri Goswami Kriyananda wrote many books, left lectures in audio recordings and videos. There are also programs available for those who would like to learn in a more serious and formal way about yoga, meditation and astrology.

I cannot imagine my life without the Temple of Kriya Yoga and the teachings of its founder Goswami Kriyananda. If you are struggling to find happiness in a sad world, I recommend you you listen to some of Kriyananda's lectures and meditations. Perhaps his teaching will affect your life as it has mine.

This place changed my life radically for the better. A few years back I went through their seminary program, which you can take no matter where you live. A massive download of wisdom and positivity. I will never be the same person and for that I thank them, and Kriyananda, and all of the heroic, selfless people that make that place keep ticking today. What a great place and great bunch of human beings.

Very welcoming from the first moment. A Center with many opportunities for learning. I went for a yoga class and stayed for a lot more? A jewel in the City.

Authorize your self with either of these to view contact details, your information will not be shared to any one
Newsletter Subscription for Virtuous Reviews LLP
One more step and you will be subscribed to our newsletters
We have sent you a verification mail on your email id, please verify it.