The Laundry Lounge
#75 in USA
#33 in Atlanta
Wedding Gown Preservation
1544 Piedmont Ave NE #406, Atlanta, GA 30324, USA
Claim Listing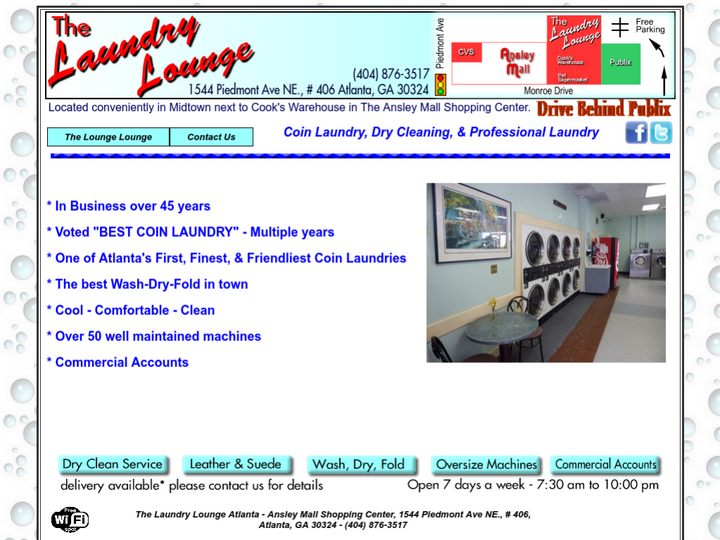 Review & Rating

Best laundromat in Atlanta. Great staff and the best "wash 'n fold" service anywhere

Ray Smathers is the Best. You know you are well taken care of and your items are returned to you in the best condition. Great location and you feel safe! I would Highly recommend this location,come out and see for your self and bring all of your friends.

Its comfortable and the prices and machines are pretty reasonable for self serve. Their wash and fold is 29 percent higher than most I've visited. And, for the area I wish they were a little more technically inclined......digital card system and updated vending machines. The guy there was super friendly and helpful. Mke sure to bring cash....... Keep your quarters!

This place only know has it

It's actually a cool little place. Clean and has staff. Mall right next door

Great spot -- washer/dryers are fast and it's clean and taken care of. There's lots of space and tables for folding, and plenty of machines to accommodate busy times. Great waiting area with comfy chairs and reading material, and if you don't want to sit around, Ansley Mall has tons of stores and restaurants to visit while you wait.

I haven't used a laundromat in over 15 years, but if I had to use another, I'd want it to be similar to Laundry Lounge. Friendly staff, the gentleman working was very personable. Reasonable prices in a clean respectable business. The only setback was they only accept cash, an upgrade to machines that accepted credit cards would be great.

I absolutely love this place and Rick is the cherry on top. He's friendly and was super cool with my cocker hanging out!

The guy with the glasses is very nice, but don't stay past 930 or all that will change lol. Great place and clean.

I had a great experience here. The gentleman staff person was attentive to my particular needs (a goose-down filled item) which required that I use a front load washer and a large commercial dryer. At one point I thought I was finished with drying my item, and the kind staff person suggested I try another set of dryers which were heated with natural gas. They worked quite well at doing the final drying process for a feather filled item. The Laundry Lounge is now my first choice for doing laundry.

Best place to do laundry. Very clean friendly and lots of shopping and eating while you laundry washes and drys. Some might think Its expensive.

Wonderful place. Incredibly friendly and helpful staff. Nice decor. There's a huge plastic hammerhead shark on the wall! Washers of various sizes, plenty of driers. Close to tons of food and drink to grab while you wait. Nice sitting "lounge". Best laundromat experience I've ever had by far.

Authorize your self with either of these to view contact details, your information will not be shared to any one
Newsletter Subscription for Virtuous Reviews LLP
One more step and you will be subscribed to our newsletters
We have sent you a verification mail on your email id, please verify it.