The Mark Restaurant
#93 in USA
#31 in New York
Restaurant
25 E 77th St, New York, NY 10075, United States
Claim Listing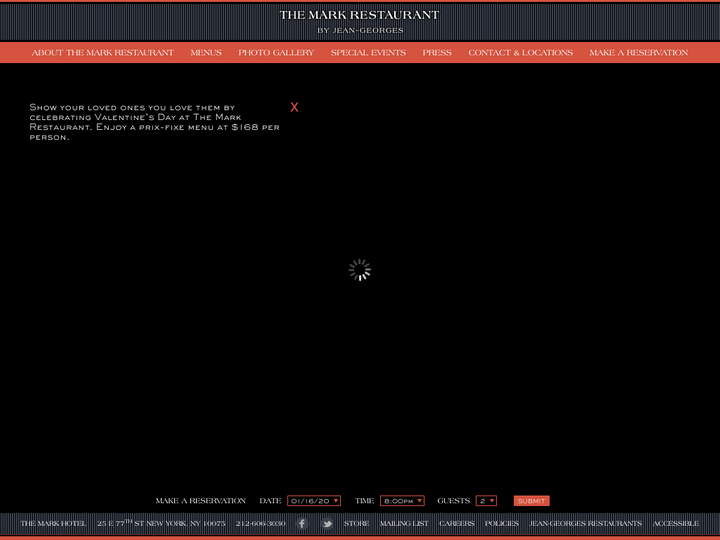 Company Description
Jean-Georges Vongerichten brings his unbridled passion for fresh-from-the-market, simple cooking to The Mark Hotel. A world class menu of subtly innovative European classics as well as Jean-Georges' signature global seasonings will be sure to satisfy cravings for both simple and eclectic palates alike.
Review & Rating

I went here with my mother, fiance, and two of my friends this evening after doing a photoshoot for our engagement. My fiancé and I were dressed up while everyone else was in casual clothing. That said - I have a very sour taste in my mouth about this place. You see, my friends are little people, one of which is in a motorized wheel chair. From the moment we walked in we were treated as if we were pariahs. Whether it be the way we were dressed or my friends being smaller, I don't know. The door man joked that the first minute of heat from the overhead lamps outside was free, after that we'd have to pay. I don't think he realized we were dining there. We were seated in the very back of the restaurant where we were forgotten. Our bottle of wine was lost and the waiter then accused us of finishing it, which we had not. The gentleman who had poured it said he was putting the rest of the bottle on ice for us. No one refilled our water or checked on us. The mashed potatoes were left behind from my fiancé's dish and we had to ask for them. While the food was good it wasn't the best I've had, especially not for the prices they charged. I mean, we wouldn't hands to be there if we couldn't afford it. We wanted to celebrate the photo session and the fact that I was seeing my friends. We had a great time, but not sure to any help on their end. For such a high end establishment they treated us horribly, and I am appalled at the service we've received. I've had better service at a local diner. At a place like this you're not only paying for the food, but the service as well. We were treated as an inconvenience, and promptly forgotten in the shadows of the hallway of the back where they keep the linens. Disgraceful. I gave 2 stars only because the food and wine were decent, and because the door lady when we left was very kind and even assisted in getting my friend's chair into her car home. I will never recommend this place to anyone. There are better places to go in NYC.

Sort of disappointing. Most of the food was great, but the service left a little too be desired. With Jean George's name on it, I had high expectations that were not fully met. The shrimp and avo salad was simple and divine. Lobster risotto was also incredible. The menu gave no clue that the halibut would be so spicy, so much that it distracted from all the other lovely nuances of the dish. Lastly, the wait staff seemed somewhat clumsy and uncoordinated. Couldn't believe how many times my chair got kicked when the next table was being attended.

Great experience with my friend Gail. Thank you Robert , Said and Christian for having entertained us. Very nice staff even the German von Neuss war ganz lieb und nett ... :)

Great original cocktails (get the ginger margarita!), Fabulous selection of food + I had the lamb rack and it melts in your mouth

First and foremost reservation........ reservation.......... reservation!!! Now with that said me and a good foodie friend initially went here to sit at the bar and nosh, on an early after work Friday. Surprisingly the bar was packed and luckily they were able to accommodate us for the restaurant without a reservation seeing as they were fully committed. The staff from the door to the table simply amazing 😍. My girl whom had done the bar once before was on the Cucumber Martinis..... Delish isn't even enough..... All I can say a great light refreshing cocktail 🍸year round. What is to be said it was all up hill from there as the crispy chicken samosas were amaze and the crispy octopus 🐙 was to die for (and if you know me I'm all for a great octopus dish anything preferably grilled). OMG the pan seared scallops....... one word "Heaven" 👼 . So basically this was a decadent delectable foodie experience to be had at least twice to maybe three times a year (be prepared to drop a grip.....though worth it but be prepared). So in for a summer rotation. 😍 This may become my fav spot.

The thai chicken soup is superb.....when you get tired of being snubbed at the other hotel closeby...stop here for good food and very attentive and caring service.

It was what ever nothing special, service not so great and food mediocre they over cooked my burger n my fries were cold too it didn't taste so great either even though is 38 dollars and everything is overpriced for no reason !

Excellent. We had a board dinner there recently and the food and vibe was fantastic

Lovely location and good service add to the overall nice lunch with a girlfriend. Nothing outstanding but a you can count on a tasty meal. Large selection to choose from. Fettuccine with lemon zest half order paired with veal Milanese makes me happy! Shout out to Rocco for his continued professional service.

Excellent place to get some food when in a rush. The service is swift, rates are affordable, fantastic ambience. Highly recommended

Authorize your self with either of these to view contact details, your information will not be shared to any one
Newsletter Subscription for Virtuous Reviews LLP
One more step and you will be subscribed to our newsletters
We have sent you a verification mail on your email id, please verify it.