The Pod Photography
#85 in USA
#36 in Los Angeles
Maternity Photographers
4327 Sepulveda Blvd, Culver City, CA 90230 USA
Claim Listing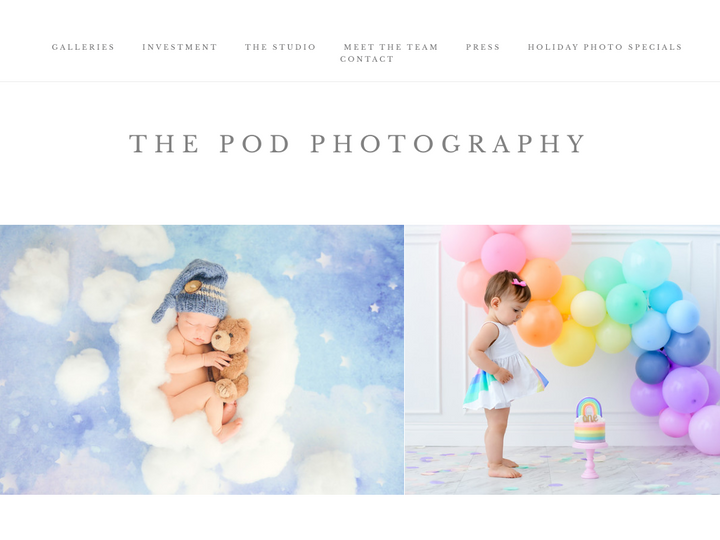 Company Description
This is your space during the session to relax, touch up makeup, feed and change your child. There is a fully stocked refreshment area with gourmet snacks for you to enjoy. Plus there's a TV with Netflix ready to entertain children (or dads) when they are finished taking pictures.
Review & Rating

Loved my experience with Pod! I brought my one year old daughter for a cake smash photoshoot and their team brought my vision to life beyond my expectations. Such amazing work and photos I will cherish for life.

Great customer service! Super friendly and professional as well! First time taking pictures of my baby and it went so smoothly. Love it! Will def come back!

Six years ago I had my first child and had newborn pictures done with the Pod Photography. Their studio was a far drive but I had done a lot of searching and knew they would give me what I was looking for. I was ecstatic with the results. Since then I had three more children. I didn't go back for various reasons. I lived far and a long car drive with toddlers and newborns wasn't something I was up for. I also could not afford it at the time. I took advantage of deals for newborn portraits. I always found myself comparing other photographers to Erica and her team at the Pod Photography. Not because they were my first experience but because they are the best in their field. They certainly have perfected their craft. No one can deliver results the way they do. I just had my fifth child and I am done having regrets. I made the drive in traffic with five small children and was ready to pay for beautiful photos. They managed to capture all of my children ages 5, 4, 2, 2 and a newborn sitting, looking at the camera AND smiling! It was worth every penny and the long drive in traffic! I won't have to wonder what if I had gone to Pod Photography. I have these beautiful photos of my children from them and am forever grateful. Thank you to Erica and her fabulous team!

Wow! Everyone here is so friendly and has great energy. I had such grand ideas and wanted to fit as many poses and setups as possible. They were so accommodating and flexible with what I wanted, and we were able to capture everything. They made my older son feel so special and were so sweet when they interacted with him. The studio is so pretty and they have so many cute outfits, bows, and options for styling. I can not wait to see our photos. My experience was so great that I committed to doing a 7 month and 1 year photoshoot with them.

Gorgeous gorgeous gorgeous! I couldn't be any happier with our newborn photos! From the minute we stepped in the studio everything went so smoothly. Leah had set up beautiful sets based on our phone conversation. I showed her a few more photos of the nursery and she even modified a set to match our woodland animal theme. There was even a vanity area for me to get ready, do my makeup and curl my hair for our mommy and me photos. Most importantly, my baby girl was happy and cozy. She was followed around by a heater and her every need was attended to. There was a couch for us to nurse, snacks for me, soothing music, beautiful wardrobe for baby and mommy, and cute props and accessories to choose from. My only regret would be not choosing The Pod Photography.

I worked with Erika and team twice with both my sons' newborn shoots and they were incredible to work with each time. They guided me with the themes of the shoot and coordinating color palettes to compliment the shots we did for our 1st born a few years ago and for our recent shoot with baby #2. They have an amazing studio along with a private area that our family used to get dressed and ready. The room was comfy and cozy where our toddler was able to relax and take snack/lunch breaks in. There were several diaper changes along with nursing breaks that we took as well. The team always made sure we were comfortable and ensured we got the shots we wanted. We can't recommend them enough for the quality and care they put into the entire process from the care they put into the sets they create and throughout the shoot to helping guide us when we review the shots and ordering process.

We couldn't have asked for a better experience than our family photo session at The Pod Photography. Leah and the team were wonderful from start to finish, making us feel comfortable and confident that we had made the right decision in using their services. Do yourself a favor and book your next session with The Pod!!

What a great local place for fantastic photos! I got my maternity photos done here with Erika and her and the team made everything so simple and easy. From listening to what I wanted, working with my schedule and helping achieve my "dream" photos. We just went back for the newborn photos with Erika and my heart melts knowing these photos will last a lifetime!

The Pod Photography crew are top notch! Not only excellent in studio photography (with babies, no less!) but terrific in customer service with plenty of patience. The photo selection for the book was a lot tougher than expected but they were great in helping us choose the best ones for our family all while my munchkin was destroying the photo selection room with cookie crumbs and blocks. Thanks Pod Photography!

Wow wow wow !! We have used The Pod Photography for both of our kids and always had wonderful experiences. They are the most patient, caring, nice, friendly and professional team that you will ever find. We just had a newborn session for our second baby and as usual they went above and beyond to make sure that we were comfortable, happy and ensured we got the pictures we wanted. I couldn't believe they made from scratch one of our baby sets, Game of Thrones chair, it took them about 30 hrs of work I was blown away. Everything is custom You think it and they design it, it is impressive. Trust me The studio customer service and level of patience is unbelievable, I can't recommend them enough, worth every penny, by far the most incredible photo studio. Thanks Pod Photography for providing gorgeous pictures and a wonderful experience!

Authorize your self with either of these to view contact details, your information will not be shared to any one
Newsletter Subscription for Virtuous Reviews LLP
One more step and you will be subscribed to our newsletters
We have sent you a verification mail on your email id, please verify it.