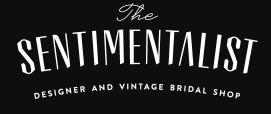 The Sentimentalist
#87 in USA
#45 in Atlanta
Hire
1655 Defoor Ave. NW, Atlanta, Georgia 30318
Claim Listing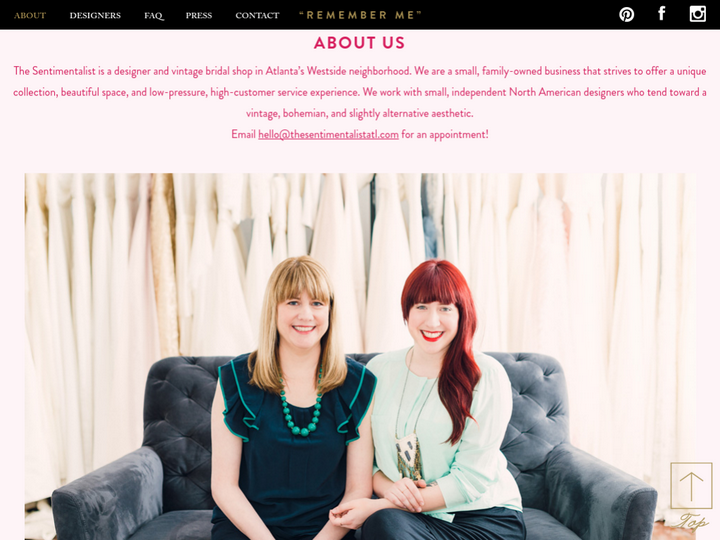 Company Description
The Sentimentalist is a designer and vintage bridal shop in Atlanta's Westside neighborhood. We are a small, family-owned business that strives to offer a unique collection, beautiful space, and low-pressure, high-customer service experience. We work with small, independent North American designers who tend toward a vintage, bohemian, and slightly alternative aesthetic.
Review & Rating

I was extremely excited when I picked out my wedding dress back in December for my upcoming wedding. However when I received the dress it was much too large, needing it to be altered quite drastically. This was not an issue, as it shouldn't be too hard to fix. However, when I took my dress in to be altered, I was informed that the dress was either a knock off or a terribly constructed dress. The designer has sown the bust into the fabric, making it impossible to alter without ripping it apart and re-sowing the fabric back together. I was utterly heartbroken. Luckily my seamstress was able to make it look decent, but not what I should be getting when I paid $3,000 +.

I was referred to The Sentimentalist by a close friend. This bridal boutique made me, my mom, and my sister feel at home the instant we rang the bell! From the warmest welcome to the compassionate and personalized experience, Caitlin was beyond a professional; she made me feel special and like a friend! She asked questions about my life, my fiancé, and how we met. These are the little things that make so much of a difference. I felt so special and beautiful in my wedding gown that I fell in love with and chose; I owe a lot of this to my experience at The Sentimentalist. Sincerest thanks again to Caitlin & the sweet girls there who helped me find my dream dress!

The girls at the sentimentalist are the BEST! Me and my twin sister both got our dresses from here and we are all the way from KY. Caitlin helped both of us and we couldn't imagine it going any different. Everyone needs this type of experience!!

My experience at the Sentimentalist was a refreshing contrast to the other shops I visited. The ladies in the shop were at the same time more knowledgeable, but less snobby. I received no judgmental looks when I reported my short timeline (3 months) for finding a dress. Rhiannon and Caitlin were very helpful without being pushy. Rhiannon politely encouraged me to try on a dress I had no interest in on the hanger, which turned out to be the one (Daria, by Theia). She even helped me find the right undergarment for the dress, which was not an easy feat given the cut and type of fabric. Every person I interacted with at the shop was the right combination of personal and professional. Atlanta Brides, save yourself some time and stress-- come to the Sentimentalist first!

My experience at The Sentimentalist could not have been more ideal! Gabi was extremely laid back and professional and had she not paid attention and noticed my preferences as I tried dresses on, I would have never found my dream dress. The entire process was cool, calm and collected which the wedding industry definitely could use more of. I will be recommending this dreamy shop to all of my friends and family when their time comes, and could not be more excited to wear the dress that I just purchased on my big day. THANK YOU, Sentimentalist team, for making this process so easy and enjoyable.

This place has so much charm and has such a variety of beautiful wedding dresses and accessories. The staff there are all SO welcoming and fun (Caitlin was wonderful!) They made my wedding dress shopping experience one I'll never forget. Cant say enough great things about this place!

I don't know how often males accompany their woman in these kind of environment but I happen to be one and from the little time I was there...5 stars!

Rhiannon took the best care of me and brought me dress after dress until we found the perfect one! We were actually stuck between two beautiful dresses and they were so patient and kind. They let me try every accessory in the salon. Could not be more happy with my experience!

I wish I could meet every single bride in the South (hell, in the WORLD) just so I could take their hands in mine, kiss them on both cheeks, and send them directly to The Sentimentalist. Rhiannon made what could have been a stressful, anxious day into an absolute joy. She is a complete sorceress - transforming admittedly lovely dresses into absolutely magical gowns through her incredible styling. She made my family comfortable and involved them in the dressing process. She LISTENED to everything I and my family said, showing her adaptability and professionalism as well as her delightful personality. I had two appointments made at other dress boutiques for the next day and cancelled them before walking out The Sentimentalist's doors, because together we created a gorgeous outfit that I, my husband-to-be, and my guests will remember forever. Everyone else I spoke to at the Sentimentalist was just as professional, just as fun, just as joyful as Rhiannon, and I am, honestly, jealous that I don't work there. My time at The Sentimentalist was a celebration, one I can't wait to continue when I go back for my fittings.

Trying on dresses at the Sentimentalist was a dream. I went to a LOT of places-- 9 or so-- and tried on many, many dresses. The Sentimentalist and one other place were my favorites. I knew what I liked and what I didn't, but I didn't have a clear vision on what I'd end up with. I just hoped I'd end up with something unique and not incredibly heavy and stiff. The Sentimentalist was full of different designers that had a delicate, vintage-y look, and it was so much fun to try on these dresses in their little house that is artsy and full of character. I found both my belt and dress at the Sentimentalist and wish they had regular clothing vs just wedding attire, so I'd have a reason to go back!

Authorize your self with either of these to view contact details, your information will not be shared to any one
Newsletter Subscription for Virtuous Reviews LLP
One more step and you will be subscribed to our newsletters
We have sent you a verification mail on your email id, please verify it.