Zorba Greek Restaurant
Posted in :
Claim Listing
2601 Interstate Highway 35 B-500, Round Rock, Texas 78664 USA
(+1) 512-716-0100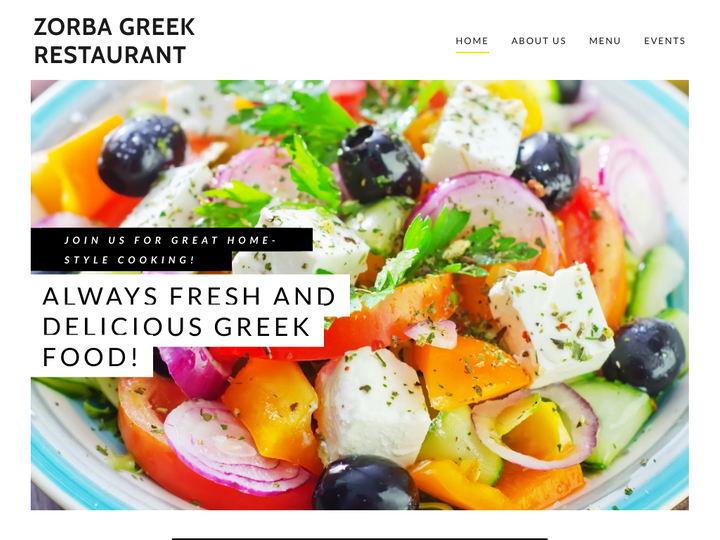 Opening Hours
Mon

Closed

Tue

5:00 pm - 9:00 pm

Wed

Closed

Thu

5:00 pm - 9:00 pm

Fri

Closed

Sat

Closed

Sun

Closed
Company Description
With 20 years of experience cooking in the finest restaurants, our chef is excited to present their vision to you and all our guests. Our caring and committed staff will ensure you have a fantastic experience with us.
Review & Rating

Came here for my sisters' birthday dinner...customer service is exceptional. Dinner was great! Baklava is delicious! We will definitely be back!

Great food and service! Food is fresh and spices are perfectly balanced, portions are fairly large. Very pleasant atmosphere all together. If I lived locally I would be a regular here.

Choose this over fast food! It's better and probably served even faster. Oh, it's delicious to say the least. Lots of choices, all tasted good to me. Casual atmosphere with friendly faces all around.

The food at Zorba was very good. We were a group of three and ordered spanakopitas, a plate for two and lamb kebabs. The Feed Me plate was variety galore! We shared the appetizers, soup, the little meze platter before the main entree plate was served. Gyro slices, grilled chicken breast slices served with rice and pita. We tried both the lentil and lemon chicken, the latter being of better taste. Appetizers were very tasty, served with Greek yogurt sauce. Food was not greasy. Every dish was presented well and was well cooked except the lamb kabobs which were dry and over cooked. The rice and hummus accompanied with the dishes were flavorful. Pleasant and clean place with excellent service.

This place is freaking amazing! Customer service is fantastic and literally I wish I could eat here every day. Monica was such a great host/server. Me and my fiance place a pickup order over the phone and she made it such an easy process.

Started with the spanikopita appetizer and feta salad and both were fantastic. Then me and my plus one had the feed me platter designed for two people. The gyro meat was perfectly cooked and seasoned on both the lamb and chicken. The pita bread was soft and steamy warm and every time we ran low, we were instantly brought more. We finished up with the honey baklava, which was the perfect amount of sweetness after everything. Also, the portion sizes are very big and were too much for the two of us. The restaurant was clean and the staff was friendly. Honestly have nothing negative to say. 100% would recommend.

Excellent! The cuisine was so flavorful, it took me back to Greece. It will be a regular dining experience. I recently relocated and this was the first local restaurant I found in Round Rock. Thank you for your hospitality!

The food quality is always consistently good. Tonight we had the combo plate, a chicken wrap, and the lemon chicken soup. All were excellent. Soup wasn't too salty or sour like other places we've been too. The pita was soft, with a nice texture, not dry or stale. The chicken was moist and the gyro meat had great flavor. We'll definitely be returning.

I'm a regular here at lunch and eat here occasionally for dinner. The food here is very good, especially the chicken and gyro meat. Their portion sizes are VERY generous; no one leaves hungry! Their combo plate (with a very wide array of fantastic sides) and salads are my favorite. It's fast, the staff are courteous, the food is good and it's reasonably priced. What more could you ask for? If you're eating here for dinner, have the Haloumi flaming cheese! It's fun and tasty! 😋😊

Scrumptiously delicious food! We had the Guru Combo plate the portions are huge, 2 of us split a plate with enough left over to take home for lunch tomorrow. The Customer Service was professional, personable, friendly and he (our waiter Dustin went above and beyond) We will definitely be coming back!! Might I add, it is very clean. And, the prices are very reasonable.

Newsletter Subscription for Virtuous Reviews LLP
One more step and you will be subscribed to our newsletters
We have sent you a verification mail on your email id, please verify it.