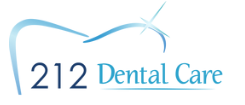 212 Dental Care
Clinics
286 Madison Ave, 10th Floor, New York, NY 10017
Claim Listing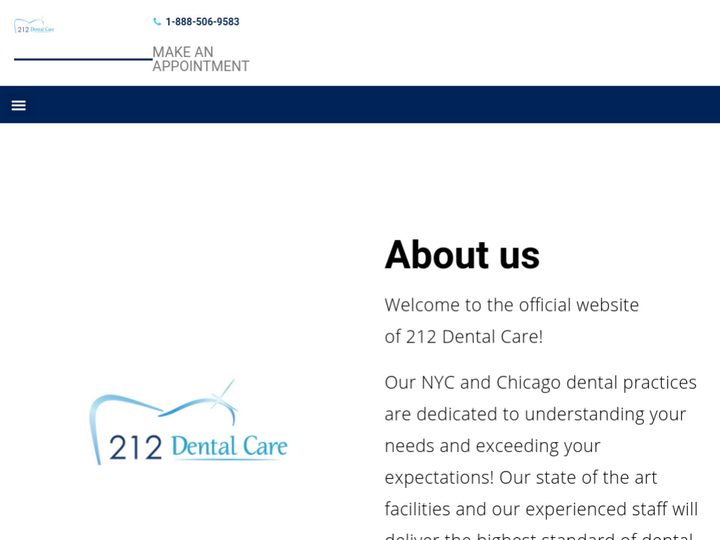 Company Description
Ten years ago, 212 Dental Care started in Midtown Manhattan as a boutique general and cosmetic practice serving handful patients local to the area. Today, we help serve over 60,000 patients throughout the United States! This, of course, would not have been possible without the great dental service we have been providing to patients throughout the years.
Review & Rating

Very good dental service, from appointment management to dental service. Went for cleaning and whitening, ended up having to do a couple of cavities fillers, which was not expected but they could accommodate me on the day with minimal waiting which was excellent. Appointments are usually on time, once they were late and gave me a $5 coffee voucher to say sorry which I thought was a nice gesture. Quality of treatment is excellent, payment-related questions are dealt with efficiently, and they clearly articulate what your copay is ahead of the treatments. The customer service aftercare (Sarah) is also excellent as they proactively reach out to ensure they have delivered a good service, and it's good to get to speak to a "human" instead of the usual anonymized survey. All in all I would thoroughly recommend.

I had a very positive experience with 212 Dental Care. It was my first visit and I felt very welcome from the moment I entered the office. A warm welcoming by the staff, an operating TV with entertainment for your wait and only a short wait before I was called for my appointment. Working with Dr. Mya was a pleasure. Like most, I hoped for an "in and out" experience, and although I did need some work done, nothing was done without an explanation, and everything that was done, was done quickly and efficiently. While no one looks forward to a dental visit, I do recommend working with 212 for the best experience possible.

Had a great experience here. I am never waiting more than 5 minutes to fill out paperwork or to go into an appointment. Dr. Serrano was super friendly and attentive as was the rest of the staff. My cleaning and fillings all took less than an hour which was great for my early morning appointment.

WARNING, FAKE REVIEWS!! SPAM COMPANY. Check out all their 5* reviews, they have similar wording, and come from "people" that have only posted one review. See my personal experience below... which is i can say is what has happened for 90% of my office. Somehow purchased my work phone number and have placed on a call list to offer services. I now get calls 2-3 times per week. They also use different phone numbers/spoof numbers so blocking the phone numbers has been ineffective. I've repeatedly asked them to remove me from this list and to discontinue bothering me, but to no avail. This has been going on for 18 months. They may have great dental care, but I'll never give my money to any company who has this much blatant disrespect for my time.

I did not actually go to the office because they are out-of-network for me, but I am giving them 5 starts based on their customer service alone. Gerash is a sweetheart and is so nice. She was very thorough in her explanations, and super patient while I fetched information. I called today and spoke to Gustavo who was also informative and just super sweet. I hope to one day be a patient here, because I am REALLY impressed with just the customer service. I can imagine the actual dentists.

The entire staff at 212 Dental Care Manhattan is professional and knowledgeable. The atmosphere is friendly and upbeat. It's a busy office, but you never feel rushed. Each specialist takes the time to fully explain the various procedures, from x-rays to basic annual cleanings to insurance, etc., and all questions are answered thoroughly. It's located right in midtown, so it's very easy to get to. They offer hours to accommodate all types of works schedules, so you can have your dental appointment without losing half a vacation day. I'm extremely pleased to be a patient there and would recommend it highly.

I imagine this Dental Care site started up not too long ago. Their site is a bit small. Not cramped by any means, just a bit smaller than I thought it would be. Despite this, the place looks and feels refreshing. Everything is very clean, the nurses, doctors, and staff are very professional and well spoken, and it was not a long wait for my appointment. I'm 23 and haven't gotten any dental work for over a decade, so while I was there I had X-Rays done, a cleaning, and a very small filling. To the doctor's surprise and mine, my teeth were good besides the very small cavity they took care of. While the X-Rays are naturally uncomfortable, it was a pleasant experience overall. I hope 212 Dental Care grows. They are my go to for any dental care from this point forward. Update: I visited again for a cleaning. All went well as expected. Highly recommend Update: IMPORTANT. I recently realized I have been having a wierd amount of cavities. Before I began going to this dental care site, I had not seen a dentist for about a decade and a half aside from a checkup I had. This check up was a few years ago, but after about a decade of not receiving dental care, I was told I did not have any cavities. Fast forward to now, and I'm told nearly every time I go for a check up at 212 Dental Care that I have cavities and that I need to take care of immediately. The first few times, you raise an eyebrow, but recognize your not a dentist, so you let it go. Happens a few more times, and now its very questionable. I recommend seeing another dentist as well as this one if your already a patient. Use your best judgement. I can no longer trust I'll receive fair treatment here. I take good care of my teeth. There is no way I have cavities every time I visit.

My experience in 212 dental care in Manhattan was extraordinary.. Amazing customer service from the great stuffs. Dr. Maya was my treatment dentist during my visit and she made sure that I was clam and happy, she was fantastic...

The staff is very friendly and professional. She approached me with a very nice smile and explained what I needed. The Hygienist Julia was very polite and gentle with me when I told her I have sensitive teeth. She did a great job cleaning and I did not feel any pain. Dr Greene also was polite and explained everything that was going on with my teeth and took good care of it. Overall the service I received was great! I will be going back to get my FREE LASER TEETH WHITENING in two weeks. I look forward to this visit!!

Haven't been to the dentist in a long time so needless to say I had a lot of fillings I needed done. I've gotten 6 out of 8 so far and each time the staff here (both medical and clerical) was efficient and courteous. They are very knowledgeable and I'm in and out pretty quickly. Plus it's near my office so it makes appointments before work possible!

Opening Hours
Mon

Closed

Tue

5:00 pm - 9:00 pm

Wed

Closed

Thu

5:00 pm - 9:00 pm

Fri

Closed

Sat

Closed

Sun

Closed
Authorize your self with either of these to view contact details, your information will not be shared to any one
Newsletter Subscription for Virtuous Reviews LLP
One more step and you will be subscribed to our newsletters
We have sent you a verification mail on your email id, please verify it.