Perfect Smile Dental Care
Clinics
4180 North 1st Street, Suite 80, San Jose, CA, 95134
Claim Listing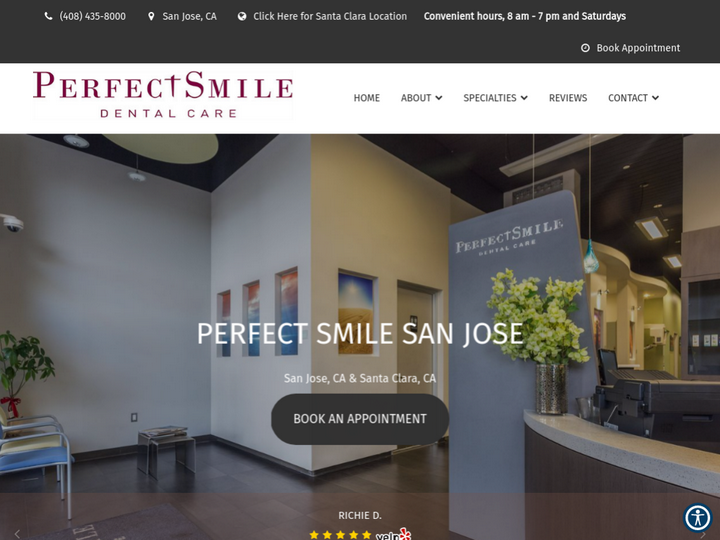 Company Description
When you visit our San Jose dental office, your smile and oral health is our top priority. The dentists and the entire team at, Perfect Dental Care, are dedicated to providing you with the personalized, quality dental care that you deserve. By focusing on quality individual care, our staff can provide the ultimate dentistry experience for our patients.
Review & Rating

Dr. Pham is very skilled at what she does. I would highly recommend this place to my friends and family. Also the whole staff is very nice and extremely helpful. 5 stars is not enough to describe my experience here. So far we have completely reconstructed my whole upper set with a partial that has included 6 extractions, bone graphs ect.. she has laid out a plan for my needs that works with my budget. Once again 5 stars is not enough.

Dont dont know what JAD is... nice!

Best dentists I've ever visited. I've had Dr. Choi for the past 4 years, and he's been kind, thoughtful, and understanding. He remembers my family and job, and asks about them regularly. All of the dental assistants, front desk receptionists, and other employees I've interacted with have been equally delightful!

Best all around dentist experience in my life! My daughters and husband are now patients as well and i couldn't ask for better customer service. Have been a patient for many years and not once have I had a bad experience. Highly recommend this dentist office to all my family and friends.

I have recommended multiple people to this office. The staff is great, the office is clean, you get to watch Netflix, and they are very accommodating of schedules. The only downside is that they outsource some more major procedures like root canals and wisdom teeth extraction (or at least used to). Dr. Lei runs a great practice!

I was very impressed with the office and the way everything was run. They had very nice up-to-date technology and provided thorough care. I came in for a cleaning and also opted to get a filling for a chipped tooth from years ago. They made sure that my teeth were completely cleaned. Some of the scraping did hurt my gums, however, more than usual. Dr. Annie also filled in my tooth after my appointment rather than have me schedule another appointment, which worked well with my schedule. My overall impression is that this is a very well-run, attentive and well-maintained office. I am definitely switching to this dental office.

Most professional, friendly, and passionate dental practice I've ever encountered. A little pricey, but worth the cost. The office is nice and clean. The examination rooms are cozy and make efficient use of space. You can watch Netflix during your procedure to keep nerves at bay. Dr. Le explained things very thoroughly and takes a personal interest in helping you find out what's wrong. The rest of the staff are all very welcoming and friendly. They made it clear before and after my first visit what I should expect to pay for my treatment plan.

I have been taking my son here since he was 1 years old. They have helped me figure out brushing and flossing as well as when to use fluoride toothpaste. We just had his 2 year appointment and she showed me how his pacifier was shaping his mouth and how it would be better to ween him off it sooner rather than later. I am so grateful for these wonderful and patient dentists who put up with babies and toddlers!

All was almost perfect until the assistant hurt my front teeth with a tool and broke it a little bit.. Then tey ask me more than 400 dollars to do a cleaning instead of 85dollars because they wanted to do radios...I told them yos already took someting like 200 radios you don't need more.. Finaly I did the 85dollars kleening and never ge a new apointment for the other problems. I had them to the phone after sending them 2 mails all was okay.. but it was just word ...and I never had my apointment...!! What do you think? I have this bridge eith 4teeth to fix..do I have to find an other doctor dentist ???

I've been coming here for years to get my teeth done. I've had many hygienists and they've all done their jobs wonderfully! I just had a latest appointment yesterday with Julie. She's new but she knows what she's doing. She had this really bubbly personality and kept me entertained for hours while I had a deep cleaning. Maybe because my gums have healed quite a bit but normally, I get the injected anesthesia because my gums were hyper sensitive. However, this time around, Julie only applied topical anesthesia and I didn't feel any pain sensations. I attribute that partially to Julie's magic. Next time you are at Perfect Smile, ask for Julie.

Opening Hours
Mon

Closed

Tue

5:00 pm - 9:00 pm

Wed

Closed

Thu

5:00 pm - 9:00 pm

Fri

Closed

Sat

Closed

Sun

Closed
Authorize your self with either of these to view contact details, your information will not be shared to any one
Newsletter Subscription for Virtuous Reviews LLP
One more step and you will be subscribed to our newsletters
We have sent you a verification mail on your email id, please verify it.